Trudeau launches Canada into federal election scheduled for Sept. 20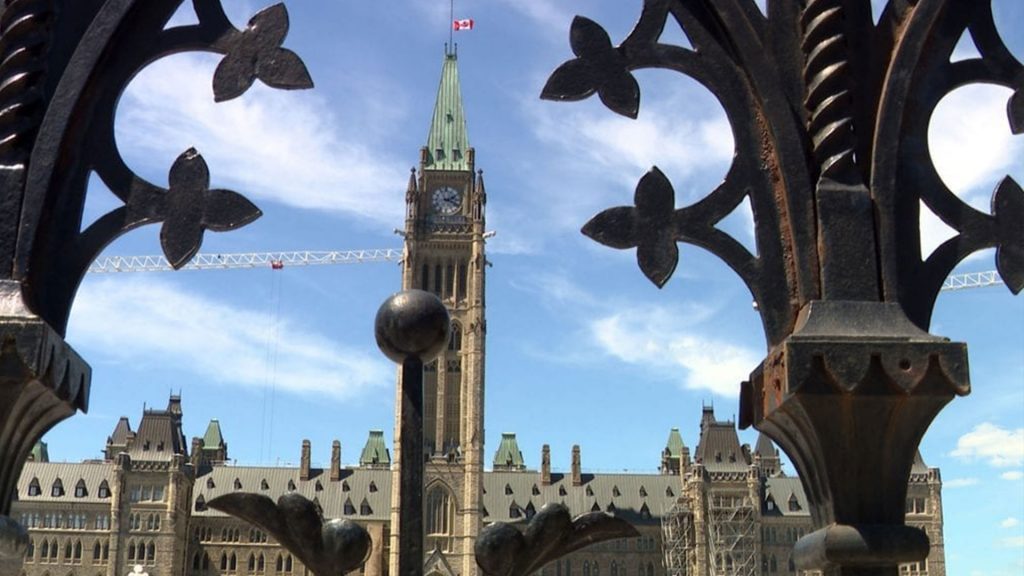 ---
Prime Minister Justin Trudeau is calling a federal election that will go hand in hand with the fourth wave of the COVID-19 pandemic and massive forest fires that are scorching communities in British Columbia, Manitoba and Ontario.
Trudeau went to Rideau Hall Sunday to ask newly installed Governor General Mary Simon to dissolve Parliament which triggers Elections Canada to issue writs to the nation's 338 ridings.
"We've had your back and now it's time to hear your voice," Trudeau said after his meeting with Simon. "The decisions your government makes right now will define the future your kids and grandkids grow up in."
After winning a majority government in 2015, the Liberals were reduced to a minority in 2019 – winning only 155 of the 338 seats.
Questions from the media repeatedly asked Trudeau to justify why an election was necessary despite having strong support in Parliament.
"With this pivotal, consequential moment – who wouldn't want a say? Who wouldn't want their chance to decide where our country goes from here?
"Canadians need to choose how we finish the fight against COVID-19 and build back better."
For people who've been watching politics for the past couple of months, the question wasn't if an election was going to be called – but when.
While a prime minister can call an election at any time, Trudeau could have waited until mid-2023 before sending voters to the polls, according to Canada's election laws.
The campaign will last 36 days.
Announcements coming fast and furious
---
Since July 1, Trudeau's ministers have fanned out across the country announcing hundreds of millions of dollars in spending – some new, but mostly re-announced cash from previous budgets specifically targeting different sectors of the economy.
As of Sunday, more than 600 announcements have been made for every province and territory covering daycare expenses, environmental projects, support for businesses, airports, agricultural workers, seniors, long- term care homes, broadband in rural communities and revitalizing main streets across the country.
The pre-election spending also includes money for First Nations, Inuit and Métis Peoples.
On Friday, Canada announced "up to" $340 million in new money over five years for Indigenous-led conservation programs.
"From this funding, up to $173 million will fund new and existing Indigenous Guardians initiatives and the development of Indigenous Guardians Networks for First Nations, Inuit and Métis," a government release said.
"Indigenous Guardians initiatives support Indigenous peoples in protecting and conserving the environment, developing and maintaining sustainable economies, and continuing the profound connections between Indigenous cultures and their lands."
An hour later, Northern Affairs Minister Dan Vandal, along with Lorne Kusugak, Nunavut's minister of Health, and Aluki Kotierk, president of Nunavut Tunngavik Incorporated, announced $41.7 million for construction of the Nunavut Recovery Centre.
"This funding is the result of a strong tripartite partnership represented by a newly signed and endorsed contribution agreement from all parties, and the signed Memorandum of Understanding by the Nunavut Partnership Table on Health," Vandal said in a statement.
Then late Friday afternoon, another $517.7 million over four years "to support action plans specific to Indigenous Self-Government and Modern Treaty Partners' infrastructure priorities, needs and circumstances."
On Aug. 12, $10 million was announced for "Indigenous infrastructure to address critical infrastructure gaps and improve economic, social and health outcomes in their communities," in the Northwest Territories.
Another $2 million was announced the same day by Health Minister Patti Hajdu to address "the mental health and well-being of Indigenous children in Canada," spread out over five years.
Recently, the Liberals announced $321 million for First Nations, Inuit and Métis communities to search former residential school sites for the nearly 4,100 children who are unaccounted for, according to the Truth and Reconciliation Commission (TRC). The money moves forward with TRC Calls to Action 72 to 76.
The announcement was a mix of money already promised in previous budgets and new spending.
Money announced since the beginning of July also includes cash for air service in Nunavut, ocean research, broadband infrastructure in northern Ontario First Nations, settlements for land claims, Indigenous-led forestry and protection of caribou in Quebec.
Cash was also announced for additional communities in the Arctic to be included in the Nutrition North program. Justice Canada allocated money for Indigenous law reforms, and child welfare programs were also part of recent announcements.
Also, the Liberals announced money to back up Bill C-92 – the federal law that gives First Nations, Inuit and Métis communities control over child welfare in their communities.
As part of what is called the Coordination Agreement between the province of Saskatchewan, Cowessess First Nation and Canada, the Liberals will provide $38.7 million to the community in Saskatchewan to develop its own child welfare laws and programs. Cowesses First Nation is where the former Marieval Indian Residential School is located. The community announced in July that a search had uncovered 751 unmarked graves.
Then, 30 minutes before Trudeau met with Simon to request Parliament be dissolved, another email. This one a reminder of all the spending the government announced in the 2021 budget.
While Trudeau and his government have been applauded for spending billions on Indigenous issues since his first election in 2015, they have also been heavily criticized for challenging a compensation ruling in Federal Court over a ruling from the Canadian Human Rights Tribunal (CHRT).
It ordered Canada to pay a penalty to First Nations children and their families who were taken into the child welfare system after the government was found guilty of discriminating against them.
The CHRT ruled that Canada's discrimination against First Nations children was "willful and reckless," and awarded the children and their families each the maximum penalty of $40,000.
The case is ongoing.
The opposition knew it was coming
---
The federal opposition parties were also off and running as each leader aimed to jump the gun on the election race.
Conservative Leader Erin O'Toole and NDP Leader Jagmeet Singh have been criss-crossing the country, with O'Toole making stops in several provinces in the past four weeks.
He has laid out his plan to spur innovation by cutting the income tax rate in half on newly patented technologies developed in Canada, which followed a pledge Aug. 9 to connect every Canadian with high-speed internet by 2025.
Singh has also been racking up the air miles with trips to several First Nations in Ontario, British Columbia and a swing through Atlantic Canada.
On Aug. 12, he released the NDP platform in St. John's, N.L., that includes a commitment to implementing the United Nations Declaration on the Rights of Indigenous Peoples, following through on the TRC's 94 calls to action and establishing a National Council for Reconciliation.
"We are committed to good-faith, consent based engagement and negotiations consistent with the Tsilhqot'in decision, an approach that honours Canada's legal and constitutional obligations," the NDP said.
The NDP also said they "believe that Inuit should have control over policing in their own communities, and we will allow the Inuit to independently oversee policing in Nunavut."
On the policing front in Nunavut, the NDP said it will work on developing a "long-term strategy for recruiting and retaining Inuit and Inuktitut speakers to work in community safety roles," according to the platform.
The NDP's platform has not been costed.
The NDP is also committing to respecting Inuit and Métis self-determination.
The Conservatives have not released a comprehensive platform yet.
The Climate Crisis 
---
The election is coming on the heels of a massive report from the United Nations Intergovernmental Panel on Climate Change (IPCC), which signalled that the earth's climate has changed so dramatically because of human action that even if drastic measures are taken now, some of the effects will take hundreds, even thousands of years to reverse.
"This report is a reality check," said Valérie Masson-Delmotte, co-chair of an IPCC working group. "We now have a much clearer picture of the past, present and future climate, which is essential for understanding where we are headed, what can be done, and how we can prepare."
The report was a code red for nations around the world and warned there must be "immediate, rapid and large-scale reductions" in greenhouse gas emissions or else limiting global warming to 1.5 degrees Celsius "or even" 2 C will be "beyond reach."
Canada is well aware of the problem. Temperatures in the North are rising faster than anywhere in the country and temperatures in parts of the country are fueling massive forest fires.
In response, the government launched a series of studies in 2018 to spell out the effects the climate crisis will have on each region of the country.
In the first report released in January 2021, scientists predict more intense rain generating more powerful floods, hotter summers, drier tinder and more destructive wildfires in a region that, within the last seven years, witnessed two of the costliest weather-related disasters in Canadian history.
"There's good scientific evidence now, that the severity of these events is worse because they're occurring in a warmer climate," said Dave Sauchyn, director of the Prairie Adaptation Research Collaborative at University of Regina, in an interview with APTN News in January.
"We call it the amplification – amplifying or enhancing the severity of these events. This effect will only increase as the climate gets warmer."
The Liberals have announced programs to get Canada to net zero emissions by 2050, but critics point out that, while Trudeau talks a good game on climate change, his government is also spending billions of taxpayer dollars building the Trans Mountain pipeline expansion to get tar sands bitumen to Asian markets. Fossil fuels is the leading cause of greenhouse gas emissions.
How the Trans Mountain project and the climate crisis will play out in the election isn't clear.
The Conservatives voted not to discuss the climate crisis at a policy convention in March only to have leader Erin O'Toole change course a month later.
In April, O'Toole announced a plan that includes "scrapping the federal carbon tax and working with the provinces to implement an innovative, national Personal Low Carbon Savings Account. This will maintain a price on carbon, without one penny going to the government, recognizing that Canadians are the ones who should be choosing the best way for them to live a greener lifestyle," he said.
The NDP have always been in favour of scrapping the pipeline and in its platform said: "public funds are best spent supporting the transition to renewable energy, rather than on profitable oil and gas companies.
"New Democrats are ready to position Canada for the next boom – making sure that bold public investments are directed to clean energy, climate resilience, social infrastructure, and energy efficiency in communities across the country," said its platform.
The 4th wave and voting in the September election
---
The Liberals have spent billions on keeping Canada afloat during the global pandemic that started in March 2020. Money has gone to help people who lost their jobs, businesses that were threatened and buying vaccines.
Now the country is heading to the polls as the deadly Delta variant of the COVID-19 virus is putting people back in intensive care units across Canada. Most of the people there are unvaccinated.
But Dr. Theresa Tam, Canada's chief public health agency physician, said an election can be held safely if people take familiar actions to protect themselves.
"It's not my role to advise on whether an election should occur or not," Tam said in an Aug. 12 news conference. "The role of the Public Health Agency is to provide guidance should an election take place and how to do that safely. Many things are going on in society right now in terms of daily activities that require as safe an approach as we can manage to avoid any impact on our health systems. That's what I'm watching carefully.
"Our job is to advise on how to do things as safely as possible."
Tam said washing hands, wearing masks in crowds and observing local health orders will help.
According to her colleague, Dr. Howard Njoo, fewer than one per cent of the cases being reported are people who are vaccinated.
"Regardless of activities going on in society, it's an important issue in terms of still encouraging, trying to show Canadians it's so important to get vaccinated with the full course of the two doses," said Njoo.
"The fourth wave and what's happening now is because of many people still – for whatever reason – not being vaccinated."
As of Aug. 12, Indigenous Services said there have been a total of 33,533 confirmed cases in Indigenous communities – 356 of those cases are still active. There have been 384 deaths because of the pandemic. Manitoba, with 9,237 case is the hardest hit province while Alberta with 9,061 and Saskatchewan with 8,247 are just behind.
According to Elections Canada, there will be modifications to all polling stations across the country.
"The health and safety of all participants in the electoral process is of paramount importance: this includes electors, thousands of election workers, and candidates and their workers," the Elections Canada said on its website.
"As a result, Elections Canada has been reviewing its procedures and internal capacity in order to prepare for the delivery of an accessible, safe and secure election during a pandemic."
According to Elections Canada, those measures include implementing physical distancing and other public health guidelines at polling places, providing masks and single-use pencils to electors (people will also have the option of bringing their own pencils and masks), increasing physical distancing providing return envelopes with prepaid postage to vote by mail, and "increasing the capacity and convenience of the vote-by-mail system to meet a potential increase in demand for this service."
According to Environment Canada, an increase in vote-by-mail ballots will delay the results of the election.
First Nations, Inuit, Métis and the election
---
Many say spending by the Liberals since taking power has been unprecedented.
In the 2021 budget alone, the Liberals pledged to spend more than $18 billion on basic necessities, water, infrastructure and essential services for Indigenous communities — something the government called a "historic, new investment."
According to the government, the cash would be spent over five years and would include keystone items such as $6 billion for infrastructure, $2.2 billion to end the tragedy of missing and murdered Indigenous women and girls, and $1.4 billion for First Nations and Inuit health care.
But Trudeau has failed to deliver on a key promise made in the run up to the 2015 election and that is to end water advisories in First Nations communities. Some have been under boil water or do not consume warnings for decades.
According to the government's website, there are currently 50 long-term drinking water advisories still in place in 31 communities – another 109 water advisories have been fixed the government said.
The Assembly of First Nations said National Chief RoseAnne Archibald will be talking about the issues in the election in the coming weeks but did not offer a comment for this story.
The Manitoba Metis Federation President David Chartrand has been a staunch supporter of Trudeau and his government over the past few years as recognition of Métis rights in Canada grows.
He said the organization will be contacting each of the parties during the campaign with a "list of priorities" from its members.
"The Red River Métis are strong supporters of democracy and we look forward to the upcoming federal election," said a statement from the Manitoba Metis Federation. "While we believe that Justin Trudeau's government has developed the strongest relationship with the Indigenous community in Canadian history, we are willing to work with any party that wins the election.
"The feedback we receive from all parties will be shared with our Citizens, to help them make informed voting decisions. From there, our focus will be on helping our Citizens get to the polls so they can exercise their democratic right to be heard."
The Inuit Tapiriit Kanatami championed the government's Indigenous languages bill C-91. A spokesperson said President Natan Obed will be speaking soon but didn't provide a comment for this story.