Coastal First Nations in B.C. demand DFO respect their right to fish 
On Aug. 4, the Ha'wiih issued fishers with licences. They will harvest according to allocations from their own fisheries plans. 
---
Fishers with five nations on the British Columbia coast will harvest with allocations from their own fisheries plans, says Ha'wiih, the hereditary leadership of five Nuu-chah-nulth Nations. 
"Our Ha'wiih, in their authority over the lands and waters, issued licenses to the fishermen," says Kekinusuqs, Judith Sayers, president of Nuu-chah-nulth Tribal Council. 
On Aug. 4, they adopted the fisheries plan that they had in place and authorized the fishermen to go out and fish.
Twenty-five boats were out fishing, she says. 
The five nations "will no longer stand by, as our fishers remain tied to our docks, while non-Indigenous users benefit from the resources of our traditional territories," says the press release from Ha'oom Fisheries Society.
Ha'oom was formed to cooperatively support the fisheries of the five Nuu-chah-nulth First Nations of Ahousaht, Hesquiaht, Ehattesaht/Chinehkint, Mowachaht/Muchalaht and Tla-o-qui-aht.
On April 18, 2021, B.C. Superior Court declared and affirmed their inherent and constitutionally protected Indigenous rights to harvest and sell fish. 
After 18 years in the courts, the decision was celebrated by Nuu-chah-nulth Nations. 
"We've already been in court for 18 years," Kekinusuqs says. DFO's current fishing quotas are only "an offer of a minimal amount of fish, and not enough to make a living. So all the fishers from the five nations met together and said, 'this just isn't adequate.'
"The Nuu-chah-nulth call on DFO to come to the table immediately and implement this decision and decide on allocations for this year's fishery," Kekinusuqs says. 
APTN News asked DFO when they would respond to that call. 
"DFO is currently continuing to make changes and to review the 2021 Five Nations Multi-Species Fishery Management Plan in light of the BCCA decision, in consultation with the Five Nations," wrote DFO spokesperson Jo Ann Walton in an email to APTN.
They've waited long enough, says Wickaninnish, Cliff Atleo, lead negotiator for Ahousaht First Nation. 
"By failing to breathe life into our negotiation agreements, the Government of Canada is pushing us to exercise what our Ha'wiih have the authority to do. We're creating our own fisheries management plans within the framework of conservation, and we will enact them within our traditional territories," says Wickaninnish.
"That's the only way we're going to reestablish a way of life, that allows us a powerful degree of independence that we want."
Our rights are communal 
It has been almost two decades of fighting in the courts to remove the hurdles placed in front of Nuu-chah-nulth fishers, says Kekinusuqs. 
Starting in 2003, five of 13 Nuu-chah-nulth Nations took Canada to court as the Ahousaht et al. vs. Canada court case. They argued for their right to a commercial fishery.  
Ahousaht et al. won in 2009, but the federal government continued to fight this decision, and tried to bring it to the Supreme Court of Canada. 
In 2014, the supreme court said no to a hearing. 
The five nations went back to court to force DFO to change its regulations after that. 
They're still waiting.
DFO's rules included prohibitions on sharing quotas or splitting licenses. 
"From an Indigenous perspective, our rights are collective or communal. It doesn't just belong to one person and that's why that was wrong," Kekinusuqs explains. 
Kekinusuqs gives an example of an allocation of 10,000 fish. If it were shared amongst ten fishermen, that's 1,000 for ten families.
"We really need to be able to pass our own laws and regulations to deal with our fisheries that reflect the way we have always fished–  all the values of sharing within the community and just working together."
Other DFO rules restricted participation to only those with large boats. This would translate to only giving licenses to those who were already well-established, Kekinusuqs says. 
"They're giving more fish to the sport fisherman, and to the other commercial fishermen. And even when there's excess, they don't think about giving it to the First Nations– they give it to the other sectors. It just isn't fair.
"So we said, enough is enough, we're going to fish." 
DFO is beginning to show up to question fishers in Tla-o-qui aht territory says Chief Bruce Frank. 
On Aug. 14, Skipper Harvey Robinson was fishing on his son Kevin's boat using their inherent rights, licensed by Ha'wiih– hereditary leadership.  
DFO arrived while the Stormy Dodger was offloading at Tofino. 
He was videoed telling them they were only allowed ten fish, coming close, but not boarding his boat. 
"The ten fish rule wasn't true," Robinson says. The boat, the Stormy Dodger, is 42 feet long, and feeds three families. It would be hard to confuse it with being under 25 feet– the ten fish rule applies to those smaller boats.
Witnesses and supporters were present to hear this, including NDP MP Gord Johns. 
"I've been asking minister Jordan to meet with the chief negotiators– urgently, so she can implement that decision." Johns told the fishers while they continued to unload their catch. 
"The time spent in court should have been spent fishing, supporting families." 
Robinson says the sports fishery is allocated 55,000 pieces as a limit, and in Area G, "mostly white people, they get 31,000. Our Tla-o-qui aht fishermen, we get 10,000– but we have a lot more fishermen than them, and we have to split that up 10,000 pieces. 
"We won in court to make a living and it's not a living when you, when you're the lowest guy, getting the lowest amount of fish to catch– we should be on top. It should be the other way around. We've been here all our life, but there's people coming from all over the world to fish our fish and leave again. But, we live here.
DFO warned buyers to not buy from the five Nations' fishers, Robinson says. 
Mi'kmaw fishery on east coast and a moderate livelihood 
---
The situation mirrors what is happening thousands of kilometres away on the Atlantic coast where Mi'kmaq harvesters are fighting Canada for their right to earn what is called a "moderate livelihood" from the sea. 
Wickaninnish draws parallels to the Mi'kmaq inherent right to harvest. 
"There is nothing wrong with our dream of being, living a way of life that allows us to be part of the economy– and an important part. 
"Not one where the Supreme Court says to the Mi'kmaq, 'Oh sorry, because you're Mi'kmaq, you're only allowed a moderate living. I mean, how racist can the supreme court get? They, who have a Peace and Friendship Treaty, who gave up none of their sovereignty, who have inherent rights just as we do, to harvest lobster," says Wickaninnish.
The Mi'kmaq signed Peace and Friendship Treaties in the mid 1700s.
The 1752 Treaty agreed that the Mi'kmaq "shall not be hindered from, but have free liberty of Hunting & Fishing as usual." 
The 1760-61 Treaties ensure the Mi'kmaq right to sell, barter and trade at truck houses which were run by the British at that time. 
This is the Treaty Right that Donald Marshall Jr. asserted when he was charged for fishing and selling eels out of season without a licence.
Marshall's case went to the Supreme Court and in 1999, the justices affirmed the Mi'kmaq harvester's right to fish for what the court called a "moderate livelihood." 
The court then issued a follow up ruling that says the fishery could be regulated if conservation is a concern – which in the case of lobster on the east coast, it is not. 
Despite this ruling – the Mi'kmaq harvesters still face harassment by DFO officials and non-Indigenous commercial fishers.
The most recent event, nine Mi'kmaw fishing boats were set adrift in the middle of the night from a wharf northwest of Halifax.  
Hishuk ish tsa 'walk– Everything is one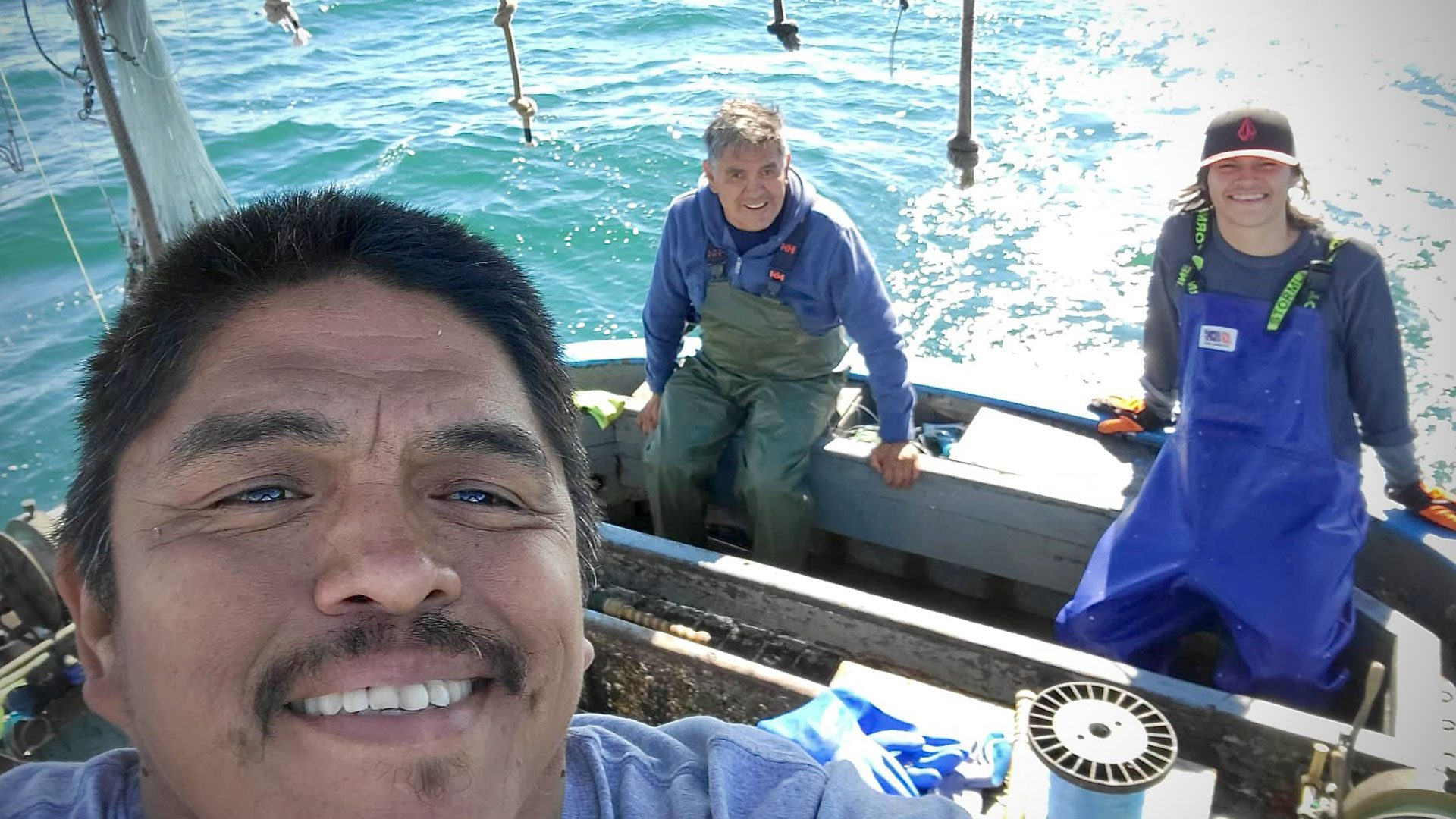 ---
The five nations already have their own fisheries plans, based on the Nuu-chah-nulth principles of hishuk ish tsa 'walk ( everything is connected, everything is one) and isaak (respect).
"There's so many elements that are affecting the fisheries and they do have to be managed properly and DFO needs to be talking to First Nations, collectively working together to build stock. If they try to do it on their own, they're just not going to succeed,"  Kekinusuqs says.
DFO, under a lot of political pressure, has always looked at commercial fisheries as a way to make money for the fisherman, she says. 
"You can't have an economy unless the fish are being looked after, how is the habitat? What is happening with climate change, global warming?" asks Kekinusuqs.
The federal government has too many separate departments, with different angles. It would be better to have a more holistic approach, Kekinusuqs says, to make sure these stocks are going to continue. 
"As First Nations people, we always had river keepers, we had people looking after the ocean," says Kekinusuqs.
With seven generations in mind, she says the goal is "that there will still be fish, and still the ability to exercise our right, not just for food, social ceremonial, but for commercial." 
"I don't want to have to tell my grandchildren, great grandchildren, that we used to get these fish called Sockeye, and the food was so good. And we dried it, we canned it, and show them a picture. That's not what we want."