Inclusive aging: Fort Simpson resident hoping to open seniors facility
---
It may look like an ordinary house now, but Dennis Nelner has big plans to transform the property into Ama's Home, a place for seniors in Fort Simpson, N.W.T.
It belonged to his mother, Madeline Nelner who lived independently into her 90s.
"This is my shrine to my mum here [holding up old photographs]. This is one I like especially with her fist in the air. She was always bound and determined to do what she sets out to do," Nelner said.
---
Born opposite of Root River in 1927 off of the Mackenzie River in the N.W.T., Madeline Nelner encountered many hardships.
While she was working at Charles Camsell hospital in Edmonton, she contracted Tuberculosis and lost a kidney.
In her senior years she required dialysis, but like so many in northern remote communities, Madeline had to leave home and travel to Yellowknife for healthcare services.
"She had some family there but it wasn't enough for her, Vital Abel which is a transient centre, it isn't a long term care facility. She didn't even have a room where she could keep her stuff secure. She always had new people in her room. That was wearing on her after two years," Nelner said.
When she returned to Fort Simpson, Madeline took a turn for the worse. She broke her hip and her health rapidly deteriorated.
She passed away in 2018.
"I'm thinking if this house was available to her then maybe she would still be here because it wasn't set up for her needs right. So that kind of stuck on the back of my mind as it sat empty for a while. Is there a better use for this property? It's downtown to all services," he said.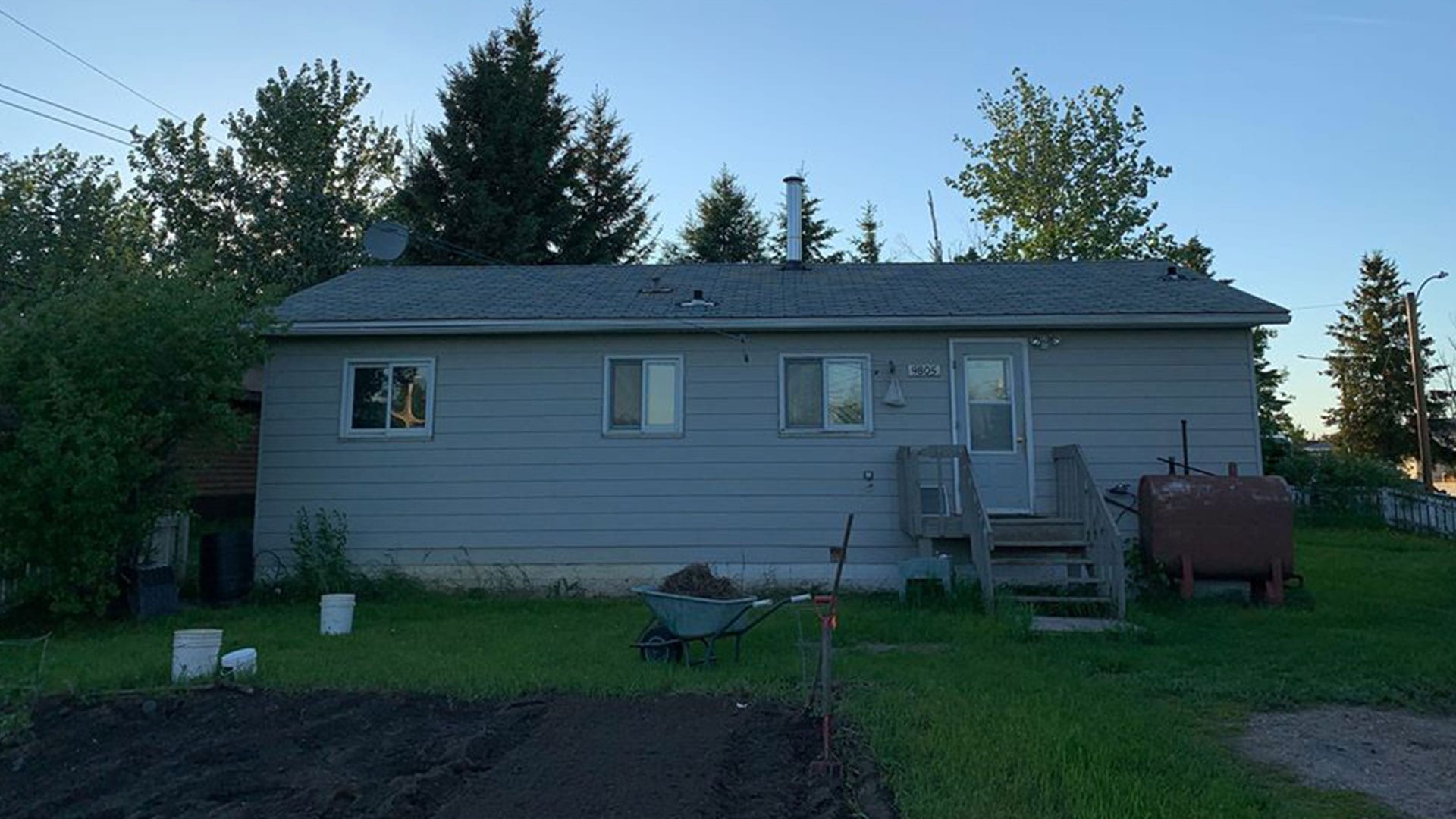 ---
Nelner is now turning the space into a five-person home for seniors with shared accommodations and separate living quarters for a registered nurse or personal support worker.
With no mortgage and minimal care costs on the house, Nelner is hoping to pay for the renovations through the Canada Mortgage and Housing Corporation (CMHC) new construction Seed and Co-Investment program.
"If CMHC is going to be the investor part of the criteria is if they invest the capitol that gives me the opportunity to offer below market rate for service providers. That's the hook that I need, because if I offer below market rate than that means the government is saving operational dollars which means they can hire more staff," Nelner said.
According to the latest 2019 housing conditions report from the N.W.T. Bureau of Statistics, 40 per cent of the dwellings in Fort Simpson have issues, while 25 per cent need major repairs.
The fastest growing demographic in the N.W.T. are seniors.
With a population of roughly 1,200, Fort Simpson is the hub for eight Indigenous communities in the Dehcho region with many residents looking for housing for Elders and seniors.
There's one long-term care facility in town, but only one respite room and 17 regular rooms.
---
Wait lists for a unit are long, but this is no surprise to Martina Norwegian, a board member of the NWT Senior's Society.
She also sees challenges for Elders trying to access government run housing programs to age in place.
Norwegian advocated on behalf of her elderly uncle.
After his wife had passed away, the retired carpenter converted his large family home into a 16 x 24 dwelling with outdoor plumping, but he wanted to see if the local housing authority could supply windows and electrical hook up for a single light.
"I asked what kind of code does he need to get power and they gave me this whole list of what they needed and then they wanted to give him a new house. He didn't want a new house because he couldn't maintain it because he had no job," Norwegian said.
Instead, her uncle had to light his home with a candle. One night his son came home and knocked over the candle and died in the fire that followed.
"It just makes me so angry, it was a simple fix, research, surveys and studies… you can do them till the cows come home but if you aren't reading them and making them applicable to the person who wants to live in it then it doesn't go anywhere," she said.
---
When developing territorial housing strategies, the president of Fort Simpson's Historical Society also places a high value on looking to the way Indigenous people housed themselves with little to no dependence on government assistance.
Norwegian came from a family of seven and was raised in a two-bedroom home.
"When it was time for bed we all had a place to sleep and the couch went back to a couch. They [Indigenous Elder's] don't want a big mansion we aren't asking for that we are just asking for something that is affordable, you can maintain and work with," Norwegian said.
The NWT Housing Corporation currently offers a Seniors Aging-in-Place Retrofit Program which provides a forgivable loan of up to $10,000 (over one year) to lower energy costs or for repairs to help Elders stay in their home longer.
Homeowners must be low income and over the age of 60.
Nelner has shared his project with the Dehcho Regional Wellness Council with positive feedback for the project.
He is now asking for support from Łı́ı́dlı̨ı̨ Kų́ę́ First Nation and other communities within the Dehcho.
If all goes as planned he said he hopes to break ground this summer, complete outside work before winter and work with a consultant on a business plan as interior renovations take place.