'No guts': Experts weigh-in on Ontario government's proposed child welfare overhaul
'I don't see the fundamental changes needed to keep young people safe'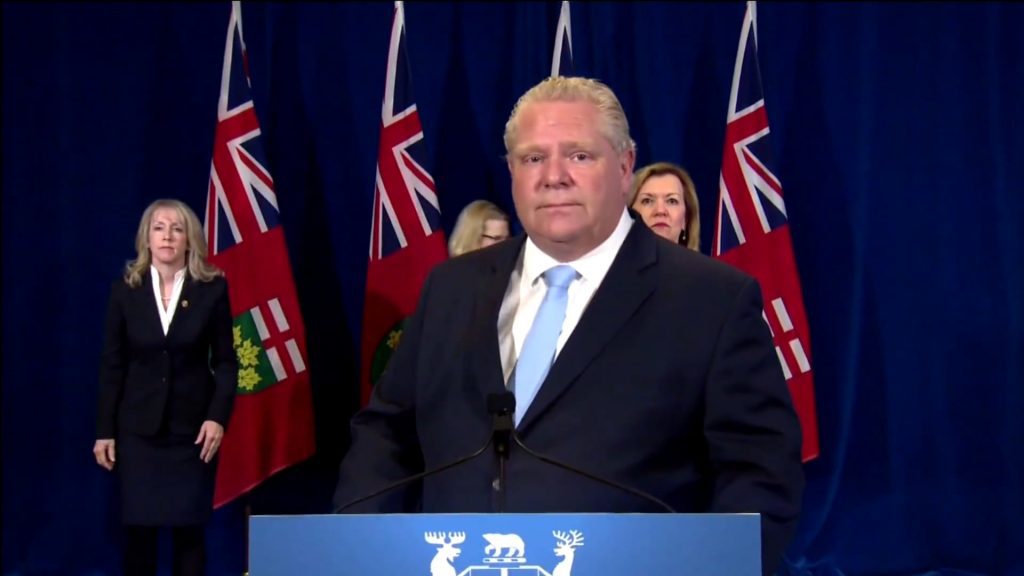 ---
No new money.
No new laws.
No concrete actions.
"It's all fluff."
That's how experts are reacting to the Ontario government's announcement Wednesday to overhaul its child welfare system.
Another said: "As I feared, modernization, particularly with our current government, is a euphemism for 'cheaper'."
That last comment comes from Irwin Elman, the former Ontario child advocate which office was closed by Premier Doug Ford's government.
"Without community-based and built, government-funded systems and supports this plan is a set up and dangerous, leading to only more blaming of those marginalized for their marginalization," said Elman, who called it a 'non-announcement.'
In fact, closing his the advocate's office was the first move Ford made on child welfare in 2018 (it officially closed in early 2019).
Now Ford is looking to "overhaul" or "transform" the child welfare system in the province that is still rooted in polices dating back more than 100 years.
The overall goal is for child welfare agencies, known in Ontario as children's aid and Indigenous wellbeing societies, to balance their budgets within several years.
And do so while moving from an apprehension model to one of prevention.
There's a few issues with that, according to the experts, where is the money to do this?
There is none.
APTN News was told new funding proposals will not be entertained, instead Ford is looking at a "government as a whole" approach to fulfill its plan.
There's also no new regulations, or amendments, to Child, Youth and Family Services Act.
That means agencies can't be forced to meet any of the plan.
There also doesn't appear to be any minimum qualifications for caregivers, such as workers in foster or group homes.
There's never been a standard for caregivers to have specific education. Discussions over this usually have been met with push back from the system over the years. The same goes for agency case workers, who are not required to be licensed social workers.
"I don't see the fundamental changes needed to keep young people safe," said Dr. Kim Snow, a leading child welfare expert in Ontario and professor at Ryerson University.
"Without concrete actions, such as measurable outcomes, minimum standards and enhanced oversight, young people in care remain vulnerable."
Snow means kids will keep dying.
About 120 children connected to Ontario's child welfare system die each year. It's about a kid every three days. Of that total, Indigenous children and youth make up about a third.
Since 2013, 172 Indigenous children have died and most, if not all, are First Nations kids. Metis and Inuit children were never individually tracked, but most of the deaths involve on-reserve child welfare agencies.
NDP MPP Monique Taylor, and children's services critic, said the announcement came as supposed to her and others in the system, who were not consulted before its release.
"I am just so disappointed," said Taylor. "I didn't expect much from them but I thought it would have been more than this. They literally, I think,  threw this together in the last, probably, couple of weeks."
"They didn't need legislation. They didn't need money so they could just through anything together."
It's a plan with no real focus because it lacks any real substantive change, she said.
"Where is the guts? There's no guts," said Taylor.
The Ford government said its strategy will look to make families stronger with early intervention and finding "permanent homes for children and youth in care" when there isn't one in their community.
"Children and youth in care experience significantly worse outcomes than those in a family setting, such as lower graduation rates, a higher risk of homelessness and more involvement with the justice system," said Jill Dunlop, associate minister of children and women's issues. "That is why we are transforming the child welfare system, to ensure more families stay together and children and youth in care have the supports they need to be safe, succeed and thrive as they transition from care to adulthood."
They call it a five-pillar approach and below is exactly what was provided to the public Wednesday.
Strengthening family well-being through community-based prevention services that keep children safe in family-based settings;
Improving the quality of residential care provided to children and youth;
Promoting the development of stable and lifelong connections and supports for youth, with a focus on education and employment opportunities;
Improving the adoption experience and focusing on family-based options over group care where appropriate; and • Creating a more efficient and effective child welfare system that is financially sustainable.
The government also provided this backgrounder.
Dunlop said work on its overhaul plan began last August with a survey and consultations.
But the Ontario Association of Child Protection Lawyers said after brief consultation on modernization of the child welfare last September it never heard from the government again.
"We believed that further consultations would be held, however, this did not materialize. While the OACPL absolutely supports the goal of keeping children with families, we are concerned that such early intervention may be used by children's aid societies to bypass judicial oversight and accountability," said President Tammy Law.
"We are furthermore concerned that early intervention without appropriate legal safeguards will lead to parents giving up their children without proper information or advice."
I listened to this press release. I have a few concerns:
1. No funding commitment to an "overhaul" which aims to focus on prevention and intervention on the front end. The problem, as the Minister noted is that only 8% of CAS budgets are devoted to prevention. https://t.co/C8hKYf9lAn

— Tammy Law (@tammylawtweets) July 29, 2020
As for Taylor, she wrote the Ontario ombudsman's office Wednesday asking the office conduct a systemic investigation into the deaths of 36 children and youth connected to the child welfare system since March.
A third of the death are Indigenous, as first reported by APTN last week.
"To be clear, we are not requesting that you pursue the cause of deaths, and we have separately publicly called on the Chief Coroner's Office to urgently investigate these deaths," the letter said.
"Rather, we are requesting a systemic investigation into the preparedness of the child welfare system to handle the COVID-19 public health emergency, and any pre-existing conditions that may have contributed to the deaths of these children and youth. The deaths of these children and youth demonstrate that there is a crisis in the delivery of care during this emergency."