B.C. group proposing First Nation led commercial seal harvest as tensions mount
Frustrated with the estimated 100,000 seals swimming off the coast of British Columbia, commercial fishers are now calling for a yearly harvest.
"An annual commercial harvest will bring back balance," says Thomas Sewid of the Pacific Balance Pinniped Society.
Media from across the world have been focusing on what some are calling a war on seals and sea lions in the waters off the B.C. coast.
One Facebook video shows a local fisherman tossing a small explosive, known as a bear banger, into a group of sea lions in the Straight of Georgia.
People were horrified by the video – and reaction on social media was harsh.
No seals appear to be harmed in the video.
Sewid says he understands the reason behind the bear banger.
Sewid is a Kwakwaka'wakw commercial fisherman originally from Alert Bay, B.C.
He's watched the numbers of pinnipeds grow all his life.
(Photo courtesy: Pacific Balance Pinniped Society)
Pinnipeds are marine mammals that have front and rear flippers.
"The pinniped population in B.C. waters has exploded in the last 25 years," he says. "And they're hungry."
"As commercial fisherman the frustration is we are seeing closures and restrictions constantly.  We know that the population of salmon and other fin fish are dropping considerably and then we have to try to catch herring and we have hundreds of sea lions in our nets."
Sewid says a controlled commercial harvest run by First Nations will enhance critically low fish stocks.
"Give us First Nations the right under food, social, ceremonial to not only continue our harvest, but expand it so that we have these markets established to sell every part of the seals and sea lions we harvest," he says.
"Thus bringing back the balance within our waters once again."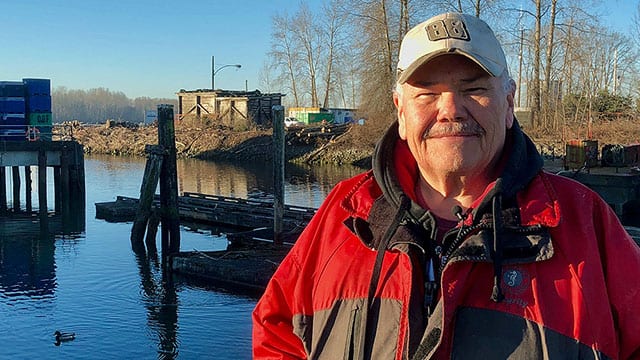 (Fisherman Thomas Sewid says, "An annual commercial harvest will bring back balance." Photo: Laurie Hamelin/APTN)
Sewid's group proposes to bring the seal population down by half – harvesting a few thousand each year.
Carl Walters, a fish biologist and a professor emeritus with the University of British Columbia, supports the harvest.
"First Nations people have been harvesting seals along the coast for thousands of years and the current population size out there is about double what it was in the late 1800's when the last small pox outbreak really devastated the First Nations populations along the coast," Walters says.
"This situation today out here is way out of line with anything from the last several millennia."
Pinnipeds eat millions of tonnes of commercially valuable fish.
"The biggest change we see in the Georgia Straight is that Chinook and Coho salmon have dropped about 90 per cent since 1970, as the seal abundance has gone up," says Walters.
"So what used to be the most valuable fishery in B.C. is now a tenth of what it was back then."
(This sea lion was shot in the eye and is recovering at the Vancouver aquarium. Photo courtesy: Vancouver aquarium) 
The hunting of seals has been banned along the west coast since the 1970s – but the Pacific Balance Pinniped Society's formal proposal to the Department of Fisheries and Oceans (DFO) could change things.
"Together with DFO we are going to be analyzing the pinniped meat and blubber so that it meets Canada food standards certification for human consumption and pet food consumption," says Sewid.
But a west coast seal harvest won't win the government any public relations points –  and there will be stiff opposition to any sort of cull.
In a statement to APTN News, DFO says there are no plans to authorize a large scale fishery or cull of seals or sea lions at this time.
But over 100 different First Nations are in favour of the harvest – and an annual hunt would mean much needed jobs.
"We're looking at over 4,000 jobs created in B.C. alone for people to go out harvesting pinnipeds and spin off industry supporting that," Sewid says.
"That is a lot of money going into our coastal communities."