Victim told court she begged for time to leave house as Brazeau sexually assaulted her on the stairs
Suspended Senator Patrick Brazeau allegedly spit, choked and hit victim, a Quebec court heard.
Jorge Barrera
APTN National News
Suspended Senator Patrick Brazeau flashed the thumbs-up from the passenger-side of a white truck Monday as he left day-one of his trial in a Gatineau, Que., courtroom which heard details of his alleged break-up attack on a woman after she begged him to give her time to find a place for herself and her children.
The Honda truck was driven by a long-time friend. In the backseat was Brazeau's current girlfriend who sat through the duration of the first day of the judge-only trial that featured testimony from the alleged victim who called Gatineau police on the morning of Feb. 7, 2013, saying she had been attacked by the then-Conservative Senator. Brazeau is facing charges of assault and sexual assault. He has pleaded not guilty.
Shortly before getting into the white truck, Brazeau said that he would eventually be making a statement.
"I'll be making my declaration when the time comes," said Brazeau, who is Algonquin.
It wasn't clear whether that meant he would be testifying in his defence.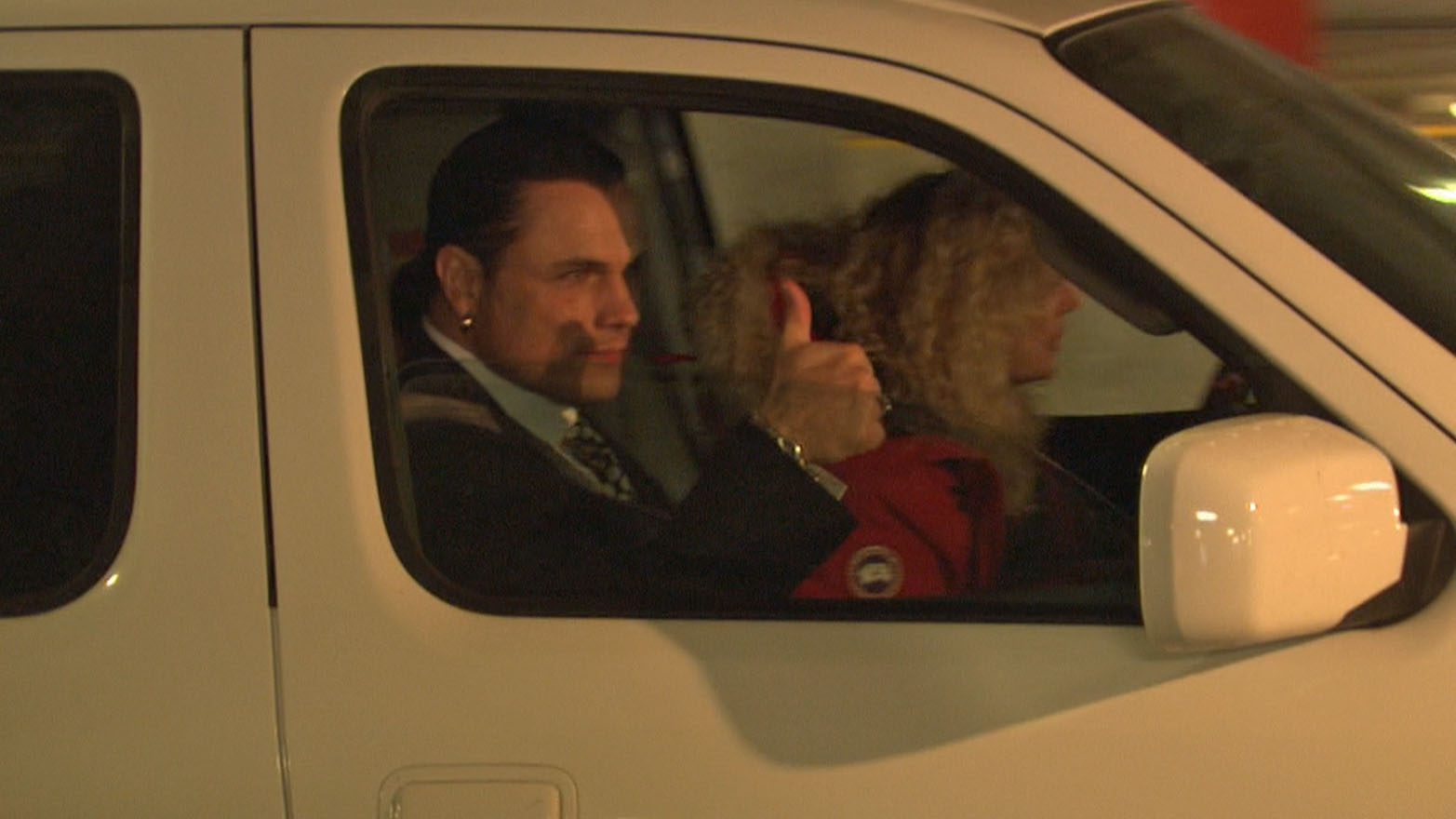 Brazeau stared intently at the alleged victim while she testified Monday about the last few hours of their relationship. She testified Brazeau ended the relationship because of stress from the increasing scrutiny over his tax filing and Senate spending habits and jealousy over an ex-boyfriend. The woman testified through a Spanish translator.
At one point Brazeau shook his head as she described one of the sexual assaults following a tumble down a flight of stairs.  The woman, who cannot be named because of a publication ban normally placed on trials involving sexual assault, told the court Brazeau twice attempted to commit a sexual assault by pulling down her pants and trying to penetrate her in the buttocks area with his finger.
The Crown also submitted photos of bruises on her arms, scratches to a knee and scratches to her back. Photos were also submitted depicting parts of broken staircase railing. Photo showing a ripped picture of Prime Minister Stephen Harper, the victim and Brazeau was also submitted as evidence. Harper appointed Brazeau as a Senator in 2008.
The case is being heard by Quebec Judge Valmont Beaulieu who had to contend with Brazeau's agitated lawyer Gerard Larocque. The lawyer was upset the victim's testimony included details he hadn't seen in the disclosure. Larocque also complained about the quality of the Spanish to French translation.
The woman said Brazeau woke up that Thursday morning in February demanding that she immediately leave the three-storey rented house in Gatineau and then proceeded to push, hit, choke and sexually assault her.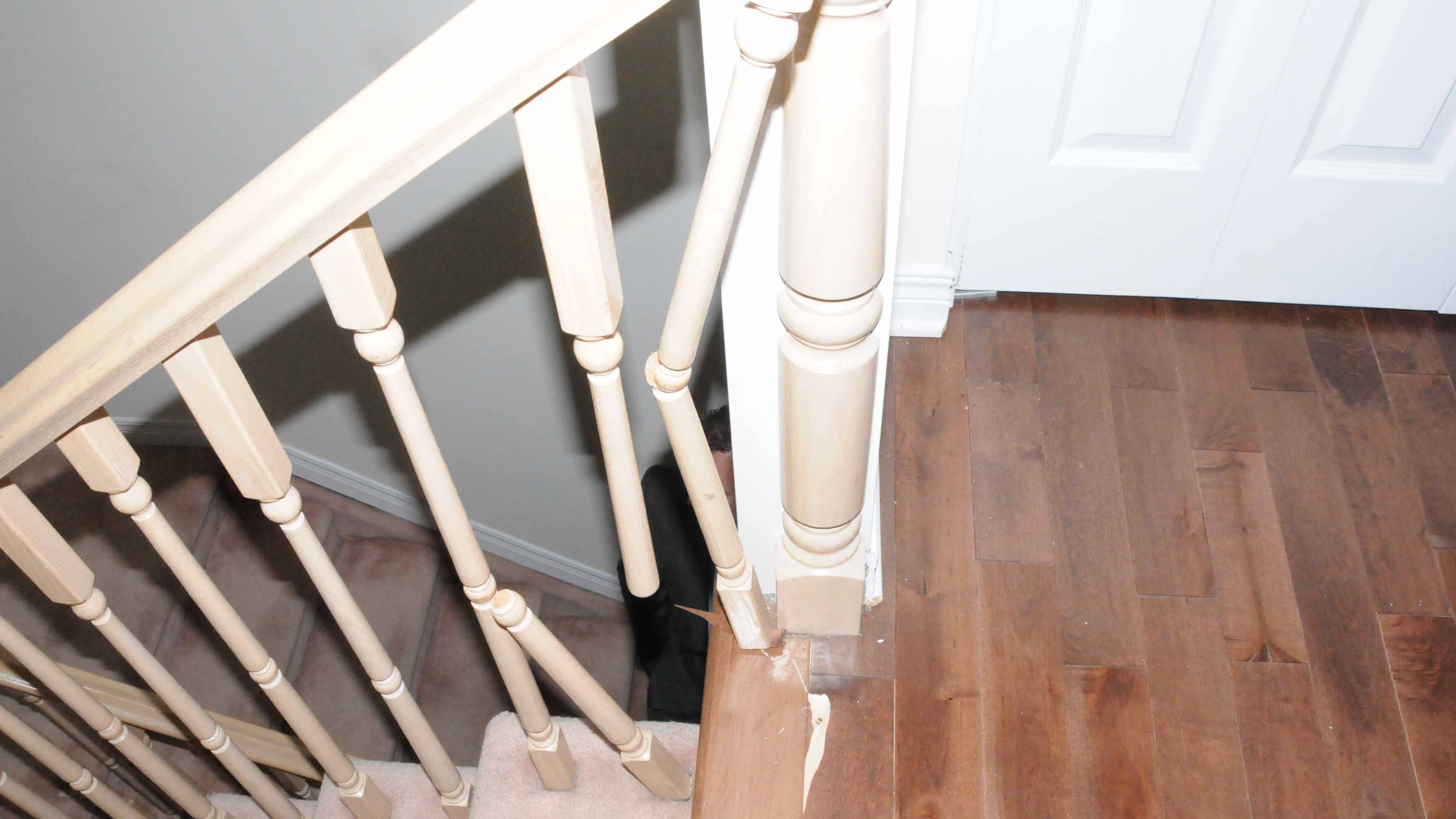 The night before, Brazeau arrived from his Senate work at about 7 p.m. worried about a looming story from CTV about his tax filings from his time as national chief of the Congress of Aboriginal Peoples. The report said Brazeau used the on-reserve address of a former father-in-law for tax purposes. The woman testified that Brazeau was drinking martinis and other cocktails that night and grew increasingly agitated. He was finally set-off after receiving a Facebook message from the woman's ex-boyfriend. The woman said the Facebook message, sent after the TV story aired, said Brazeau should pay back money to the Senate.
The woman said she felt jealousy began to burn inside Brazeau and she went to their bedroom to sleep in hopes that things would calm down in the morning. She felt him get into bed at some point that night. She went through her usual routine the next morning making breakfast for the children in the house before they went off to school. Both Brazeau and the woman have children from different relationships and they were staying at the house during this time.
While she was making breakfast, the woman said Brazeau asked her cryptically whether she had made her decision yet.
"I asked him, I didn't understand and he said 'you should understand what I refer to," said the woman. "I stayed quiet because the children were eating at the table."
She said Brazeau drove his children to school. Her children walked to school. When he returned, Brazeau told her she wouldn't be picking up his children after school, as she usually did.
"He said, 'you should understand what I want to say,'" said the woman. "I said, 'that I should leave.' He said, 'yes.'"
The woman said she immediately went up to the bedroom to begin gathering her things. She said Brazeau followed. The woman said she managed to change out of her pajama pants and into her jeans when Brazeau entered the bathroom. She said she told Brazeau he no longer had a right to see her change, but he began demanding that she leave the house.
"And at that moment he became aggressive, that it's his house and I should leave his house immediately and he pushed me," said the woman. "I said he had to give me time to change and find a place for me and my children. He started pushing me toward the stairs."
The woman, who has no family in Canada besides her children, was holding a purple turtleneck sweater and a leopard print bra in her hands.
She testified, Brazeau's violence intensified. The woman said she fell sitting down after Brazeau pushed her from behind with both hands. Brazeau then got on the floor and began pushing her down the stairs with his feet. She grabbed the posts on the railing, which broken, and went tumbling down the stairs to the first landing.
"He started to say I had to leave the house, that I had to leave the country and I was a whore," she said.
Brazeau also allegedly spat on her.
Then Brazeau grabbed her with both hands by the head and slammed her against the wall. Then, somehow, she fell on Brazeau's legs, face down and the Senator began yanking her pants down to penetrate her with his finger.
"He tried to take off my pants to…stick his finger…saying I was a whore," she said. "Everything happened so fast."
Brazeau then spit in her face and grabbed her left breast "aggressively," the woman testified.
"It hurt," she said. "He started spitting in my face, that I had to leave this country because he was First Nation. He kept pushing me."
The woman testified the struggle continued. At one point Brazeau pulled her arm hard, then grabbed the purple sweater from her and ripped off a piece cloth. The sweater was entered into evidence and the woman held the torn shred in her hands.
Then, in the midst of the tumult, she ended up on her hands and knees on the stairs looking up with Brazeau behind, choking her.
"I was saying, give me time, I have no place to go," said the woman. "I just begged him to give me time and he said he didn't care."
Brazeau again used his finger to sexually assault her in the buttocks area, she testified.
"I felt his finger," she said.
The trial resumes Tuesday.
The victim initially said she wanted the courtroom cleared during her testimony.
They met in 2010 during a Conservative party Christmas event in Montreal.
@JorgeBarrera