Senator announces inquiry into unrecognized histories of Indigenous peoples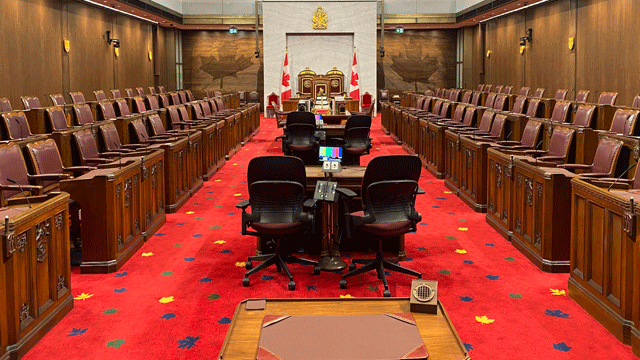 Temporary Senate of Canada. Photo: Brett Forester/APTN
APTN News
A Canadian senator is pushing to open an inquiry into the unrecognized histories of First Nations, Métis, and Inuit peoples and their contributions to Canada.
The move was announced by Sen. Marty Klyne, Cree-Métis from Treaty 4 Territory in Saskatchewan who said he plans to address the Senate about the inquiry in the new year.
"We're closing the gap," Klyne told APTN News.
He said the inquiry gives Canadians the chance to understand the role First Nations, Métis, and Inuit have played and still play, in laying the economic and cultural foundations of Canada.
"Many communities have not lost their culture, traditions, and heritage," he said.
"Many have found this as a strength and resource to move forward. When I look at economic organizations I see these strong beliefs.
"They don't put that to the side."
Klyne said the inquiry will reach out to Indigenous communities to make sure their stories are heard.
He hopes the inquiry will issue a report that aggregates these stories, and warns leaders about the dangers of resisting change.
"There are many valuable lessons to be learned and built upon for continued success towards accelerating the participation of Indigenous people in Canada's economy.
"I am opening this inquiry in the Senate to put on record some of the lesser known yet valued contributions as we work together to make continued efforts towards reconciliation," Klyne said.
Prior to his appointment to the Senate by Prime Minister Justin Trudeau in 2018, Klyne had a long career where he occupied the position of chief executive officer for private and Crown corporations.
He also worked extensively for Indigenous organizations in Saskatchewan.