'Rule of law' isn't only B.C., Canadian law: Bellegarde
"You're going to end up with a very imperfect and unfair set of answers."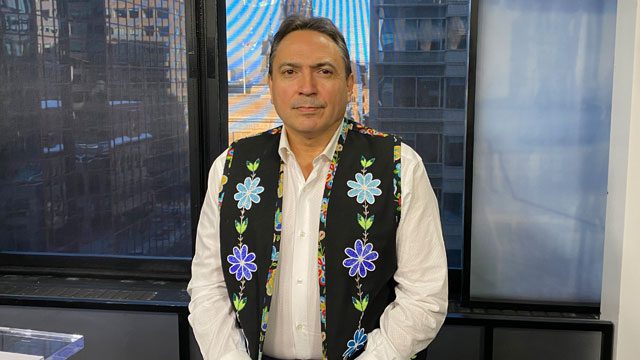 Perry Bellegarde is not happy with B.C. Premier John Horgan's spin on the "rule of law."
The national chief of the Assembly of First Nations said his members support the "governance and decision-making process of the Wet'suwet'en people. Canada and British Columbia must do the same."
It's the second time Bellegarde has involved himself in the pipeline dispute playing out in northern B.C.
Last January the national Indigenous leader told RCMP to stop their violent incursion on Wet'suwet'en traditional territory south of Houston, B.C.
Now Bellegarde said the "rule of law" cited by Horgan Monday as a reason Coastal GasLink construction should continue isn't only Canadian law.
The "rule of law" includes honouring First Nations laws in their traditional territories," Bellegarde told APTN News.
"The necessity of respecting those laws and traditions is further underlined by the provisions of the UN Declaration on the Rights of Indigenous Peoples (UNDRIP). Right now, the federal government and BC government must meet with the Wet'suwet'en leadership and immediately work to resolve this matter through dialogue not violence."
Horgan, whose NDP are in power thanks to a partnership with the B.C. Green Party, said adopting UNDRIP doesn't give Indigenous opponents a veto over the multi-billion-dollar project to ship natural gas to foreign markets.
"I don't understand why we're having this conversation," agreed Ellis Ross, a former Haisla chief in northern B.C. and now Liberal MLA.
Two types of law
"We don't have two types of law…We can't pick and choose which law we're going to abide by today and just decide that, 'OK, some certain groups of people can define their own laws.'"
But Kate Kempton, an Indigenous rights lawyer in Toronto, said Canada could absolutely have two parallel laws.
"Unless and until Crown governments recognize that or accept that a space needs to be carved out for an equal status Indigenous legal realm in Canada…you're going to end up with a very imperfect and unfair set of answers."
Kempton said New Zealand and Australia have made such a space.
"Suppose an Indigenous law was as applicable here as Canadian law. That would mean that Coastal GasLink would have to get a set of permits from the Crown government, but they'd also need a set of permits from the relevant Indigenous government."
Kempton said Wet'suwet'en pipeline opponents are staring down colonial governments and corporations as part of Indigenous self-determination.
"What the Crown governments have to do instead of continuing to fund poverty, they need to find a way for real economic support in the trillions of dollars to go toward Indigenous governments to figure out for themselves how self-determination, self-governance is going to work."
Then, instead of fighting each other in court or at barricades on the ground, Kempton said they would know "what is our government, who's in it and who's going to decide when there's an external project within our Nation yes or no" – instead of elected versus hereditary versus Canadian.
"Right now, the support and structure isn't there so you end up with this messy situation reflected in this case," the lawyer added.
Watch Todd Lamirande's story on the latest from Wet'suwet'en Territory
The 'messy situation' in B.C. has attracted the attention of  international and national civil and human rights groups.
The United Nations, Amnesty International, B.C. Human Rights Commission and B.C. Civil Liberties Association all released statements slamming the position of Canada's elected politicians on Indigenous rights.
"All of your governments have recognized that significant shifts are required to move forward with reconciliation with Indigenous peoples and show full regard for their rights in the Constitution and under international law," said Amnesty's English and French secretaries general Alex Neve and France Isabelle-Langlois.
"If promises to do so are not met with concrete action, very much including tough and challenging decisions such as those required here, then the words remain empty.  That is the shameful history that Canada absolutely must leave behind."
Ross, who supports the pipeline project and the jobs it offers Indigenous communities, was critical of the UN alleging Canada's resource projects are racist.
"The UN is highly irresponsible in not talking to everybody to get a complete picture of what's happening here in B.C. over the past 14 years," he said in a telephone interview Tuesday.
"They took one story out of B.C. and they figured that all the Aboriginals in B.C. are being trampled on and that couldn't be further from the truth."
In a replay of last January, RCMP took control of a section of unceded Wet'suwet'en Nation land Monday in what they termed a safety measure.
They are blocking traffic from moving in and out of the narrow Morice West Forest Service Road south of Houston that winds its way through snowy forest land to camps operated by the Gidimt'en and Unist'ot'en clans.
CGL claims camp members interfere with its ability to construct the pipeline and won an interlocutory injunction from a B.C. Supreme Court judge. It said it was up to the RCMP to enforce the injunction.
Preserve the safety
"Our duty is to preserve the safety of everyone involved in this dispute, and to prevent further contraventions to the BC Supreme Court ordered injunction," said Dawn Roberts, in a release from B.C. RCMP.
"As a result, an access control checkpoint has been established at the 27 kilometer mark of the forestry road. The purpose is to mitigate safety concerns related to the hazardous items of fallen trees and tire piles with incendiary fluids along the roadway, as well as to allow emergency service access to the area."
The felled trees and tire piles were discovered last week by CGL workers and reported to the RCMP.
"We remain committed to facilitating the ongoing dialogue between Indigenous communities, Coastal GasLink and Government, in the hopes that these efforts will result in a safe and peaceful outcome," Roberts added in the release.
She said people allowed to pass the police checkpoint were:
-All hereditary and elected chiefs;
-Elected and other government officials;
-Journalists with accreditation from recognised media outlets;
-Persons providing food, medicine or other supplies or services required for the well-being and safety of persons behind the blockades;
-Other persons as approved by the RCMP operations commander or delegate.
"For purposes of safety, all persons entering must indicate their specific destination, estimated time of return and indicate their understanding of the hazards present. Vehicles and persons entering will be logged to ensure awareness of who has entered and safely exited. All other vehicles will be turned away," the release added.
"All occupants of vehicles exiting the area who were not already spoken to on their way in will be briefly detained per paragraph 10 of the BC Supreme Court injunction, asked for identification, and provided a copy of the court order before they are permitted to go on their way."
Meanwhile, the interim leader of the B.C. Green Party was not available for an interview Tuesday.
And the president of CGL again asked for a meeting with the hereditary chiefs.
"We believe that by working together, we can address the interests of the Office of the Wet'suwet'en while continuing to provide significant benefits to the Wet'suwet'en and other Indigenous communities," David Pfeiffer said in a letter posted to the company's website Tuesday.
The chiefs, who don't want the pipeline on their unceded territory, were in meetings Tuesday.