Anishinabek Nation looks forward to 'history-making' self-government agreement vote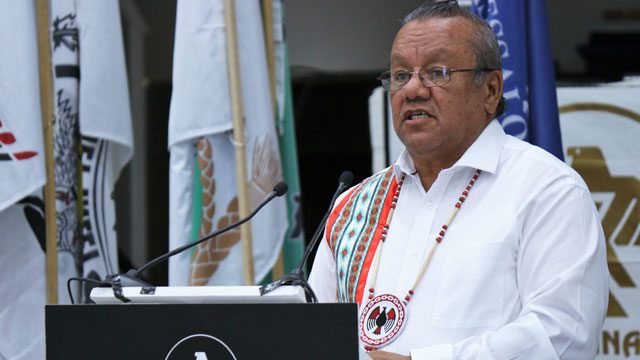 The day started with a drum song by the youth – though not a single drummer is old enough to remember when negotiations for self-government began.
"This is a vision of the leadership of 25 years ago," said Anishinabek Nation Grand Chief Glen Hare about his organization's proposed self-government agreement.
"This is a proud moment for me as a leader," he told APTN News. "I have thirty-some years now. I'm very excited."
It's probably fitting that the youth kicked off the Anishinabek Nation's governance summit, which ends Thursday in Sault Ste. Marie, Ont., because they'll be the ones most impacted and who carry the project into the future.
The Anishinabek Nation Governance Summit — Restoring our Rightful Jurisdiction Summit is now underway in Sault Ste. Sainte Marie. The Summit began with a welcoming song led by youths Jacob, Steven, Nashoba, Owen, William, Jahizm, and Wayne on drum. #ANGovernance #GovernanceVote pic.twitter.com/MolraBeyQb

— Anishinabek Nation (@AnishNation) January 14, 2020
Negotiations with Indigenous-Crown Relations Canada wrapped up in August, and ratification votes will be held throughout February.
"It's an important first step," said lead negotiator Martin Bayer. "It builds a solid foundation for our houses and then once we can determine who's on board and who's going to form the Anishinabek Nation government, then I think we're on better footing to move forward in some of the other areas, and really, ultimately create the conditions and climate that's going to help improve the quality of life for our people."
First Nations that ratify the Anishinabek Nation Governance Agreement (ANGA) will take back jurisdiction over four areas from the Indian Act: leadership selection, citizenship, language and culture, as well as management of certain First Nations government operations like financial disclosures and information privacy.
Hare pointed out the importance of bringing back traditional linguistic and cultural elements of governing.
"There's not too much of us that have our language to use unfortunately," he said.
The agreement also offers more control over band registries and citizenship. Though the federal government retains power to grant Indian status, First Nations would be able to legislate who belongs to their communities regardless of blood quantum.
A new "Anishinabek Nation Constitution" also brings back governance principles based on traditional philosophies and spiritualities like the Seven Grandfather Teachings and the customary clan system in which one's clan, or doodem, determines one's role within the political system.
Also known as the Union of Ontario Indians, the organization represents 40 elected First Nations governments across Ontario.
Twenty-seven are voting to ratify the agreement.
The Chippewas of Georgina Island is one of 13 that aren't.
"We feel that it's a good first step for those First Nations who wish to participate in the initiative," the Georgina Island Band Council said in an email.
"Our reasons for not participating at this point in time revolve around the fact that some of the wording contradicts with our present Self Government initiatives that are working well for our First Nation. If in the future we are able to have wording in our clauses that were compatible to our Land Code and Constitution we would consider bringing it forward to our membership for a ratification vote."
"We're not forcing this," Hare said in response. "There's a time frame. Windows are open for the voting of this thing." Some First Nations are conducting independent legal reviews first, he added.
Minister of Crown-Indigenous Relations Carolyn Bennett was not available for an interview. Spokesperson Jane Deeks said Bennett's office can't discuss technical aspects of the agreement while the ratification process is underway.
Bennett previously called it a "historic milestone" and a chance to move past the Indian Act.
Questions Outstanding
But questions remain surrounding community engagement, critical review, fiscal arrangements, provision of social services, and whether or not the agreement gets far enough away from the Indian Act.
Hare said engagements are underway and the summit, for instance, served to inform communities about what the agreement means.
A fiscal agreement is in place that has all the information communities need, said Jide Afolabi, an Ottawa-based negotiator advising Anishinabek Nation on financial matters. The agreement contains various "placeholders" for future negotiations, especially surrounding provision of social services.
Afolabi said he's confident about the financial side nevertheless.
"It's a very new positive development," he stated, "one that I think in the years to come will be followed by other First Nations groupings."
But a Yellowhead Institute brief released today raises concerns about the agreement, saying it "can only be called self-government in the most narrow of interpretations."
"Regarding self-government," wrote Hayden King, "there is nothing on offer in the ANGA that can't be obtained through existing federal policy. In fact, most of the 'powers' Anishinaabeg are being granted have existed for many years."
That is, First Nations who don't ratify are still free to develop their own laws and services as far as the Indian Act allows. They can use the First Nations Land Management Act (FNLMA) for reserve lands, or the First Nations Elections Act to address leadership selection, for instance.
"The initial mandate that we were given from our chiefs, in terms of what we were going to be negotiating," Bayer said in response, "was to be negotiating under the broad umbrella of governance, and that's why these particular law-making powers were advanced."
He said the next steps include establishing jurisdiction over enforcement of First Nations laws as well as provision of social services like health and child welfare.
Federal law and Canada's Charter of Rights and Freedoms would still rule over a number of key jurisdictions relating to "matters of national importance," such as human rights and criminal law. New laws struck under the agreement will only prevail over federal and provincial laws pertaining to the four jurisdictions in question.
"Basically, take a bite off, chew it a bit, and then see how things work out," Bayer said of the present agreement. "Then look at the next areas down the road that also need to be addressed, like housing, education, health, and so on."
Anishinabek Nation already has an education agreement in place, which at the time was the largest self-government agreement in Canadian history.
"The education was a learner for us," said Hare.
"We have an opportunity to take control, so we can say what happens where we live."