Man says he was fired for posting alleged exchange between his girlfriend and grand chief
"I do suggest that you take your postings down in regard to Grand Chief."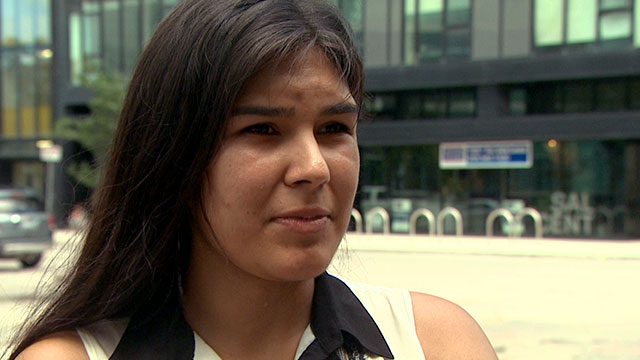 Matthew Shorting alleges he was fired from his restorative justice job after he alleged online his girlfriend was harassed by Manitoba's top Indigenous leader.
Shorting said it happened July 12 in a text exchange with his boss, Julia Robson, about his Facebook post on Arlen Dumas, grand chief of the Assembly of Manitoba Chiefs (AMC).
A screenshot of the exchange, which Shorting shared with APTN News Monday, show Robson telling Shorting to delete the post.
"I do suggest that you take your postings down in regard to Grand Chief," Robson wrote, adding "…I don't believe fb (Facebook) is the way to handle it."
Robson then told Shorting, who refused to comply, to pick up his paycheque and record of employment on July 17 – ending his role as a justice worker after two and a half years with Winnipeg's Onashowewin Justice Circle, which partners with Justice Canada and Manitoba Justice.
APTN left a voicemail message for Robson seeking comment and received an email saying she was on vacation.

This screenshot of text messages include reference to Cora Morgan, the AMC's First Nations family advocate, who sits on the board of Onashowewin Justice Circle. (APTN)
Dumas announced last Friday he'd be taking time off temporarily to heal and seek counselling in the wake of the allegation involving Bethany Maytwayashing.
Dumas denied he used a phony Facebook account to contact the 22-year-old to "meet up."
"The statement that I made on Wednesday, July 10th, 2019 is true," Dumas said.
"I never operated a fake Facebook account called Charles Forbes. This appears to be a manufactured political smear."
But Dumas did admit to messaging Maytwashing on social media to provide direction.
"I did not pursue a relationship of an intimate nature with this woman," Dumas said in the statement.
"I was asked by her for advice and guidance on her path forward. I provided assistance to the best of my professional ability. I messaged her to follow up. I do this on a regular basis with numerous community members, students, and colleagues who often seek out my support."
APTN News has asked AMC if it has a sexual harassment policy, and to provide a copy but one was not received before publication.
Meanwhile, Maytwayashing denied she "ever reached out" to Dumas, 45.
"He was the person in every conversation who initiated the conversations," she said, noting she is scheduled to meet with the AMC's Women's Council – comprised of female chiefs – later this week.
APTN has confirmed the council has contacted two other women as part of its investigation.
AMC is a publicly funded Indigenous political lobby organization representing all First Nation chiefs in Manitoba.
Authority and trust
Maytwayashing feels the communication from Dumas was inappropriate given their wide age difference and his position of authority and trust.
She called on others to come forward and report sexual or gender-based harassment, which the Women's Legal Education and Action Fund (LEAF) defines as "any unwanted physical or verbal behaviour that offends or humiliates you."
LEAF, which works to ensure the equality rights of women and girls under the law, said most human rights legislation and collective agreements define harassment as "engaging in a course of vexatious comment or conduct that is known or ought to be known to be unwelcome."
This can be in the form of a single incident, the group adds on its website.
LEAF said human rights legislation also prohibits "payback" or "reprisal where a person raises issues or complains of sexual harassment, such as hostile behaviour, excessive scrutiny, social exclusion or other negative behaviour because someone has rejected a sexual advance."
Maytwayashing, who thinks Dumas should be made to resign, has received some support on social media and also criticism in the form "of victim blaming."
She said it's the barbs from other women she finds particularly hard to take, like this comment from "Car Shar: Lmao how come you didnt block whwn tje first msg or text came through ? Why let it go on for so long ? you black mailing him or something for cash! You probably liked the attention then got busted now your calling him out ! Theres always two sides of the story! As for him thats just creepy."
Maytwayashing said at "times like this women should feel empowered to stand together, because together we can do anything!"
READ MORE about Onashowewin: http://www.onashowewin.com/page1.html
READ MORE on Onashowewin: https://manitobachiefs.com/adequate-resources-needed-for-new-justice-system-modernization-strategy/
katmarte