Hearings continue for Labrador Land Protectors who resisted Muskrat Falls
Land protectors are back in court this week in Labrador to defend their decisions to resist the Muskrat Falls hydroelectric project.
A provincial Supreme Court judge heard testimony from three land protectors Wednesday in Happy Valley-Goose Bay.
Fifteen protectors face charges related to the protests, including the occupation of the project site in October 2016.
About 50 people went through the gates and occupied a workers' accommodations complex for three days in an effort to halt the flooding of the dam's reservoir, which scientists projected would result in methyl mercury contamination of traditional foods like fish and seal.
The land protectors' lawyer, Mark Gruchy, said there was a lot of confusion in October 2016 and people did not know about the injunction.
Gruchy used video evidence of the occupation that showed the police did not know when the injunction notice had been posted.
"What's been consistent is, even the police themselves, when they attended on people who were already on the site for days at that point — they themselves admitted they didn't know who knew what, or who had seen what," said Gruchy.
Gruchy said a person has to be informed that they have been served an injunction, and that they must understand what it means.
Fifteen Labrador Land Protectors still face charges related to their resistance of the Muskrat Falls hydro project. Angel Moore/APTN.
Many protectors said they were not aware there was an injunction and did not understand what it meant.
"I think there [are] notice issues, and what the legal impact of that is in the final analysis of the facts and the arguments is up to the court, obviously," said Gruchy.
Kirk Lethbridge testified that he has a strong belief that the land has to be protected, and that he is not a criminal — he just broke the injunction.
"So, there are no criminals amongst the activists in Labrador, the warriors in Labrador," he told APTN. "We're not criminals — we're driven by our heart and not by greed or money or other motivation."
For almost 30 years, Lethbridge has been fighting against hydro development of the Churchill River, known to locals as the Grand River.
"We didn't break any law," said Lethbridge. "There are laws of the natural laws that say you're not supposed to poison fish. It's even white man's law you're not supposed to poison fish, you're not supposed to poison birds, you're not supposed to poison and damage the environment."
Lethbridge said he hopes the judge will realize the threat the hydro dam is to the community, and that the case will be thrown out of court.
"Possibly the judge will see now that maybe he acted a little too swiftly, putting an injunction on people that were not just a bunch of radicals or criminals but actually people who are very loving and caring towards the environment that they live in."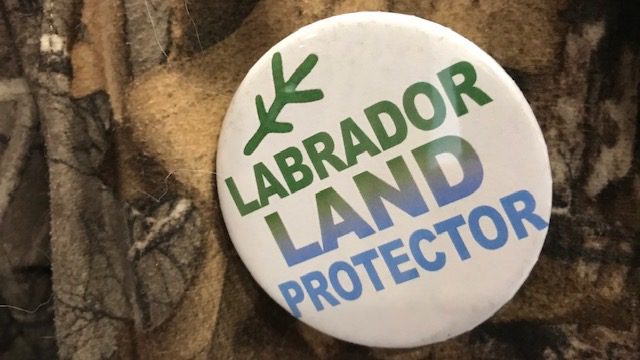 Marjorie Flowers' love for the land led her to resist the dam, which is being built by Newfoundland and Labrador Crown energy corporation Nalcor Energy, she said.
In 2017 Flowers spent 10 days in a maximum security men's prison in St. John's, after she refused to promise the judge she would stay away from the project site.
"The corporation had the upper hand and the courts will have the upper hand," she said.
"I had this destitute feeling going in, and I still have this destitute feeling of being so oppressed and on the losing end of this stick."
Dennis Burden, a land protector from Port Hope Simpson in Southern Labrador, thought once the public knew the risks of Muskrat Falls, the project would be shut down.
"I took all of this action…to get the message out there, but people didn't know what was going on, they thought this was the greatest thing since sliced bread," he said. "But I thought if we could inform the public what was happening the people would rise up against this."
Court continues until Friday, and the judge said he will need more time to come to a decision.