First Nation in Ontario and cannabis operator at odds over opening store in community
The owners of a prohibited cannabis dispensary in Fort William First Nation say they're prepared to re-open if police shut them down.
Steve Lalonde told APTN News he's filed a lawsuit against the First Nation.
"We are in disagreement, we think it's a big fail and our members want to be part of this exciting new industry," Lalonde said.
Lalonde and his business partner, Tim Ward, both members of Fort William First Nation, opened Bubba's Bud and Smoke to customers this week.
"Right now we're selling flower and we're hoping to bring in edibles and other various cannabis products. I think we're just trying to give our members and customers a wide variety of cannabis products and give them access," Lalonde said.
("We're hoping to bring in edibles and other various cannabis products," says owner Steve Lalonde. Photo: Willow Fiddler/APTN)
They're not authorized retailers under Ontario's cannabis control act but they aren't concerned about that.
"We believe we're a sovereign nation, we do believe we have our own ability to write our own laws and our own regulations and I think that this can be achieved in a transparent and responsible way," he said.
In a memo to community members dated June 2, the First Nations' chief executive officer says a moratorium prohibits any cannabis-related industry on reserve lands  "until affective and meaningful consultation was conducted and until administrative measures be put in place so to protect the health and safety of our community," it reads.
Lalonde said he sits on the community's cannabis committee that was set up to help inform the leadership.
But he said things have stalled and people need access to cannabis now.
It's not just for First Nation members.
Thunder Bay residents want in on it too.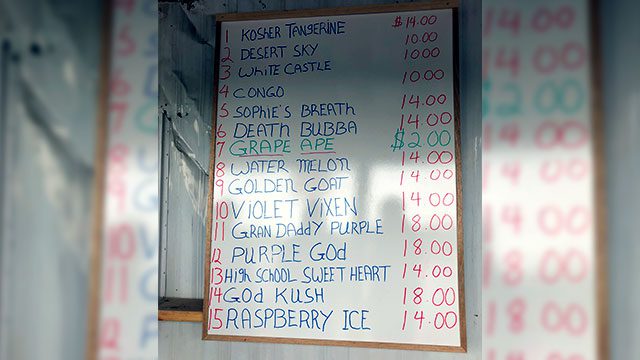 (The menu at Bubba's Bud and Smoke. "It helps my mom with her anxiety," says Jadzia Ogima Gilbeau. Photo: Willow Fiddler/APTN)
Several people waited outside for hours the day it opened, including Beverly Goodwin who said it's about time a dispensary opened up.
"I've been excited, I've been waiting for this for so long. I can't wait until its open now and get some samples and try different ones out," she said.
Goodwin has been a recreational cannabis user for years but says there are other benefits to it.
"I think health-wise, it's better for me as well – nervous, anxiety," she said.
"I think it's helped me with my other addictions and helped with my drinking and that was years ago."
Jadzia Ogima Gilbeau said she doesn't smoke the drug but wants to support her parents.
"It helps my mom with her anxiety and it helps my dad because I know he's always like nervous and it settles him down a lot and I know like my friends who have depression and anxiety and it's helped them significantly," she said.
The Anishinabek Police Service said they are investigating the operation with the province's cannabis enforcement team and that charges are possible.
"The Fort William First Nation doesn't currently have their own by-laws related to the operation of dispensaries on the territory," Insp. Derek Johnson said.
"However, we still comply with the federal cannabis act as well as the provincial cannabis control act so there's a number of offences in both of those acts that relate to the purchase and sale, distribution of cannabis and cannabis derivatives."
(Results of a survey of community members on the sale of cannabis is expected in a few weeks. Photo: Willow Fiddler/APTN)
There's also regulations for purchasing cannabis that Johnson said people show know.
"Each consumer should complete their own due diligence when purchasing recreational cannabis for their personal consumption," he said. "Initially the only available place to purchase recreational cannabis was the online Ontario Cannabis Store."
So far, the province has licensed 25 retail stores – but only two in northern Ontario and both of them are in Sudbury – more than 1,000 kilometers away from Fort William.
Under the province's cannabis control act, band councils can enter into agreements with the minister of attorney general "with respect to the sale, distribution, purchase, possession, consumption, cultivation, propagation or harvesting of cannabis on a reserve."
A spokesperson for the minister of attorney general told APTN that the current cannabis laws are flexible to accommodate First Nations who want to regulate their own cannabis.
Read More:
First Nation wants to become the 'Tim Hortons' of cannabis 
RCMP shuts down cannabis shop on Kwaw-Kwaw Apilt First Nation in B.C. 
Indigenous representatives gather in Treaty 7 to see where to go with cannabis
This includes "minimum age, retail, enforcement and other matters within the scope of the Act."
The province said no agreements have been reached as of yet and no licenses have been issued to any operators on-reserve.
"This is to allow for more time for the province to engage and have discussions with First Nations on what on-reserve approaches work best," a spokesperson said in an email.
In the June 2nd memo, the CEO said they are expecting the cannabis committee to have the results of a community survey in a few weeks, which will help them move forward.
Neither the CEO or Chief of the First Nation was available for comment.