'Everyone needs to belong somewhere': Daughter of late chief denied membership to her home community
Taken during the Sixties Scoop, Deborah Serafinchon grew up in a non-Indigenous family.
She always longed for a sense of belonging.
"You go to a family reunion and you go any place, we'd hear a lot of 'Oh she looks just like her dad' or 'She looks just like her mother' and 'No, Deb looks like nobody,'" she said, during an interview in her Edmonton home.
She traced her roots to the Sawridge First Nation near Slave Lake, Alta., about 250 km northwest of Edmonton.
"When I did finally meet some of my family all I heard was 'Oh my God she looks just like her father.' There was still a part of me going 'Yes! I finally look like somebody. I finally belong to somebody,'" she said.
(Deborah Serafinchon has been denied membership in the Sawridge First Nation despite the fact her father was once the chief there. Photo: Tamara Pimentel/APTN)
But after meeting her biological family, Serafinchon never found that sense of belonging. She has been denied membership to the Sawridge first Nation.
"What I wanted was a relationship with my family and I knew that if I pursued band membership that I wouldn't get a relationship," said Serafinchon.
She would seem to have a strong claim to membership. Serafinchon is the daughter of the late chief Walter Twinn of Sawridge.
Twinn became chief in 1966 when oil was discovered on Sawridge land. With royalties from the nation's oil and gas development, Sawridge hotels were built across Alberta.
Twinn was also appointed to the senate in 1990. Seven years later, he collapsed and died in a sweat lodge ceremony.
"We made arrangements to meet. Then he died. So I didn't actually get to meet him face to face," Serafinchon said while holding back tears.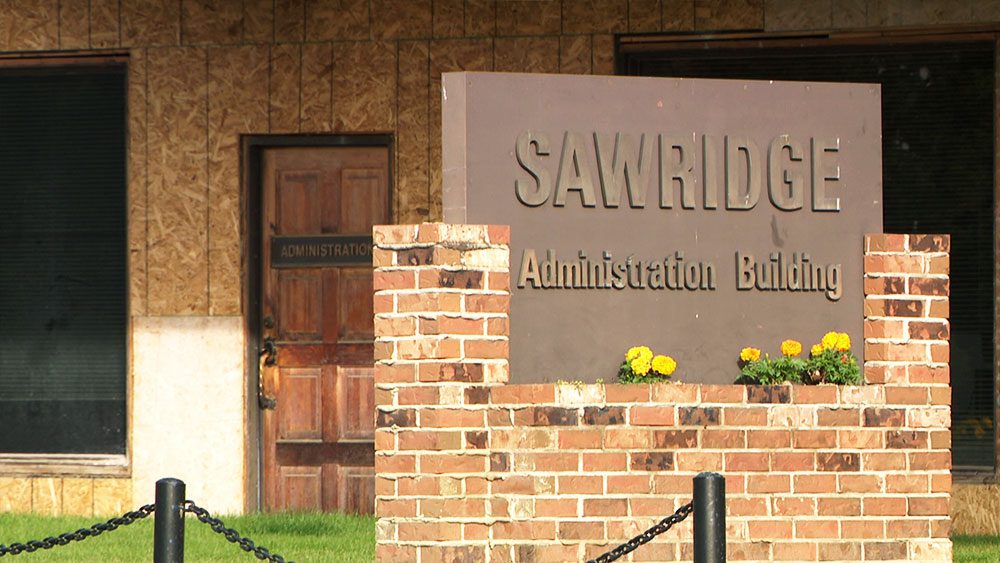 (There are only 42 on reserve members of the Sawridge First Nation in Alta. The reserve trusts were worth $140 million in 2015. Photo: Tamara Pimentel/APTN)
Becoming a Sawridge band member isn't easy. The eight-page application consists of more than 100 questions about things like genealogy, financial situations, criminal and drivers records and even health conditions.
When Walter Twinn was chief, two trust funds were created to control the community's income.
According to an affidavit from Sawridge's trust administrator Paul Bujold, the Sawridge trusts were worth approximately $140 million in 2015.
But for Serafinchon, becoming a member isn't about the money.
"It's very important to me and it's very important that my children have that sense of community that they belong somewhere.
"Everybody needs to belong somewhere."
Sawridge First Nation declined an interview with APTN Investigates but sent a written statement saying in part:
"The First Nation wishes to ensure that new members will contribute positively to the First Nation and not create undue hardship on the First Nation. As such the membership application forms are quite detailed and the review of the applications is done very carefully.
"The membership review process may also include other steps – such as interviews. Membership is generally only granted to a small number of people at any one time."
(Catherine Twinn and her late husband chief Walter Twinn. Photo courtesy: Catherine Twinn) 
Twinn's widow Catherine Twinn is a current band member and former trustee of the trusts.
She built a relationship with Serafinchon and is now helping her gather information to prove her right to membership.
"She's Walter's daughter, she's my stepdaughter, she's my daughter too. He's not here anymore and we don't throw our family away," she said. "We acknowledge our family, we have relationships. Positive, constructive, supportive, loving relationships with our family and we support one another.
"We don't exclude."
Catherine Twinn is also helping Angie Ward.
The 42-year-old has never set foot on her family's land on the Sawridge First Nation.
"We were always told we're not allowed to go on the Sawridge First Nation," she said. "There's signs put up "no trespassing" and if we do go on Sawridge First Nation that we would we could be fined."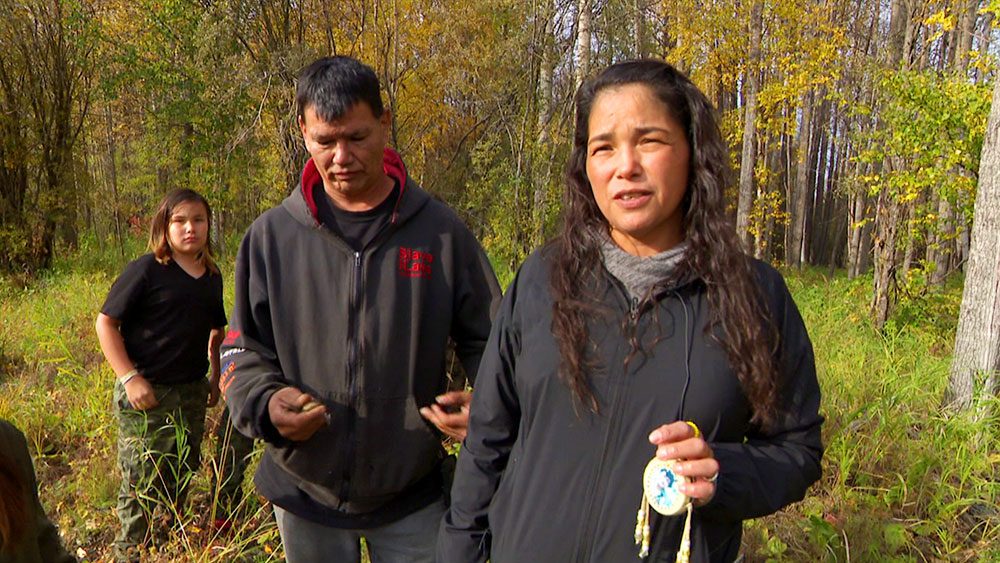 (Angie Ward with her family on the Sawridge First Nation in Alberta. Photo: Tamara Pimentel/APTN)
Ward's father grew up on Sawridge, but was taken away during the residential school era.
He was never successful in gaining his band membership. Ward believes it's her birthright.
With her father's photo and tobacco in hand, Ward and her family stepped barefoot onto the soil for the first time.
"My dad always told us that this was our land and this is where we belong. And Sawridge keeps pulling us apart and telling us that we're not members when we are members"