Police games in Winnipeg met with protests over landfill search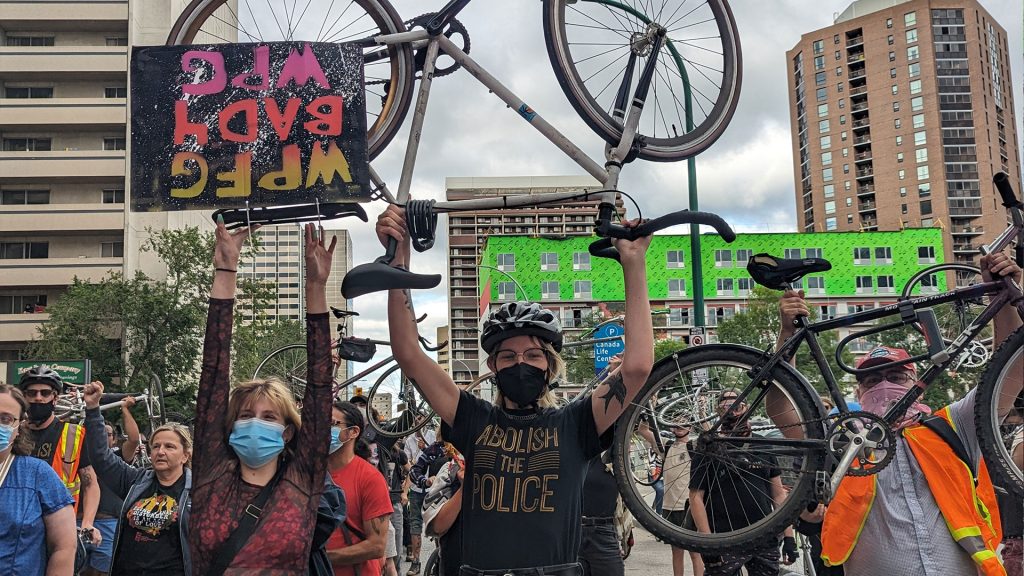 ---
Tensions with Winnipeg police and the provincial government hit an all-time high recently when the city hosted the World Police and Fire Games – priorities some say was disrespectful when the remains of First Nations women lay in nearby landfills.
On July 28, first responders from roughly 70 countries started rolling into Winnipeg for the week long games.
Their base was at The Forks, a popular area just outside of the downtown core where another camp was set up to put pressure on the provincial government to search for their family member Marcedes Myran who is believed to be buried in the Prairie Green Landfill outside the city.
"I think it's hugely insulting that our elected officials are choosing to spend millions of dollars on this celebration of carceral violence of policing when there so many community needs, clear asks that are being unmet, like searching the landfill," said Daniel Friesen, an organizer with Winnipeg Police Cause Harm or WPCH.
In December 2022, the Winnipeg Police Services (WPS) refused to search the Prairie Green landfill, with WPS Chief Danny Smyth saying "[t]he circumstances combined with the safety hazard form the basis of a difficult decision not to go forward with a search at Prairie Green."
A $500,000 feasibility study, paid for by the federal government, found it was indeed possible, with caveats such as cost (anywhere between $84-184 million), the presence of hazardous materials like asbestos making it unsafe and uncertainty that anyone would be found by the end of it.
This was enough for Manitoba Premier Heather Stefanson who announced that she would not support a search, saying in a statement that the government "cannot knowingly risk Manitoba workers' health and safety for a search without a guarantee" and that she'll leave the decision up to the federal government on how to proceed.
Multiple protests in one week 
---
Calls for searching the Prairie Green landfill as well as the Brady Road landfill have come from across the country through social media like Tiktok and by First Nations leadership.
On Tuesday, the Redrum Motorcycle Club rode into town to take part in a rally with the Federation of Sovereign Indigenous Nations from Saskatchewan at Brady Road landfill site Camp Morgan, a memorial camp set up by Cambria Harris the daughter of one victim.
"We will stand up for our people, and that's why we're here today," said one motorcyclist.
The Treaty commissioner for Saskatchewan was also at the rally.
"If we're an Indigenous person and we're in these positions, this is what we have to do," said Mary Masqua-Culbertson, Treaty Commissioner of Saskatchewan, "We have to break rules, we have to push boundaries. And so we're here today to come to show our love and support for the families who have set up here so diligently and have to mourn so publicly."
Cambria Harris also spoke at the rally, saying there is no other option than to search.
"We are not asking; we are telling you that this needs to be done. You will search the landfill and if you will not you will hand me the shovel and you will hand me the hazmat suits, myself and our community will go in there and retrieve our women."
Soon after, another group of demonstrators went to the Winnipeg Police Services headquarters and defaced the building with red hand prints and the words "this blood is on WPS hands" after a fellow protestor was arrested for uttering threats, wearing body armour, and for mischief under $5000. WPS says Major Crimes is investigating the incident.
You have got to be kidding. The definition of "major crimes" is in fact MAJOR crimes like murders, rapes, armed robberies not spray paint. No wonder there are so many missing Indigenous women. @wpgpolice only cares about thin blue line? #thinblueline #copgames #cdnpoli #mmiwg https://t.co/Il8TkMpjZX

— Pam Palmater (@Pam_Palmater) July 31, 2023
---
Cycling for a search 
On Friday, bike bells chimed to the beat of chants demanding for a landfill search and for "pigs to go home" as the opening ceremonies began for the World Police and Fire Games (WPFG).
Dozens of cycling protestors came in droves to the protest organized by Critical Mass and Winnipeg Police Cause Harm (WPCH).
They called for cancelling the games, saying the money would be better spent elsewhere like the landfill search and social services like safe consumption sites and public washrooms.
"The city and province are choosing to spend money on this party for cops basically," said Friesen, "it's really insulting to a community who's been clearly asking for things that they need."
Mike Edwards, COO for the WPFG, said the games bring much more than just thousands of first responders to the city.
"There's an economic impact, there's a cultural element of bringing athletes from 70 different countries around the world into [Winnipeg]. In addition to that, we created an atmosphere of inclusion and an atmosphere of collaboration with a lot of our community members and communities around Winnipeg," said Edwards.
While the full economic impact won't be known until after the games, the cost of the games is around $17 million dollars and funding from all level of governments combined amount to around half of that.
Edwards explained that the money will go to operations, venue rentals, marketing, engagement and Athlete's Village, a site at The Fork's where athletes and their family can relax and awards will be handed out.
It's set up near Camp Marcedes, a memorial camp at the Canadian Museum for Human Rights in The Forks. It was created by the sister of Marcedes Myran, another woman whose remains are believed to be in a landfill.
"Being denied to search for… in the landfills is very disheartening to me and also within the Indigenous community," said Adam Johnston, a cycling protestor, "Meanwhile, the police games going on adds, I guess, insult to what's happening. [It] just adds to the extra layer of hurt that many of us in the Indigenous community are going through right now."
---
Read More: 
Chiefs in Manitoba encourage new minister to continue push for landfill search 
'Our women are worth it': The case for searching the Prairie Green Landfill 
---
Nickita Longman, another protester, said the timing just isn't right.
"The timing for the games couldn't be any worse with the need to search the landfills at the moment. It actually feels incredibly disrespectful as a resident of Winnipeg who is in support of searching the landfill to invest in games and extracurricular activities for police. "
Part of the protest was also based on the WPCH claims that the WPFG have racist roots.
The first games took place in California in 1967 as a morale boost during mass tensions with Black liberation and anti-Vietnam war movements.
"That's very much the spirit of the games when you intertwine, you know, policing into any other kind of thing. Police bring violence with them, that's their job is to bring violence, and to coerce people," said Friesen, "So that spirit of course is going to be carried with the games and I don't think that's something we should put public money towards."
Edwards denies that claim, saying in an email that "[b]oth the Host Society and Federation unequivocally stand for diversity and inclusion as these Games were founded in the principles of comradery and athletic competition."
The clash continues 
---
But on Sunday, more tension grew as a stylized American flag known as the "Thin Blue Line" flag popped up at the Los Angeles Police Department tent at a WPFG event.
The flag is associated with the "Blue Lives Matter" movement, a rebuttal to the Black Lives Matter protests against police brutality across the continent.
When asked why this flag was allowed, Edwards said in email, in part, that "[e]ach team decides what flags they bring and our organization is not involved in those decisions."
He said previously that freedom of speech is also supported, as designated protest zones are set up at events across the city.
But Friesen says that's not enough.
"The only reason to have a protest zone is so that protest can be criminalized elsewhere and we won't stand for that," said Friesen.
Later that evening, another protest was held outside of Athletes Village where a barricade separating the event from the public was pushed and pulled while protestors again called for athletes to go home.
Watch Sav's stories on the protests here.
Part 1: 
---
Here's Part 2:
---
APTN reached out to the Winnipeg police who referred us to the city. The City of Winnipeg didn't get back to us. We also reached to the province of Manitoba who never returned our messages.