Whitehorse city councillor pushes back at suggestion she not bring her baby to meetings
---
A First Nations city councillor in Whitehorse is speaking out about a recent suggestion by the mayor to find other alternatives when it comes to taking her infant son to city council meetings.
Coun. Michelle Friesen feels an unfair standard is being placed on her as a parent.
"We came from a matriarchal system where women were traditionally the ones making decisions and being leaders, and our children were always welcome in the room where decisions were being made," she said.
"They're the next generation, and they're going to learn and carry on the work after we leave…(Theo) is a reminder of who we're making those decisions for."
Late last month, Friesen made a Facebook post that touched on how she's recently faced pushback on bringing her son to meetings.
A Ta'an Kwäch'än Council citizen, Friesen is the first Indigenous person to be elected to city council since 1992 and the first Indigenous woman to hold office. She said she's been bringing Theo to meetings and community events since he was one month old and his presence has always been warmly received.
She notes as an Indigenous mother she feels its meaningful to have Theo with her to partake in community experiences.
'Unfair standard'
But Friesen was caught off-guard by a recent phone call with Mayor Laura Cabott who informed her some councillors, city staff and members of the public found her son's presence at meetings to be disruptive.
"Some comments that have been made is, ' If I have to step away for a diaper change that I'm somehow not fully participating or that I'm somehow missing out on important information and not being able to do my job like everybody else,'" she said.
"I feel like that's a really unfair standard placed on me as a parent and probably a lot of parents, because other people need to leave as well and nobody questions their ability to do their job."
Cabott said in an interview with APTN News that she understands Friesen's position, but notes Theo's presence has become more distracting as he gets older.
"It's really only been the last few months since Theo's gotten older that he's been a lot more active, verbal, he's a busy little guy. He's obviously thriving, he's a joy but some of that brings noise, distraction, disruption to a formal meeting," she said.
Cabott stressed it's important to have an environment free of distractions when holding meetings where important decisions are being made, such as operating budgets and property rights.
"Any kind of distraction can impede whoever's participating, whether it's a councillor, member of the public or staff. It can impede the sharing of information, it's hard to hear, it's hard to stay focused and listen to what other people are saying," she said.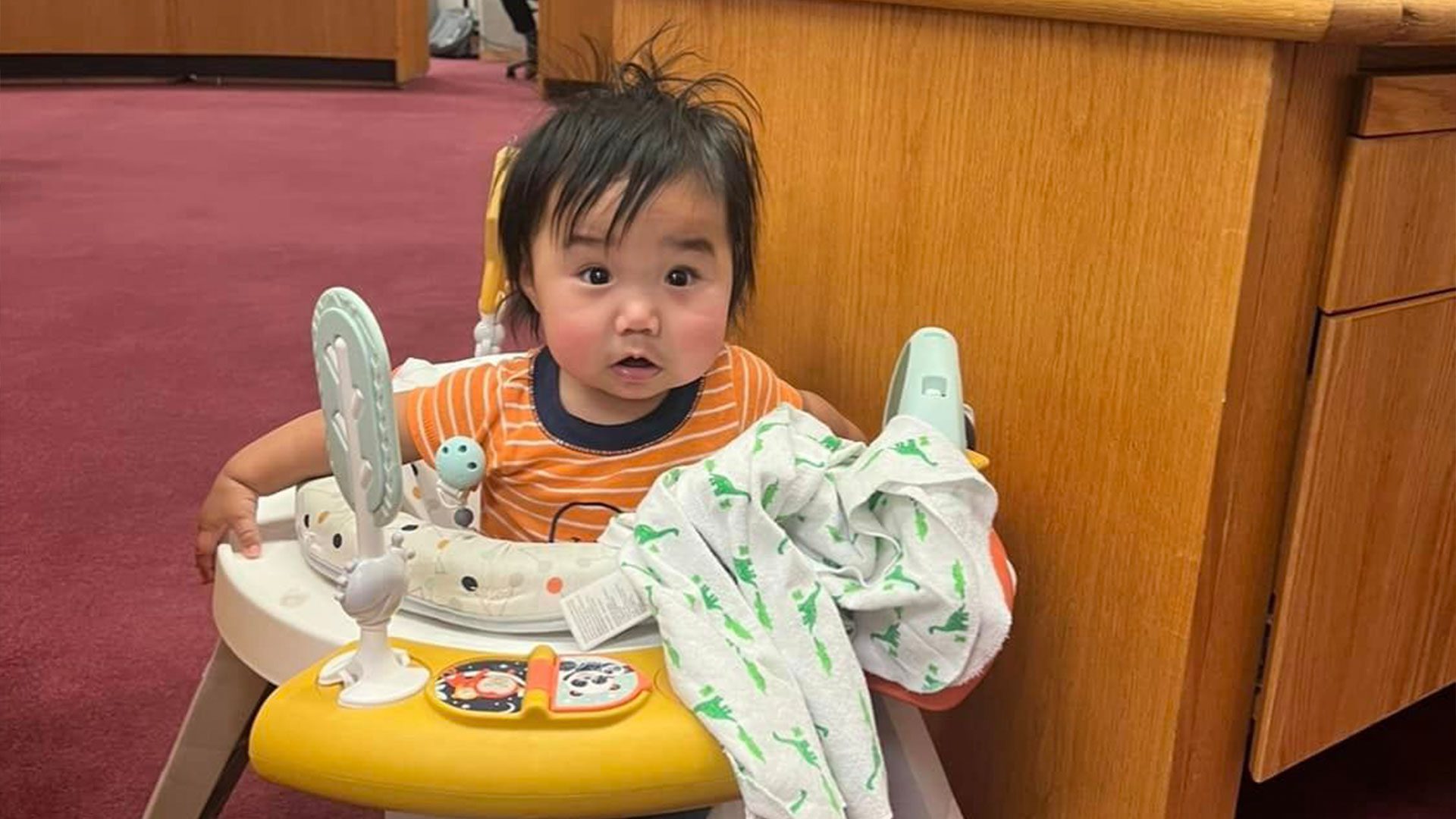 ---
During the phone call, Cabott suggested finding alternatives for Theo, like childcare reimbursement or having Friesen phone in to meetings.
"There was no demand or heavy hammer. There was no suggestion at all that she couldn't continue to bring Theo to city council," Cabott said.
But Friesen said what's being offered for the childcare reimbursement would not be enough to realistically cover expenses. She said calling into meetings also doesn't work for her.
"That actually does affect my ability to do my job properly, because I can't chair my committees over the phone. Somebody else needs to do that work for me; you can't see people in the room, you can't look at a delegate and connect with community that's coming to speak with you," she said.
"Those are things I think are actually affecting the way I do work. I don't feel I should have to participate any less because my son's in the room with me."
Inclusive spaces
Friesen said Whitehorse City Council has a commitment to inclusivity, accessibility and diversity. She feels not being able to bring her child to city council meetings doesn't reflect those values.
"It's about embracing inclusivity, and here's a really good example and a really good opportunity to do that and do things differently," she said.
She noted it's also about "reconciliation in action."
"We talk a lot about those things and this is a really good opportunity to show the public that we're also listening to them because these things are also important to the community."
Cabott said council is committed to finding a solution that will suit everyone. A private meeting will be held to address the issue in the near future.
"Absolutely, let's have a discussion as to how we can be more inclusive," Cabott said. "The landscapes have changed so we definitely need to find more ways to be inclusive."
Friesen said she's received overwhelming support since sharing her story publicly.
On March 8, during an International Women's Day event, a small crowd, including mothers with their children, marched to city hall to show their support.
Friesen said the show of solidarity brought her to tears and reaffirmed her message that politics should be accessible to everyone.
"I'm hopeful we can find some ways forward that will work for everyone and set a standard for the future and invite more young people, more Indigenous women into these spaces."
A sit-in event is planned for a city council meeting on Monday. Event organizers are encouraging parents to bring their children to the meeting in support of Friesen.