'We can't be on the ice safely': Inuit hunters say climate change is changing their lives
Hunters are forced to adapt their traditional practices due to climate change in the North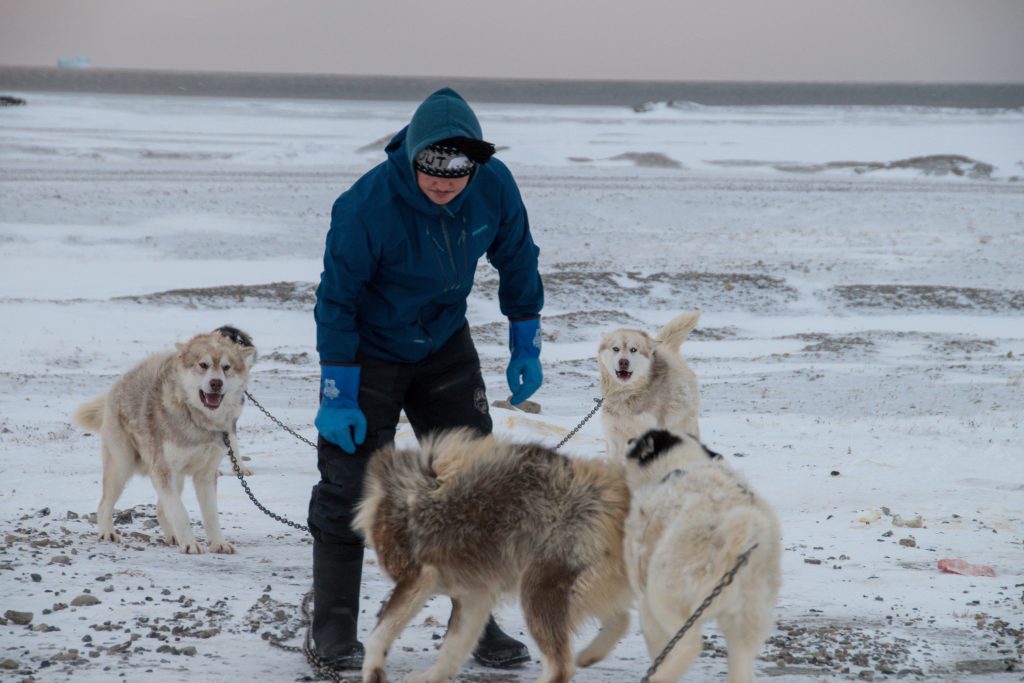 ---
The residents of two of the most northern communities in Canada, Resolute Bay and Grise Fiord say climate change is affecting many of their hunting and foraging practices.
"In 1985 it started to become different," said Larry Audlaluk, an Elder in Grise Fiord who wrote a book on the relocation of the Inuit to the remote communities of Resolute Bay and Grise Fiord by the Canadian government called What I Remember, What I Know.
Audlaluk told APTN News that he used to be able to hunt on the ice by the end of September.
---
"It just got worse quite quickly, now today we can't be on the ice safely until after the third week of October," he said.
Hunters in the community told APTN they have to be more careful because of the changing conditions. People like Jarloo Kiguktak who have been hunting and fishing in the area for decades notice that even the way the ice is melting seems different.
"That's a difference I've seen, the ice gets thin now from the bottom, not the top, well the top too, but faster at the bottom. Some areas that used to be safe are no longer safe," said Kiguktak.
---
Kigutak said he also remembered that by the end of September, the ice in Grise Fiord was hard enough to walk on, or travel by dogsled. Now, in late October the ice is still forming.
According to a report by the Intergovernmental Panel on Climate Change, or IPCC, "Arctic surface air temperature has likely increased by more than double the global average over the last two decades, with feedbacks from loss of sea ice and snow cover contributing to the amplified warming."
The IPCC also noted that the Arctic oceans have continued to warm, "summer upper mixed layer temperatures increased at around 0.5°C per decade during 1982–2017". This was mostly due to the sun warming the ocean because there was less sea ice to shelter it.
Nunavut's first premier, Paul Okalik, works today as the World Wildlife Fund's lead specialist on the Arctic.
Okalik agreed that there have been dramatic changes in the North. He said climate change is affecting sea ice and that's impacting food security in the territory.
"What I've learned throughout the course of my work is that it's formed later and breaking up earlier and that's what you can see and you have to adapt and find ways to adjust. It creates a bit more instability when you rely on the ice for harvesting and for travel," said Okalik.
---
The sea ice is making hunting times less predictable
This year, hunters in Resolute Bay, Nunavut, 1,571 km from Iqaluit, told APTN that the ice is freezing late again.
APTN spoke with several hunters affiliated with the Qikiqtani Inuit Association (QIA). QIA is opening a new office in Resolute Bay which according to their website will help provide "jobs in governance, environmental stewardship, research, monitoring, knowledge sharing, and mentorship."
One of the hunters is Devon Manik an Inuk youth who uses traditional dog sledding to hunt, but also uses a boat or ATV as the weather requires.
---
"It's taking a whole month to freeze, it's trying to freeze but it's taking so long so I can't go seal hunting," said Manik.
Manik said he adapts by using a mix of qamutiik, a sled, ATVs and boating.
Another hunter told APTN that the open water changes how people hunt.
"We were finding that the cracks along the ice where the seals used to make breathing holes, they didn't do it for a couple of years because there was open water. They didn't need to make any seal breathing holes, so that sort of affected our food reliability," Jodamee Amagolik, a local hunter told APTN.
---
The open water is also cutting off access to Resolute Bay's regular fishing areas.
"Most of our fishing grounds are south of us, place called Somerset. About four fishing lakes over there that, about 75 per cent of our community used to take off on a nice spring weekend. Go down there for about four, five days catch as much as possible. But with the Northwest Passage opening, we couldn't go down there," said Amagolik.
Food sources in the north
---
People in the North rely on hunting to help keep down the grocery bill and to provide their family with nutritious and traditional food and foraging.
Amanda Savoie, a research scientist and director of the  Centre for Arctic Knowledge and Exploration told APTN that there are also possible climate change impacts to the Arctic kelp forest, which could affect the habitat for fish.
"We know that kelp forests create these habitats that are really, really useful for fish because they are always hiding in the kelp," said Savoie.
Savoie has been working in Cambridge Bay, Nunavut studying the seaweed in the Northwest Passage. She said that in addition to animal harvesting from the ocean plant life is also a traditional food source.
"Even the seaweed are a traditional food source and then mussels and other invertebrates, even sea cucumbers," she said.
The long-term effect of climate change on sea kelp is not yet known.
---
"With climate change, we know the distribution of kelp is changing in general," said Savoie.
Okalik grew up in Pangnirtung, just north of Nunavut's capital. He said some areas are unrecognizable these days because of the warmer climate.
"We used to go up the hill and go swimming on a pond which was deep enough. But today there's no sign of it because the permafrost melt and it's gone. I tried going there with my children to show them, but we couldn't find it," said Okalik.
Okalik told APTN that he believes we are not seeing enough action on climate change.
"There's a correlation between the lack of action throughout the planet, it's having an impact, our activities. All we can do is try and help out and educate the world that this is happening. Let's try and tackle this together because it's not something one nation can tackle alone."