'We cannot have Canada's commitment die on the order paper': MPs hear the last arguments for and against the child welfare legislation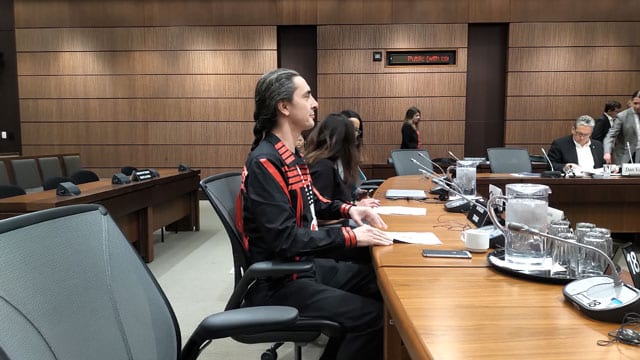 It took Jeffry Nilles a long time to come to grips with who he is and where he came from after escaping the child welfare system.
The Ojibway man says he was taken from his parents when he was young.
"I'll start by telling you about my first memories before being put in foster care – my first memories is my puppy Skippy. My earliest memories are of my grandfather at bedtime when he would tell me stories about Nanabush to me and my sister.
"I also remember getting my first stitches after falling off my bike – and sadly I remember my parents drinking and fighting."
Nilles lived in Winnipeg but his mother was from the Waterhen First Nation in Manitoba.
"One day my teacher came to our house and we were taken away… seeing my sisters crying for my mum, I was six years old that year and spent over 45 years trying to forget my stay in foster care."
("Nilles just after speaking to MPs on the Indigenous Affairs committee about his life in and after foster care. Photo: Mark Blackburn/APTN)
He only started speaking of his time in foster care last year at a men's healing circle.
"Some of my first memories is being yelled at by a lady, I think it was because I wouldn't stop crying," he said. "I remember wanting my mum – I was put in a corner and told to get on my knees and face the wall and was told to stay there until I stopped crying."
On Thursday, Nilles addressed the MPs of the House of Commons' Indigenous affairs committee.
They're examining the federal government's Bill C-92 – the Act respecting First Nations, Inuit and Métis children, youth and families.
It's a law that could potentially stop what Nilles, and tens of thousands of children today are going through.
The Indigenous child welfare system is so broken, that nearly everyone who has spoken on the proposed law supports it even though it is missing some key elements.
("We cannot have Canada's commitments die on the order paper," says Ed John. Photo: Mark Blackburn/APTN)
Many also say it needs to pass before parliament rises in June so that it becomes law before the next federal election.
On Thursday, the committee sat for five hours and heard from 21 witnesses.
Grand Chief Ed John was one of them.
He's with the First Nations Summit in British Columbia and also chairs a committee that advises the minister of Indigenous Services on child welfare.
"Bill C-92, together with Bill C-91, the Indigenous languages law, provides a substantive framework to remedy past government pillars to kill the Indian in the child by removing the child from family, siblings, community foods, lands and territories," he said.
John recommended that the act be strengthened to add that no child can be taken from the home or community because of poverty, and that money be guaranteed in the legislation.
Neither of those are sure things.
According to the Assembly of First Nations (AFN), there are 40,000 children in care of the state today.
AFN National Chief Perry Bellegarde said the situation is too dire to keep the status quo, and that Canada can't make the mistakes of the past.
"It's not a challenge that will be met by federal, provincial and territorial governments continuing to impose their jurisdiction over our children while ignoring the inherent rights of First Nations peoples."
Given the state of child welfare in every province and territory, there is a desperate need for change.
The Nishnawbe Aski Nation is supporting the bill, but Bobby Narcisse, director of social services for Nishnawbe Aski Nation – an organization representing 49 communities in northern Ontario – said there needs to be additions to it.
"We advocate that that this bill guarantees adequate, sustainable, equitable funding for First Nations to enable the exercise of the inherent jurisdiction in the area of child and family wellbeing," said Narcisse.
But in Manitoba, the Assembly of Manitoba Chiefs (AMC) has been fighting against the bill at every turn.
(AMC Grand Chief Arlen Dumas gets set to speak before the Indigenous Affairs committee Thursday. Photo: Mark Blackburn/APTN)
Manitoba has a crushing problem with its child welfare system with 11,000 Indigenous children in care.
Grand Chief Arlen Dumus told the committee he doubts the Liberal government can pass this legislation and make it work.
"At this time this government is having trouble getting provinces to sign on to a carbon tax that is a federal law," Dumas said.
There are also concerns in Manitoba about how easily the province will give up control over the child and family services system.
"I'm no lawyer but I'm sure you've heard of the not-withstanding clause, of divisions of power, and there are all those arguments and all that rhetoric that is going to happen."
If the bill passes, Indigenous nations and communities would be able to enter into negotiations with the federal and provincial or territorial governments to work out a plan for the transfer of jurisdiction of child and family services.
If no agreement is reached after 12 months, and if "reasonable efforts were made to reach an agreement, the laws of the Indigenous group and community would have force of law as federal law and would prevail over federal and provincial laws," according to a government document given to media last February.
Dumas said First Nation communities have been struggling with the province that is not, in his view, working with them to fix the system – instead making arbitrary changes without consultations.
Cora Morgan, a First Nations family advocate, agrees.
She said she doesn't trust the province to hand over power to First Nations and doesn't believe this bill will make it happen.
"Right now the province provides 60 per cent of the $546 million for the budget, the feds only come in with that 40 per cent and so I'm wondering, is the funding model going to be changed completely and is there going to be a need for the province to pony up dollars to make this fly? And if that is going to hold things up, then we're never going to have Bill C-92.
(Liberal MP Robert-Falcon Ouellette and Cora Morgan after her presentation to the Indigenous Affairs Committee. Photo: Mark Blackburn/APTN)
Mary Ellen Turpel-Lafond, director of the Indian Residential School Centre for History and Dialogue, says like most pieces of legislation, C-92 is a work in progress.
"I see this as kind of like a framework, it's the framing of a house," she said. "There will need to be regulations, and it discusses regulations being discussed in collaboration with Indigenous people; that alone is an innovation, that's a very important innovation. So whether it's chiefs in Manitoba — they want their own welfare law their way… it's important to recognize that they can do that."
It's also not clear how provinces will react to Bill C-92.
Ontario's Child and Family Services Minister Lisa McLeod also addressed the committee.
She said she wished Canada had done more consulting.
"I can say that my colleagues across the country weren't properly consulted…. I don't think they've been heard. But I wish the government great success," she said.
"I get there are constitutional issues, I get there are jurisdictions. I wrote a thesis on the constitution, but I'm thinking there's also that seven-year-old child who doesn't have a parent."
The committee is running out of time.
At Thursday's hearing, NDP MP Rachel Blaney asked for an extension of four hours to hear from witnesses who didn't have a chance to speak on the issue.
If that is voted down by Liberals on the committee, it will go through the bill clause by clause, then a vote will happen.
The committee went behind closed doors to vote. The results will not be immediately made public.
John left them with a message in the meantime: pass the legislation.
"We cannot have Canada's commitments die on the order paper, we've been through that before."
Meanwhile, Jeffry Nilles is a single parent of five.
He's currently enrolled in a college program.
And says he's trying to give his children a much different experience growing up.