Unsolved murder on Toosey Reserve rips community apart
"We have no peace to deal with the stuff, like we can't move forward with this here not knowing anything."
It's been six months since Alfred Jack last saw his daughter Sabrina alive.
Sabrina Jack-Rosette died in a community member's driveway on Tl'esqox (Toosey) First Nation in British Columbia on June 8.
She was 33 years old and a mother of two young boys.
"All that day I had the feeling that I should've been home," says Jack, in a phone interview with APTN News.
Jack was away on a fishing trip hoping to catch some salmon for his eldest daughter Liz's birthday.
As he drove home empty handed, he was unaware of the tragedy that awaited him back in Toosey.
"I had no idea," he says.
"We live on top of a hill and we can see the whole reserve and can see just about every house.  I could see the ambulance and cop cars.  When I found out I went down there and they wouldn't let me into the scene."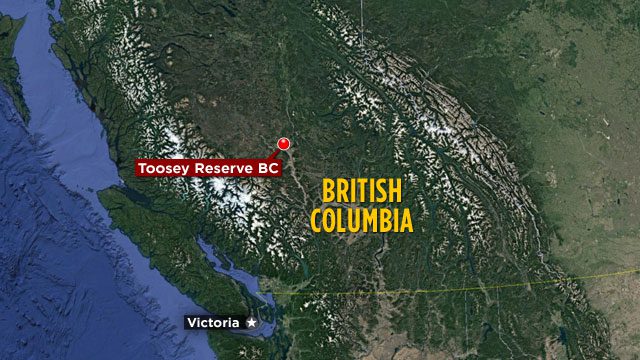 (Toosey Reserve is one of six communities in Tsilqhot'in Nation. APTN)
Jack explained that Sabrina's body lay in the driveway for a few days as police investigated the crime scene behind a tarp.
APTN spoke with RCMP, but they did not explain why the body was there for that length of time.
Jack's voice cracks as he recounts the painful memory.
"That was really, really bad because we could see all the things going on from our house," he says.
"Knowing that she was there and there was nothing we could do, even go over there, look at her or anything.  We did a ceremony when she was leaving from there, when the coroner was going to take her."
Toosey Reserve is one of six communities in Tsilqhot'in Nation. It's located between the Chilcotin and Fraser rivers, 50 km west of Williams Lake.
There are 360 band members, but less than half actually live on reserve.
In a phone interview, Liz described how small her community is.
"Everybody knows everybody," she says. "We moved to the Toosey community in 1989 so we grew up with all of these people."
Liz is Sabrina's older sister and was in Williams Lake celebrating her birthday when she found out.
"I couldn't believe it," she says. "She was always so loving, she was always joking around."
Liz says the last time she saw her sister, Sabrina was razzing her about her love of canning and her birthday plans.
"She had a really good sense of humour, you always knew when she was in a room," says Liz.

(Sabrina Jack-Rosette and her sons Dreyson (left) and Devlin. Facebook)
By the time Liz and Jack arrived back at the reserve, RCMP had arrested a local man "for murder" at the scene. The man was later released without charges.
RCMP officers from Williams Lake and Alexis Creek say in a release they were called at 6 p.m. on June 8 to assist B.C. Emergency Health Services, who was responding to a report that a woman was severely injured and required emergency assistance.
"When first responders arrived they found a 33-year-old woman suffering from fatal injuries," the release says."Despite life-saving efforts the woman could not be revived and died at the scene. The nature of, or the mechanism of the victim's injuries, will not be disclosed at this time."
"Williams Lake General Investigation Section (GIS) and the North District Major Crime Unit (ND MCU), with assistance from frontline officers, are currently in the evidence gathering stage and have identified two possible scenes," the release added. "One on the reserve and another at 'Lovers Leap'. Both scenes will be inaccessible for an undetermined amount of time, while the forensic examinations are underway."
Half a year later, those details are pretty much all the family knows.
Sabrina's family feels they have been left to try to put the pieces of the puzzle together themselves – something very difficult to do when no one is talking.
"We don't know anything other than that it was a knife wound in her rib, we don't know what side.  We don't know who's knife it was and we don't know if they (RCMP) ever found it," says Liz.
"We haven't heard anything about the autopsy, any kind of evidence that they have.  We always get told it's still an ongoing investigation.
And no one on the reserve is talking to us.  It's awkward, it feels like it's our family against the whole reserve."
Sabrina's family says she carried a pocket knife everywhere she went.
After her death, rumours that it was an accident were circulating throughout the community.
Sabrina's Aunty Brenda Rosette, who she called Momma B, told APTN by phone that her niece's death couldn't have been an accident.
"I don't understand how anyone can think she fell on her knife," says Brenda.
"Sabrina was raised and taught how to use a knife. Being First Nations she was taught how to filet fish, skin dear, cut up the meat and everything.  And if she did fall on the knife, where is it now?  If she fell on it, it would still have been in her."
"There was cops, dogs, helicopters out there searching for something."
The family told APTN that for a few days leading up to Sabrina's death she had been hanging out with a group of friends from the community.
Lovers Leap is where they'd often go to have bonfires and party. It's about a ten-minute walk from the driveway where Sabrina died.
Jack says it's hard not to point fingers until he has answers.

(Vigil for Sabrina Oct. 19 outside her home on Toosey Reserve. May Cooper photo)
"Everybody knew what happened, but nobody knew exactly what happened," says Jack.
"We just had assumptions because (a man) was picked up by the cops, we figured we'd find out within a couple of days what exactly happened, but even till today we don't know.  Nobody says nothing, nothing is said to us all over the reserve," he says.
"It's like we are being hushed into a corner and nobody's even worrying about us.  The only thing they (RCMP) are worrying about now is a retaliation kinda thing."
On October 19, Liz and her cousin, May Cooper, held a vigil outside Sabrina's trailer.
Cooper said in a phone interview the ceremony was organized to put pressure on the RCMP.
"There has been no justice for Sabrina and my family," says Cooper.
"It's hard to stand by and not see anything happening."
The band's elected chief, Francis Laceese, says his community is suffering.
Laceese attended the vigil, along with some members of his council and the Tsilqhot'in national government.
"It's a close community, most are related one way or the other so this has been hard," he says.
"Somebody is accused on one side and then there is the family that lost Sabrina on the other, so friends and families are not talking or not talking as much as they used to.  It's a difficult situation."
Laceese says he's giving the families space to grieve and heal.
"We are a healing nation, we are going to do our best to help the different families heal," he says.
"Everybody's healing at their own pace, they need time."
But Sabrina's father says his family can't heal until they gets answers.
"We have no peace to deal with the stuff, like we can't move forward with this here not knowing anything," says Jack.
"We want to know what happened, in my eyes something happened and no one is telling us nothing."

(Family photo of Sabrina (left), Alfred and Liz from 1989. Liz Rosette photo)
Jack plans on asking the RCMP to re-interview everyone involved now that the file has changed hands.
"Last time I talked to them, it was probably a month ago and they were telling me that the officer in charge changed," says Jack.
"I want him to speak to everybody again, just to see about the stories.  To see if the stories still match to the same one they started with.  I think that would be in the best interest of everybody."
Both Liz and her father say the hardest part has been for Sabrina's children.
Losing their mother and having to explain they don't have answers has been very difficult.
But recently things have started to change.
"Devlin, he took it hard and is still taking it hard," says Liz.
"He's slowly coming around though."
And Sabrina's youngest son, Dreyson, now understands that his mother isn't ever coming back.
"We don't have to explain anymore, he knows what's going on," says Jack.
"She comes to him and plays with him and talks to him in spirit and this has just been happening in the last couple of weeks.  He was scared, but now he understands.  He is fine with it because he says he still gets to play with her and that is really hard."
RCMP say the investigation remains active and is a priority for the MCU team.  Both Sabrina's family and the police are requesting that anyone with information contact the RCMP.