Tyendinaga Mohawks, Indigenous Services minister to meet Saturday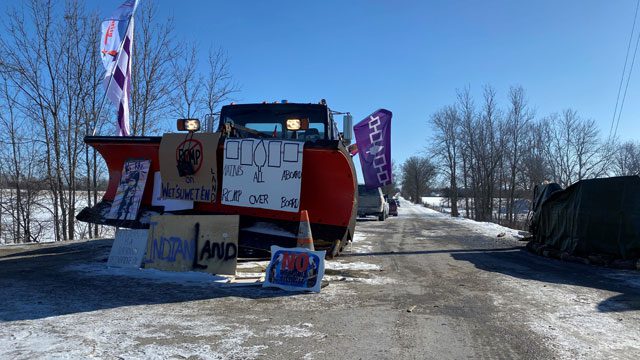 A much-anticipated meeting between members of Tyendinaga Mohawk Territory and Marc Miller, federal minister of Indigenous Services, will take place Saturday in Ontario.
"Miller has requested to 'Polish the Silver Covenant Chain,' one of the original agreements between Mohawks and the Crown," said a release from members of Tyendinaga.
"Tomorrow, he will be arriving at the Wyman Rd CN Rail crossing at 10 a.m. The Mohawks have agreed to meet with him."
For eight days, Mohawks have stopped trains in support of a land rights fight by the Wet'suwet'en in western Canada.
The impact forced CN Rail to suspend freight operations to eastern Canada. And suspend much of VIA Rail passenger service.
"CN sought and obtained court orders and requested the assistance of enforcement agencies for the illegal blockades in Ontario, Manitoba, and British Columbia," said Jean-Jacques Ruest, president and chief executive officer.
"While the illegal blockades have come to an end in Manitoba and may be ending imminently in British Columbia, the orders of the court in Ontario have yet to be enforced and continue to be ignored."
---
Watch more from APTN's Jamie Pashagumskum
---
The Ontario Provincial Police are keeping their distance from the protest site but check in twice a day with people at the rail lines.
For the past few days the police have been keeping their distance but questioning everyone that approached the demonstration site.
They said supporters were ok to go through. Police said their concerns were with people opposed to the protest getting through.
The Mohawk defenders said they were receptive to the OPP's concerns but they took exception to them coming to meet them while still wearing their side-arms.
They told the police that they are a peaceful demonstration and there are no weapons allowed at the site.
They told the police that if they come again wearing their sidearms that they wouldn't talk to them.
The defenders said the liaison team returned back at 4 p.m. for a routine check and they were not wearing their sidearms.
"The CN Rail stoppage is in its 9th day since Mohawks demanded that no trains cross their Territory at Tyendinaga until the RCMP leave Wetsuweten Territory, where the government is using the militarized police force to escort Coastal Gas Link employees who are building a new fracked gas pipeline," said the release.