Trappers worried traditions will go up in smoke from Wildfires in Wood Buffalo
Robert Grandjambe Jr. has 100 beaver pelts to bring to market in Fort Smith, Northwest Territories.
He's following in the footsteps of his ancestors as a full-time trapper.
"I have access to roads, trails and corridors that I had only had heard stories of. Living in the community of Fort Chipp [Chippawa] it wasn't accessible to me, but as an adult I have it at my fingertips," Grandjambe said.
Fur harvesting was no cake walk for the 34-year-old Mikisew Cree First Nation man.
He had to obtain permission of other trappers to use the land and has had issues in the last eight years with Parks Canada, when one of his cabins was torn down while he was away.
Read More:
Fort Chip trapper says he's standing up for treaty rights after officials tear down cabin in national park
"Having 21 members in the boundaries is difficult to exercise. If everyone on 1204 [plot of land he belongs to] was trapping it breaks down to 25 square kilometres. It isn't a very big area and you can probably remove a lot of animals if everyone was trapping," he said.
Now the modest territory he has access to is under threat from something else – wildfires.
"I cut trees to supply wood for my camp and it is quite phenomenal to see the 150, 200-year-old trees. As a trapper it is good populations for myself to harvest in these areas. These areas are very crucial to the ecosystems in the park," Grandjambe said.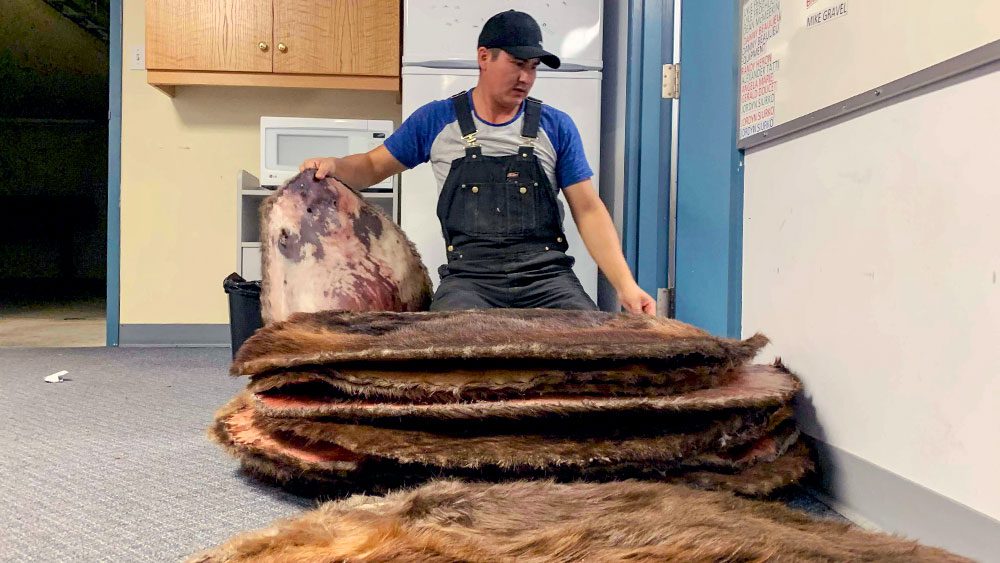 (Robert Grandjambe Jr. inspects three weeks of work preparing pelts for market in Wood Buffalo National Park. Photo: Charlotte Morritt-Jacobs/APTN)
Richard Mercredi lived on the trap line long before he had even graduated public school.
The Métis hunter is troubled at the potential effects wildfires could have on future generations.
"You lose a lot of the youth because they can't hunt because the place is all burnt. There's only a certain amount of places to go and a lot of the park is inaccessible or only accessible by river or by boat," Mercredi said.
He noted changes he's witnessed firsthand over the past few years.
"A lot of the prairies where we use to hunt, they use to flood. Now it's dry, and the willows have started coming up and filling the space in," he said.
(A burn area in Wood Buffalo National Park. Fire has taken out roughly 45 percent of the park in the last decade, according to Parks Canada. Photo: Charlotte Morritt-Jacobs/APTN)
Wood Buffalo National Park is roughly the size of Switzerland with four Métis and eight First Nation groups that hold title to the area.
It has one of the largest freshwater deltas in the world and is an oasis to many animals including the last natural wild migratory flock of whooping cranes.
Mercredi pointed to the already fragile state of the Peace-Athabasca watershed.
He recalled one spot where he use to trap burned so hot in 1979 that the seeds, roots and moss have never returned.
"If you drive along the highway and it is raining out, the water was pouring out of the ditch and running away because there was no moss to hold it," Mercredi said.
According to Jean Morin, program manager for national parks in the N.W.T., in the last decade roughly 40 to 45 per cent of Wood Buffalo has burned.
"In summer we get up to 20 hours of daylight and we experience a lot of nighttime growth. Sometimes you come up with a plan (to fight fires) in place.
"You want to do the plan the following day but overnight the fire will double in size. We take that into consideration and facility protection becomes a focus," Morin said.
(A fox surveys the territory in the Wood Buffalo National Park. Photo: Charlotte Morritt-Jacobs/APTN)
He has worked with the park for ten years and said fighting fires in such a large park is no easy task.
In some instances, the park has seen up to 50 fires in one season.
Driving through the park, the burn zones juxtapose the mighty jack pines and lush spruce.
By air the scope of the burns is evident, but also the successes of Parks Canada in protecting Indigenous communities like Peace Point through back burns.
Each year, Wood Buffalo hires 16 seasonal fire fighters, but can call for backup from national parks Canada.
Morin said his team's priority is to hire local and that most of the staff are from the area.
However, in a follow-up email with Parks Canada to clarify, the number of northern hires was low.
"This year, nearly 25% of Parks Canada's fire crew working in Wood Buffalo National Park are local to Fort Smith, NT," Megan Damini, media relations officer, Parks Canada said.
APTN News was told that it's optional for staff to self-identify during hiring processes and that the information is confidential so Parks Canada would not confirm the exact number of Indigenous firefighters working in Wood Buffalo this season.
Grandjambe said he's crossed paths with fire fighters unfamiliar with the area.
"I have picked up fire crews on the road where a chopper had dropped them off to do assessments on cabins, but they had no clue where they are walking.
"They were five kilometres out and walking for hours away from these cabins. This eats up a lot of their day," he said.
(A bear stops for a look at its photographer in Wood Buffalo National Park. Photo: Charlotte Morritt-Jacobs/APTN)
When a fire is reported, the fire management team refers to a databank that lists entities considered "values at risk."
These includes, infrastructure such as cabins, First Nations land, roadways, power lines, graveyard and cultural sites.
According to Morin, the crew will gauge priorities based on these values at risk.
"Fire not only in Wood Buffalo National Park, has been shaping vegetation for years. Wildlife has adapted to that, and it is needed. It is a fire-dependent ecosystem.
"The park is organized through fire management zones that priority values at risk. And areas near those values at risk. After that, there is an area more in the middle of the park that we would let the fire do its own thing," Morin said.
(A calf feeds in Wood Buffalo National Park. The park is home to a number of species. Photo: Charlotte Morritt-Jacobs/APTN)
While Grandjambe said he agrees that fire does have a place in Wood Buffalo, he hopes to see old growth forest and animals added as a value at risk.
He is open about his responsibility to the land and to his family's tradition of fur harvesting.
"It was fearful for my grandfather to trap in the park back in the day because of the way the park (staff) treated him. He wasn't proud of prominent and didn't show or share those teachings with other people.
"It isn't necessary to burn large quantities of land over and over again. I have not been approached by Parks on this, but I am very willing to share and show the knowledge I have," Grandjambe said.
And he is doing just that, by bringing his beaver pelts to market and remaining connected to his trap line no matter what the wildfire season has in store.