The Revenant actor Duane Howard posts apology to Vancouver woman over 'incident'
"I hope that this statement allows you and your family and your community to begin the healing of what was brought up."
(Editor's Note: APTN News has spoken to Duane Howard and will be posting a story shortly.)
The Revenant actor Duane Howard has apologized to a Vancouver woman for an "incident" that happened years ago.
"I'm here today to stand my truth and apologize to Lauraleigh Paul," Howard said in a video posted to Facebook Tuesday but was taken down later in the day.
---
The following is an unedited video Duane Howard posted on his Facebook site on Tuesday. The video has since been taken down.
---
Howard doesn't elaborate on what incident was that he is apologizing for.
Lauraleigh Paul told APTN News that she was 16 and Howard was 30 at the time.
"I honestly thought he was an upstanding man in our community," Paul said. "I felt safe going into those kids room to sleep on their floor. I was wrong."
She said she has talked to Howard about it since and he has apologized.
So she was thrown for a loop when he denied the allegation in a statement to APTN on Oct. 12, sent by his publicist.
"Mr. Howard wants his community to know that he is shocked by Ms. Paul's allegations and that he firmly denies having ever harmed her in any way. Mr. Howard is not commenting further until after he's spoken to his counsel."
Paul said she was was hurt and angry.
But now, Howard is saying sorry to Paul and her family and her community.
"I want to firstly acknowledge the pain and hurt that I have caused her. I sincerely apologize for what you have went through carrying that trauma," he said while looking into a camera and reading a prepared statement.
"I hope that this statement allows you and your family and your community to begin the healing of what was brought up."
Paul said the incident changed her life.
"My self-esteem stayed at the bottom of the barrel for many years," she wrote.
"I tried to return to the pow wow circle. He mostly ignored me, except when he was talking to other men at the drum or in circle – laughing behind his hands, he and whomever he was talking to… looking directly at me, talking behind their hands and laughing hysterically.
"I was so ashamed that I stopped going to pow wows, and I stopped going to the friendship center for practice. I lent my regalia out and never asked for it back. I never made another one. I never danced again."
Paul said she wrote a Facebook post after being triggered last week.
She started writing after two days of what felt like anxiety.
She said she was overcome with "shame and fear" once she posted the disclosure, but was bolstered by so many people supporting her online.
"It goddamn feels like death. I can't breathe," she wrote.
"I've got two boys, my dreams are coming true for my business and my people, and I feel so f***ing grey."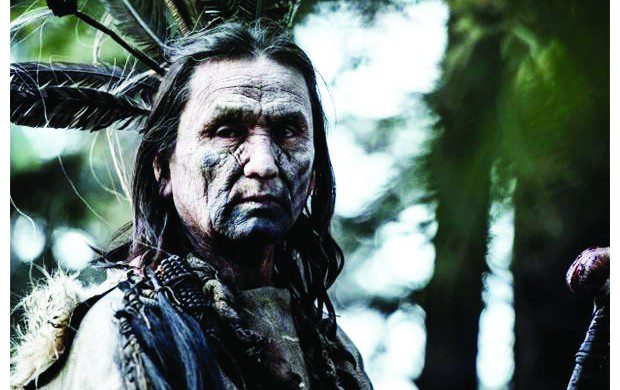 (Duane Howard as Chief Elk Dog in The Revenant)
Howard, who shot to fame after starring as Elk Dog with Leonardo DiCaprio in The Revenant, is from the Nuu-chah-nulth nation on Vancouver Island.
His biography on the Internet Movie Database (IMDB) says he struggled with drug and alcohol addiction from a young age and lived on the streets it says until he turned to acting in the '90s where he could channel all of his life's experiences.
"Duane is very matter-of-fact that it took all of this, the childhood addictions, his near deaths on the street, his recovery, education and training, all of it to perform the role of 'Elk Dog' in The Revenant."
Howard said he is ready hold an accountability circle with Paul.
"The reason why it took me a week to respond is that I was afraid and ashamed to face the truth," he says in the video.
"I've been going through a lot of hurt and pain and facing the shame and guilt. I have been processing a lot of this."
Danielle Jack, who knows Howard personally, supports Paul for speaking out and hopes it helps her heal.
"My heart goes out to Lauraleigh and her family," she wrote in an email to APTN.
"We held him in such high regard and applauded his success while she stood alone with such a broken spirit thinking no one would believe her."
kmarten.ca