Standing committee waiting for UNDRIP bill as groups accuse Conservatives of stalling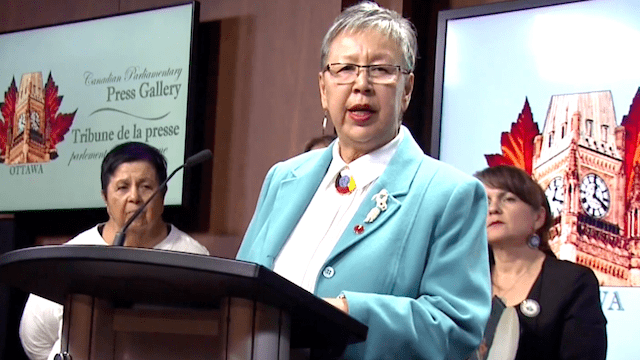 The chair of the Senate Aboriginal Affairs committee says the sooner Bill C-262 gets through its second reading in the upper chamber, the better.
On Wednesday Senator Lillian Dyck told APTN News that the committee she leads is working ahead of schedule on other matters in order to free up time to deal with the United Nations Declaration on the Rights of Indigenous Peoples Act.
But a coalition of Indigenous and human rights groups are calling out Conservative senators for using "partisan stalling tactics" to prevent the bill from getting to committee in time for it to reach royal ascent before the Senate rises in June.
If that happened, years of work by Cree NDP MP Romeo Saganash, Indigenous leaders and politicians would be lost in their efforts to align Canada's laws with the globally recognized minimum human rights standards for Indigenous Peoples.
On Tuesday evening Conservative Senator Larry Smith introduced a motion to adjourn debate just as senators were set to begin their eleventh sitting related to the bill.
That motion was voted down by Liberal and Independent Senators Group (ISG) senators.
Conservative Senator Donald Plett then used senate rules to delay any further debate in the chamber until they sit again.
Grand Chief Stewart Phillip of the Union of B.C. Indian Chiefs, which is a member of the Coalition for the Human Rights of Indigenous Peoples, says the move is "a shameful moment for Canada," and that it's "profoundly troubling that a crucial opportunity to now move ahead with the urgent work of reconciliation could be jeopardized by Conservative Senators resorting to procedural dirty tricks."
Plett says there's no point in referring the bill to the Senate Standing Committee on Aboriginal Peoples at present because that committee already has its hands full with two government bills, C-91 and C-92 — the child welfare and Indigenous languages legislation — which take precedent over private members' bills.
"Until the committee has time to study it, then let's keep it in the chamber so that if there are senators that want to speak to it, then they can speak to it," Plett says.
But Dyck, who was among the senators that opposed Smith's motion Tuesday, says her committee wants C-262 as soon as possible so that it can begin to plan and schedule witnesses.
"It would be very helpful to actually have it referred to us so that the steering committee could discuss it and see how we can fit it in," she says.
Dyck says that with C-91 and C-92 still in the House of Commons, "there may be a possibility that there's a period of time when we're finished with [those bills'] pre-studies and we still don't have the bills in the Senate yet — so that would free up committee time" to study C-262.
"But until we actually get Bill 262 we will not actually discuss how we're going to handle that, we won't set up a witness list and plan when we will have people come, because we don't have it yet," she explains.
Wendy Moss, an Indigenous rights advocate, policy advisor and member of the coalition, says Tuesday's efforts by Smith and Plett to adjourn the debate on C-262 isn't the first time Conservatives have hampered progress on UNDRIP.
She said Conservative opposition to the declaration in Parliament goes back to the Harper Government's vote against C-262's predecessor, also a private members' bill from Saganash, to implement UNDRIP in Canada.
This time, with C-262, the Liberals, NDP, Bloc Quebecois and Green Party have all supported the bill in the House of Commons.
"The only party that voted against it was the Conservatives, two of whose members gave each other a high five for voting against it," Moss recalls, describing the June 2018 vote when Alberta MP Dane Lloyd and Saskatchewan MP Rosemarie Falk high-fived as they stood to oppose the bill.
Lloyd and Falk later denied their high-five had anything to do with their opposition to the bill.
But with widespread support outside the Conservative caucuses, advocates of the bill say there's a lot of progress on Indigenous and human rights to be lost if the bill doesn't get to committee and back to senate for a third reading so that it can receive royal ascent by June.
"After more than two decades of deliberation in the United Nations, and more than a decade of political debate in Canada, the opportunity to finally move ahead with concrete, meaningful implementation of the U.N. Declaration must not be squandered by unprincipled stalling tactics," Grand Chief Wilton Littlechild, a former Commissioner with the Truth and Reconciliation Commission and former Progressive Conservative MP, says in the coalition letter published Wednesday.
If passed, the legislation would require Canada, in consultation with Indigenous Peoples, to "take all measures necessary to ensure that the laws of Canada are consistent with" the U.N. declaration.
Much of the debate on C-262 has centred around the principle of free, prior and informed consent, with some elected officials expressing concern Indigenous peoples might have stronger legal footing to oppose resource development, which some have argued could hurt Canada's economy.
But Senator Murray Sinclair, former chair of the Truth and Reconciliation Commission and C-262's sponsor in the senate, says those fears are misguided.
"The U.N. Declaration really only says to the government of Canada: do an analysis of your legislation so that you can determine what you need to do when you start to implement the bill in terms of changing laws that are now in place," he explains.
"What we said, and what the bill said when MP Romeo Saganash introduced it, was it's time to do that analysis."
The TRC calls to action also compel the federal, provincial and municipal governments to implement UNDRIP as the framework for reconciliation.
Over the past year many Indigenous leaders and groups have called for the passing of C-262 ahead of the Liberals' touted child welfare and Indigenous languages legislation, and ahead of its now halted Recognition and Implementation of Indigenous Rights Framework legislation.
They believe once Canadian law is aligned with UNDRIP, future policy and legislative changes would have to meet the minimum standards of Indigenous rights laid out in the declaration.
Dyck won't say whether she believes the Conservatives are deliberately stalling the bill.
"I don't know what people's motives are," she says. "All I will say is that it would be helpful to have the bill referred to us sooner rather than later."
Sinclair also stops short of pointing his finger, but says "there's been a lack of willingness to move."
Plett says there are a number of senators who still want to speak to the bill.
"It is unwise to suggest that the legislation should be pushed through parliament without allowing parliamentarians the opportunity to carefully consider and speak about the legislation and its impacts," he says.
But Sinclair says of the estimated 17 senators who have spoken on C-262 since its first senate reading in May 2018, "to the best of my recollection only two of them have been Conservatives."
Addressing questions around C-262's constitutionality, Sinclair also says there is a difference between the bill's wording, on one hand, and "passing UNDRIP into law" on the other.
He says the bill doesn't force provinces, territories or municipalities to do anything, though he believes they should start analyzing their own policies and laws.
"It's only with regard to federal legislation this bill is going to have that impact," he says.
"You can't pass a bill that declared the United Nations Declaration on the Rights of Indigenous Peoples is the law of the land, because it crosses over too many levels of jurisdiction," Sinclair continues. "And you cannot in a federal law unilaterally take away rights under a provincial law. That's why there needs to be a lot of work done with a lot of jurisdictions."
To those who believe C-262 would give Indigenous peoples a "veto" over resource development on their lands, Sinclair offers an analogy.
"If you were to go to somebody and say, 'I want you to get into a fight with me,' and I decline to get into a fight with you — that doesn't mean that I'm stopping your right to go and fight somebody else. If you can find somebody else who's prepared to enter into a boxing match with you, then go ahead and do it. But I'm not the one who's going to do it," he says.
"In the same way, if you have somebody who owns a piece of land and you come to them and say, 'I want to buy your land,' or, 'I want to take your land,' I can say, 'No you can't.' But that doesn't mean that you're stopped from taking somebody else's land or going and buying somebody else's land.
"If you want to cross Indigenous territory, and you come to them and say, 'We want to cross your territory with this pipeline,' and they say, 'We don't want you to' — that doesn't mean they're stopping your pipeline. It means you have to figure out a different way to build that pipeline, skirting that land.
"And so it's not a veto at all, and people who are saying that are quite frankly lying to the public."
In their letter Wednesday the coalition called on Conservative leader Andrew Scheer to "to ensure that Conservative Senators abandon these unprincipled stalling tactics so that consideration of Bill C-262 can proceed."
Scheer did not respond to APTN's request for comment by the time of publication.
On Wednesday the House of Commons backed a motion from NDP Leader Jagmeet Singh calling on the Senate to pass C-262 "into law at the earliest opportunity".