Soft police approach to Ottawa anti-vax protest reveals 'pure racism' say critics
Horns, swastikas and mocking First Nations drumming mark anti-vaccine mandate rally on Parliament Hill
---
The mild-mannered police response to the weekend blockade of downtown Ottawa by thousands of protesters opposed to pandemic restrictions reveals a racist double standard in how law enforcement agencies treat civil disobedience, some observers say.
Had Indigenous activists made the same threats, broke the same laws, and engaged in the same level of disruption they'd probably be met with a heavy-handed crackdown, Mi'kmaw lawyer and professor Pam Palmater told APTN News.
"I have no doubt that this is pure racism involved," said Palmater. "Are people allowed to threaten the life of the prime minister? I'm wondering about that because I guarantee you if that was an Indigenous person or a Black person, they'd be sitting in jail."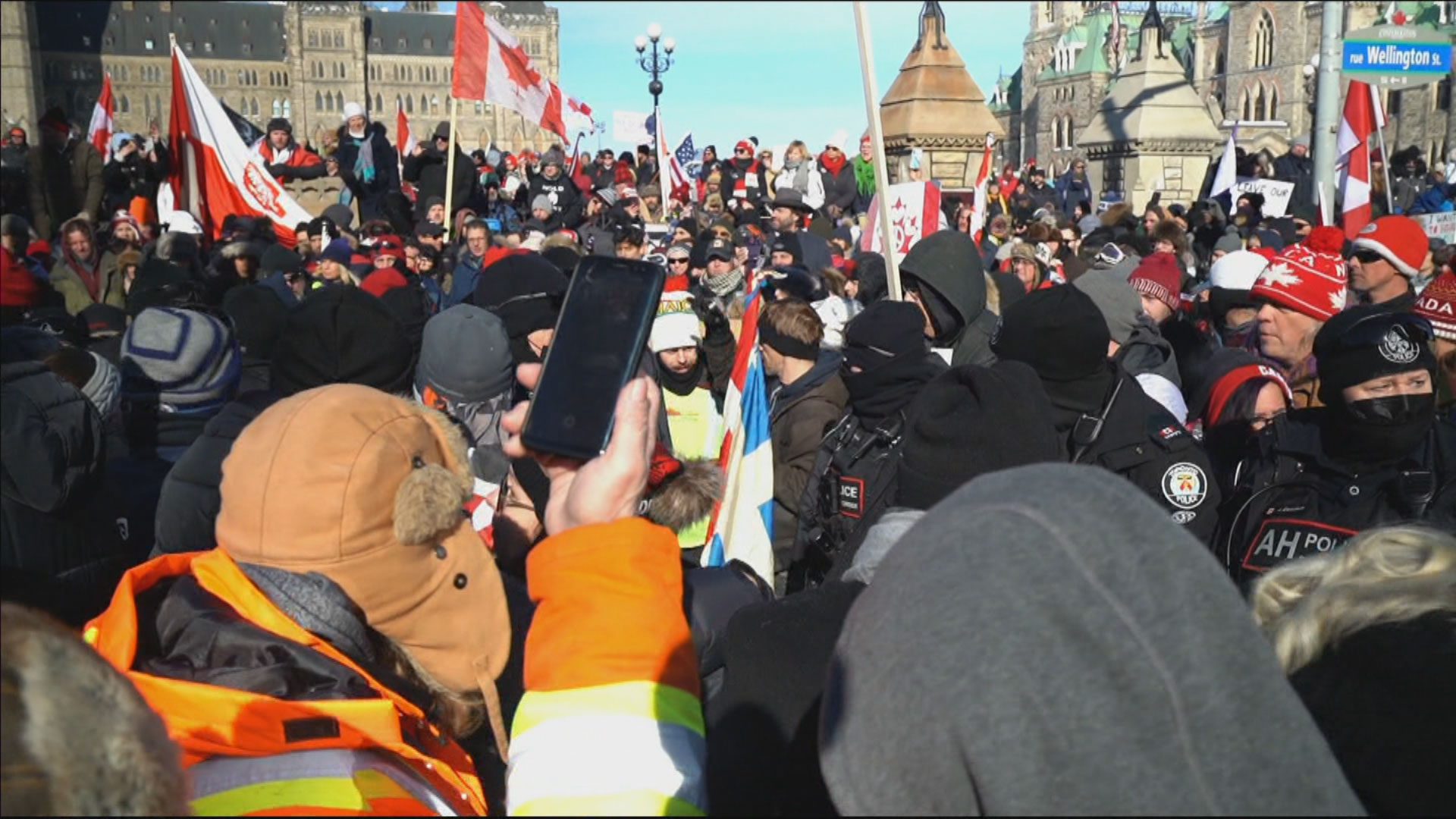 ---
The convoy of rigs, campers, flat-bed trucks and cars converged on Parliament Hill causing traffic chaos and prompting Ottawa police to issue a no-go directive for the city centre.
But before that, police tweeted out a creative graphic with a truck on it saying, "We respect the rights of our communities to speak out. Our role as a police service is to provide a safe space for people to grieve and be heard."
Unmasked demonstrators proceeded to cause a ruckus in local businesses, desecrate monuments and reportedly harass a local homeless shelter in search of food while filling the normally quiet capital city air with incessant horn blaring and gas fumes.
This video was sent to APTN News on Facebook by a convoy supporter who was talking to an Ottawa police officer.
---
Social media users shared images of flags bearing icons of fascism, white supremacy and hate including Nazi swastika and confederate flags that garnered shock, horror and outrage.
Video also circulated showing demonstrators appropriating First Nations drumming as they danced, drank beer and chanted "yaba daba doo" and "f—ck Trudeau."
The drum is a sacred ceremonial item whose handling is governed by specific cultural protocols. Some are decrying the episode, which happened only steps away from the Centennial Flame where throughout the summer stood a memorial to residential school victims, as an insult.
"I am disgusted, appalled and saddened," tweeted Sen. Brian Francis, who is Mi'kmaw from P.E.I., in reaction to the video. "This blatant act of racism must be vehemently condemned by all. Drumming is sacred to all First Nations. Our ways of life should never be mimicked, mocked and appropriated for political or other gain."
I am disgusted, appalled and saddened. This blatant act of racism must be vehemently condemned by all. Drumming is sacred to all First Nations. Our ways of life should never be mimicked, mocked and appropriated for political or other gain. https://t.co/d1LbB61bfn

— Senator Brian Francis (@BrianFrancisPEI) January 31, 2022
---
Prime Minister Justin Trudeau took a similar tack when addressing the nation at noon after he tested positive for COVID-19. The group's fierce anti-Trudeau sentiment was palpable with rhetoric ranging from the "f—ck Trudeau" signs and chants to suggestions he should be murdered and his government overthrown.
Trudeau previously condemned the convoy as a "fringe" minority and took the opportunity Monday to dig in. He skirted the rancour directed at him, blasting instead the racism and rowdiness while urging others to stand up to fascism and hate.
"Freedom of expression, assembly and association are cornerstones of democracy," he said in a virtual press conference. "But Nazi symbolism, racist imagery and desecration of war memorials are not. It is an insult to memory and truth. Hate can never be the answer."
Watch the APTN National News interview with Brett as he talks about the police response to this protest: 
---
With the House of Commons resuming Monday, Trudeau also seized the opportunity to accuse his chief political opponents of peddling misinformation and tinfoil-hat conspiracy theories that fan the flames of social disunity.
"I think (Conservative Leader) Erin O'Toole is going to need to reflect very carefully on how he's walking a path that supports these people who do not represent truckers, let alone the vast majority of Canadians," said Trudeau.
The Canadian Trucking Alliance has distanced itself from the movement, issuing a statement last week calling the convoy misguided and pointing out the vast majority of truckers have been inoculated.
But O'Toole met with truckers on Jan. 28 as they began filtering into the city. "I support their right to be heard, and I call on Justin Trudeau to meet with these hard-working Canadians to hear their concerns," O'Toole tweeted.
The position represents a flip flop for the Tory leader who, at the height of the Wet'suwet'en solidarity blockades, said, "Blockades are not protests — they are an attack on the freedom of Canadians to live their lives and travel freely through their own country."
Palmater said there is a blatantly hypocritical double standard here too.
"It proves that those pieces of legislation and those policy initiatives are racially motivated," she said. "It's OK if angry white men do it because they are politically aligned with you, but it's not OK if Indigenous people peacefully protect their own rights."
Palmater also worried law enforcement agencies aren't taking seriously the national security and public safety threats posed by hate groups who successfully latch on to legitimate public policy issues.
Fareed Khan, founder of Canadians United Against Hate, offer similar take. He flagged "the potential danger of this movement to Canada's political stability and to peace-loving Canadians, with its manifesto calling for insurrection and an overthrow of the government."
He told the Canadian Press protests led by Black, Indigenous or people of colour have faced much harsher opposition for causing far less disruption.
"This smacks of racism and white privilege," he said. "If you had a Muslim, or a brown person, or an Indigenous person who organized such an event and called for unseating the government of this country, security forces would have been down on them like a bag of hammers."
Water Fraser Needham's story on what is in store during this session of Parliament: 
—With files from the Canadian Press