Sacred site for residential school survivors vandalized says Way-Say Healing Centre
Police say there has been a rash of thefts near the area.
---
A Winnipeg organization created to assist with healing for residential school survivors is reeling after the site they use for traditional ceremonies and wellness programming was burglarized.
"Well, yesterday I was angry. Then I was depressed," says Wayne Mason Sr., executive director for Wa-Say Healing Centre.
"[W]hy would somebody do something like this to us? We work so hard all the time to help people, and this is, this is what we get?"
Mason says thieves broke in and stole a number of materials at the shed of their sacred lodge located in a provincial park just west of Winnipeg.
He says around six brand-new tarps that were to be used for sweat lodges are gone, an expensive loss due to the canvas material they are made of.
"And there's a radiator gone, some tools, all kinds of things that we use out on the land here," says Mason.
---
He says smeared blood, possibly from an injury relating to the break-in and what appeared to be human feces were left at the scene.
RCMP was able to collect samples of the blood for D.N.A. testing, thanks to a piece of tainted foam and a crowbar.
Mason was told by RCMP that theft in the area has been an ongoing issue and that there were already three or four others that day.
This is the second theft to happen in just two weeks at the site.
The first saw 30 sheets of plywood stolen and deep tire tracks where the offending perpetrator's truck may have been stuck.
He says gates and security cameras may have to be installed to prevent another loss.
"That's too bad. You know, like limiting people's access to this land. If people were respectful, they wouldn't come and damage and cause us to put up cameras, you know?"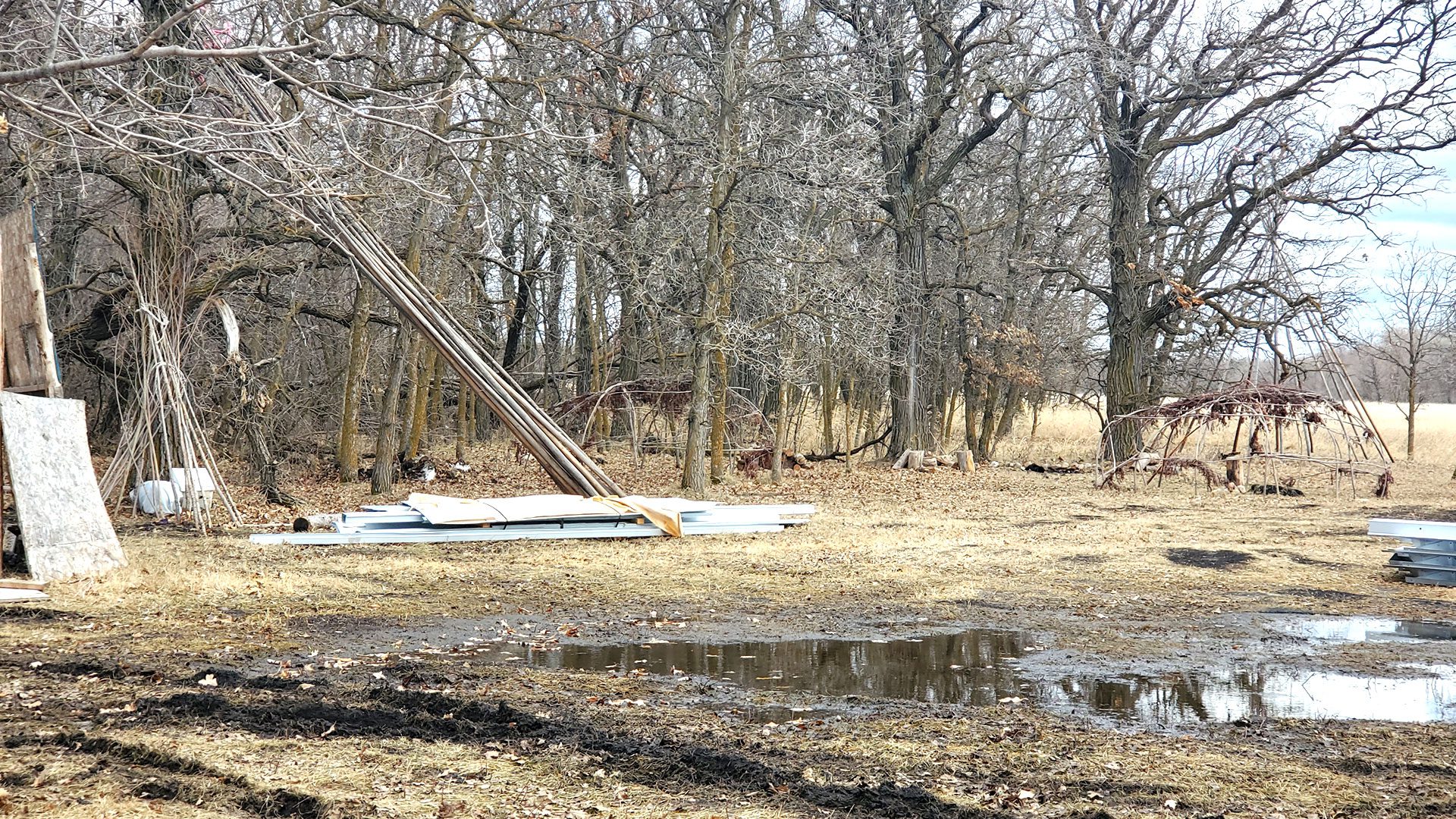 ---
Mason says he's grateful that other Indigenous organizations as well as the provincial government have offered to help rebuild the site and fix the now rut-filled road.
"We always look for the positive part of anything negative. You've got to try to find something positive and something will come of it, and that's what's happening," says Mason, "as soon as it dries up a little bit, we'll have a little gathering here and we'll do ceremonies. "
He says he doesn't know why someone would vandalize and steal from their sacred lodge site, but that material items can always be replaced.
"If you do something wrong, it's going to come back at you," says Mason, "So, I feel sorry for somebody that does something like that because it's going to come back at them, you know? I don't have to do anything about it because Creator will look after that."