Sacred Heart Church in Edmonton awaits visit from Pope Francis
---
Fernie Marty, an elder at the church who has been there for 20 years, stands in front of a stage that features four Tipi poles.
Marty, who is a member of the Papaschase First Nation, is holding a smudge bowl full of blended sage, sweetgrass, and pine resin.
"I was just coming as a regular parishioner and then an elder who is no longer with us asked me if I would start smudging the people and I said 'ok I will do that,'" says Marty.
It's only the second time mass has happened since the Sacred Heart Church of the First Peoples reopened after a fire. The church is full of close to 100 people and full of anticipation about the visit from Pope Francis.
Marty visits with his fellow churchgoers in English and Cree, and when congregation members approach him as they line up to smudge at the beginning of the service, he taps their heads and sometimes their backs with an eagle's wing.
Edmonton's Sacred Heart Church of the First Peoples, blends Indigenous symbols, ceremony and spirituality with Catholic liturgy.
The eagle, which our Old People say flies higher than any other bird, is said to carry prayers to Creator.
Marty will be at Sacred Heart Church for the July 25 visit of Pope Francis. He is excited to witness the event.
"Well for me it is important that he comes and makes the apology here on Canadian soil where all the atrocities took place. That to me is more meaningful. I heard what he said in Rome and I was like oh ok. But when I heard he was coming here to [apologize]. That meant more to me."
Marty says among his friends and family there are differing feelings about the Papal visit. "Some of them are ok with it and some have mixed feelings. Some are still carrying the hurt and pain," says Marty.
He says he has chosen to walk a path of healing. "I knew what that twistedness could do to me so I said to myself I don't want it to be like this. I want to change."
---
Read More: 
Road to Truth: The Pope's Visit
---
The church is a good mix of men and women, Indigenous and non-Indigenous. "I think our Priest plays a big part in that. He speaks Cree quite fluently," says Marty about Father Susai Jesu, who previously worked in Indigenous communities in Saskatchewan.
Another parishioner, a Métis man named Keith Diakiw, who runs a local tour of Indigenous history called Talking Rock Tours has been coming to the church for about a year.
"When Kelowna, the 215 unmarked graves was discovered I went through a period of soul-searching. I was kind of mad at the church and I was just trying to figure out where to go," says Diakiw.
He has been born and raised Catholic but now wanted to honour his culture as well as his faith. He will be across the street at the Immaculate Church on the 25, where many of the church-goers will be watching the Papal visit.
Diakiw is going to be working as a volunteer throughout the series of events. He says that because of his own family history, however, he is really empathizing with residential school survivors and his ancestors during this time.
"Some were jailed in the 1885 resistance and after that, no one wanted to be Indian or Métis, so for me today to be wearing my sash and representing my ancestors," he says. "You can see there's a lot of meaning to bring out those dark days and look forward to the brighter ones."
---
The church has a long history of refuge to people who felt like they didn't belong elsewhere.  Sacred Heart Church in Edmonton was built in 1913. Father Mike Blum, an associate pastor at the church says it was built to accommodate immigrants coming into Canada when the church across the street, the Immaculate Conception Parish was full.
The parish became Sacred Heart Church of the First Peoples on October 27, 1991. Archbishop Joseph MacNeil declared it Edmonton's First Nations, Métis and Inuit parish.
"This neighbourhood was a place for many people who were moving off reserves in the last 40 years chose to live and they came to church here at sacred heart," says Blom. "So over the years, Sacred Heart became the natural place where Indigenous Catholicism came to be expressed."
In August 2020 there was a fire in the church. "The fire did not damage a lot of the building," says Blom "But all the water from the fire fighting, the soot, smoke, and ash kind of spoiled everything else."
Because the walls of the church were made from asbestos, they performed an abatement that took the structure down to the bare bones. During the two years the church was being renovated they reflected on how to better express the Indigenous character of the parish.
The renovations are newly complete and some work remains on the building.
Pope lands in Edmonton to start 6-day trip aimed at Indigenous reconciliation
---
Pope Francis arrived in Canada on Sunday to an honour drum song ahead of what he describes as a "penitential" trip aimed at advancing reconciliation with Indigenous people over the lasting harm suffered in residential schools.
The drum group from Alexis Nakota Sioux Nation sang in front of Francis as he sat between Prime Minister Justin Trudeau and Gov. Gen. Mary Simon in an airport hangar at the Edmonton International Airport.
The Pope told reporters on the plane before it landed in Edmonton that the six-day visit must be handled with care.
The pontiff is also set to travel to Quebec City and Iqaluit.
"I hope, with God's grace, that my penitential pilgrimage might contribute to the journey of reconciliation already undertaken. Please accompany me with prayer," said a message on the Pope's Twitter account.
An elevator was used to get the Pope off the plane, and he went for a short ride in a Fiat to the hangar. He then got into a wheelchair and was taken to a red carpet for the official welcoming ceremony.
Treaty 6 Grand Chief George Arcand Jr. gave the Pope a beaded medallion and was handed an unknown item in return.
"I hope that this visit is the beginning of a change in history, a change in the way business is going to be done, and a way for us to begin our healing journey," Arcand Jr. told CBC News after the arrival ceremony.
"More importantly, I asked the Pope to walk with us and create this new road that needs to be created."
Francis kissed the hand of residential school survivor Alma Desjarlais of the Frog Lake First Nation as she welcomed the Pope along with Grand Chief Greg Desjarlais of the Confederacy of Treaty Six First Nations.
Francis was also greeted by other church, Indigenous and political dignitaries.
Pope Francis was then set to be driven to the St. Joseph Seminary, where he will be staying during the Alberta portion of the trip.
Pope Francis arrived in Edmonton to begin a six-day tour of Canada aimed at reconciliation with Indigenous people.
Riley Yesno, an Indigenous rights advocate and writer, hopes people keep the wide-ranging feelings of residential school survivors in mind during the Pope's visit.
The Pope plans to visit the former Ermineskin Indian Residential School in the community of Maskwacis, south of Edmonton, on Monday.
That is where Francis is to deliver his first public statement in Canada and is expected to apologize to Indigenous people for abuses they have suffered.
An estimated 150,000 Indigenous children were forced to attend residential schools in Canada, where neglect and physical and sexual abuse were rampant. More than 60 per cent of the schools were run by the Roman Catholic Church.
On Sunday, Grand Chief Desjarlais said his thoughts were with those who did not make it home from residential schools — and with those who survived them.
Desjarlais said he's optimistic about the apology, but the fact remains that generations of Indigenous people in Canada have been traumatized, he said.
"Now I hope the world will see why our people are so hurt," he told reporters.
"When you own up to a wrong, that's when reconciliation can start."
Vicki Arcand, an elder of Alexander First Nation and a residential school survivor, said she feels the Pope's visit is long overdue. But she hopes it will encourage people to start thinking differently and try to deal with their past trauma.
"Maybe [the Pope's visit] is something that should have happened many, many years ago. Maybe the start of reconciliation would have started then," she said.
'This is an important historical moment'
Arcand Jr. said last week that survivors have been carrying unimaginable trauma for many generations. The Pope's acknowledgment of their pain is a crucial step, he said.
"This is an important historical moment for survivors of the residential school system and the harm caused by the Catholic Church," Arcand Jr. said.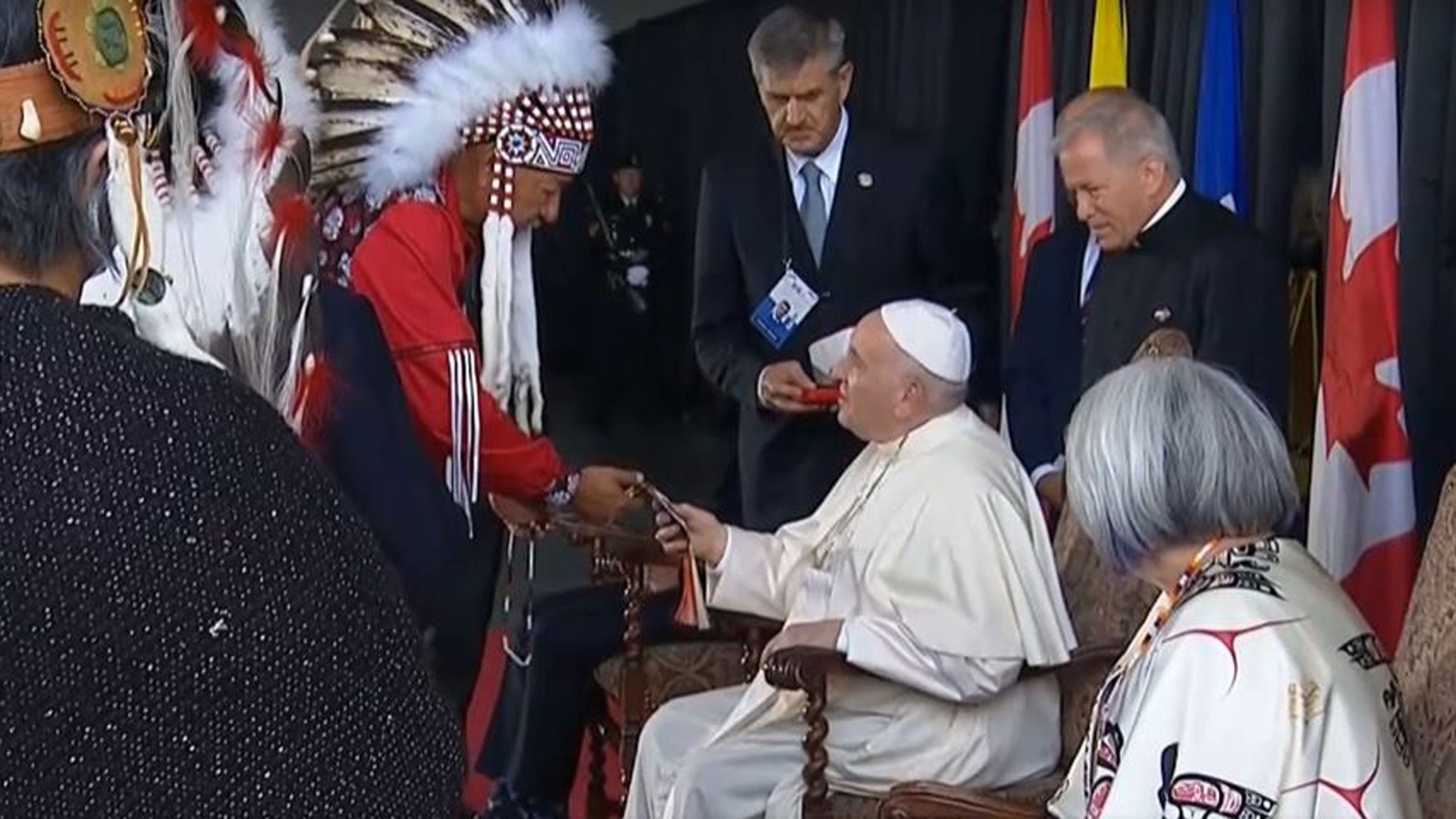 ---
RoseAnne Archibald, national chief of the Assembly of First Nations, said she is looking forward to the apology but feels the focus on survivors has gotten lost during the organization of the Pope's visit.
"[The church] has not been including us in the proper planning of this trip. It has been very unilateral, and we don't feel it has been about survivors," Archibald said, referring, for example, to the church trying to raise funds through tickets at a mass this week.
"We have to refocus on what we're really doing here — and that's about survivors … listening to that apology from the Pope."
On April 1, after meetings over several days with First Nations, Inuit and Métis groups at the Vatican, Francis apologized for the deplorable conduct of some church members involved in residential schools and promised to visit Canada.
Indigenous delegates had told the Pope they wanted an apology on Canadian soil.
First Nations leaders in Alberta said they expect the Pope's presence to open old wounds for Indigenous people and that mental health counsellors will be at the sites. But they also hope the visit will be a step toward reconciliation.
"We are here with you and we are supporting you," Louis Bull Tribe Chief Desmond Bull told survivors last week.
Archibald said she hopes there are enough mental health supports for people who listen to the Pope's anticipated apology because it will trigger a lot of pain and raw emotion — on the day of, as well as the future.
The Ermineskin school south of Edmonton was one of the largest institutions in Canada. Organizers of the papal visit have said they expect about 15,000 people will be at Maskwacis to see the 85-year-old pontiff.
Later Monday, Francis is to meet parishioners of an inner-city church in Edmonton. A large outdoor mass at the city's football stadium is scheduled for Tuesday. The Pope then heads to nearby Lac Ste. Anne to take part in an annual pilgrimage.
Francis is to travel on Wednesday to Québec City and deliver a public address following meetings with Trudeau and Simon. The following day, another large mass is scheduled in Sainte-Anne-de-Beaupré.
The visit is set to finish on Friday in Iqaluit before Francis heads back to the Vatican.
Organizers have said that due to the Pope's age and physical limitations, he will take part in public events for about an hour and will use a wheelchair throughout the tour.
Shortly after departing from Rome, the Pope used a cane to help him move around the airplane as he greeted individual reporters.
"I believe I can make it," he joked.
Thousands have travelled from different parts of the country to take part in the events.
Mabel Brown, a 77-year-old residential school survivor, journeyed to Edmonton from Inuvik to hear the Pope apologize and find forgiveness and healing with other survivors. She hopes it's an opportunity to move forward in a good way.
"This is a very important time in history," she said. "Better things are yet to come."
With files from Brittany Hobson – the Canadian Press