B.C. First Nation reverses decision, signs up for piece of Trans Mountain expansion project
But there is still stiff opposition to the pipeline.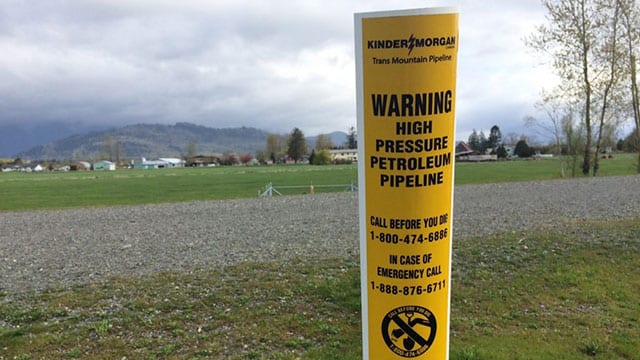 Kathleen Martens
APTN News
After initial opposition, a B.C. First Nation has found a way to make construction of the Trans Mountain oil pipeline work for it.
And the Stk'emlúpsemc te Secwépemc Nation (SSN) has dropped out of a legal challenge it helped initiate last summer.
"(Our) leadership came together and determined that the agreement could be a tool used as part of a larger strategy to protect Secwepemc ancestral lands," said Otis Jasper in an emailed statement.
Jasper, the SSN director of operations, said the Kamloops-area band signed a mutual benefits agreement with the company.
"The potential impacts of the pipeline project on cultural, spiritual, and historical connections to the land were considered, as well as the importance of honouring and upholding Secwepemc law when negotiating the agreement,"
The Upper Nicola Band in the same part of B.C. has also signed an agreement with Trans Mountain, the company confirmed.
"We are pleased with this development," a spokesperson said in an email.
"It speaks to Trans Mountain's continued efforts to work with Stk'emlúpsemc te Secwépemc Nation (SSN) and Upper Nicola Band – engaging with them in a meaningful way to better understand their interests and their concerns, and working with them to jointly address them."
A spokesperson for Upper Nicola did not return calls seeking comment.
In July, both bands were part of the group that filed an application for a judicial review of cabinet's decision to approve the pipeline, which was purchased by the Liberal government for $4.5 billion in May 2018.
British Columbia's Coldwater, Squamish and Tsleil-Waututh bands, along with seven Chilliwack-area First Nations, are fighting in the Federal Court of Appeal for "meaningful consultation" and recognition of Indigenous rights and title.
The pipeline is a divisive issue for Indigenous peoples and Canadians alike.
It will twin the existing Trans Mountain line, making way for three times as much oil to be sent to Canada's west coast from Alberta, where it will be shipped to Asia by tanker.
Construction that doesn't require a permit has already begun, the government has said. But legal action is holding up multiple approvals and permits.
"SSN leadership came together to develop a contemporary solution to support the protection of Secwepemc ancestral lands and to honour the recommendations from previous discussions and reviews involving our people," he said in a statement.
But there is still stiff opposition to the pipeline.
Many are concerned about the environment impacts the pipeline could have in their communities and the project's overall contribution to green house gas emissions that drive climate change.
Kukpi7/Chief Judy Wilson of the Neskonlith band east of Kamloops said her community remains opposed to the project.
"A lot of the bands are signing Trans Mountain impact benefit agreements, which I imagine would complicate their case," she said in a telephone interview.
"The proper title holders are the people."
READ MORE: B.C. chief says impacted communities should get first dibs on Trans Mountain pipeline ownership
@katmarte