Ottawa park renamed after late Inuk artist Annie Pootoogook
---
Annie Pootoogook's time on earth was short but the Inuk artist had a big impact on the art world.
Pootoogook was only 47 when she died in 2016.
But she left behind a wealth of Inuit art that earned her a prestigious Sobey Art Award amongst many other accolades.
Her drawings have been featured in the National Art Gallery and Nova Scotia Provincial Art Gallery in Halifax.
"I think one of the reasons many people responded to her practice so much is she took these coloured pencils, very simple set of coloured pencils, and drew the world around her," Ottawa SAW Gallery curator Jason St. Laurent, who worked closely with Pootoogook.
"And it didn't matter if she was seeing positive or negative situations around her, she just drew the world around her."
---
On Sunday afternoon, an Ottawa park was renamed after Pootoogook.
The weekend event coincided with International Inuit Day and included Governor General Mary Simon as one of the guests.
"Showing Canadians how we express our joy and our pain, our struggles and resilience and how Inuit, like all Canadians, desire and deserve the same basic standards in life – respect, understanding, friendship, love and the opportunity to grow and thrive in a healthy, safe environment," says Simon.
Pootoogook's art tends to focus on the every day such as watching television or cutting seal meat on the floor.
Some of her darker drawings feature scenes of domestic violence.
Read More:
Overall, Pootoogook's work shook up the idyllic vision of what Northern art is supposed to be.
"It makes you feel like you're in there, like actually inside the house," Martha Flaherty of Paukuutit Inuit Women of Canada says.
"She made so many interpretations of different lifestyles. That's how I understood it. On the incredible details in the drawings she does."
Pootoogook did not live an easy life.
She struggled with alcohol and was living on the street when her body was found in the Rideau River in September 2016.
Pootoogook's death remains unsolved.
Flaherty says her tragic end is an all too common story amongst Inuit women.
Sometimes the challenges of moving from the North to the city are just too much, she says.
"We have seen many social issues, problem issues. One being, of course, lack of affordable housing, lack of food, food is extremely expensive," says Flaherty.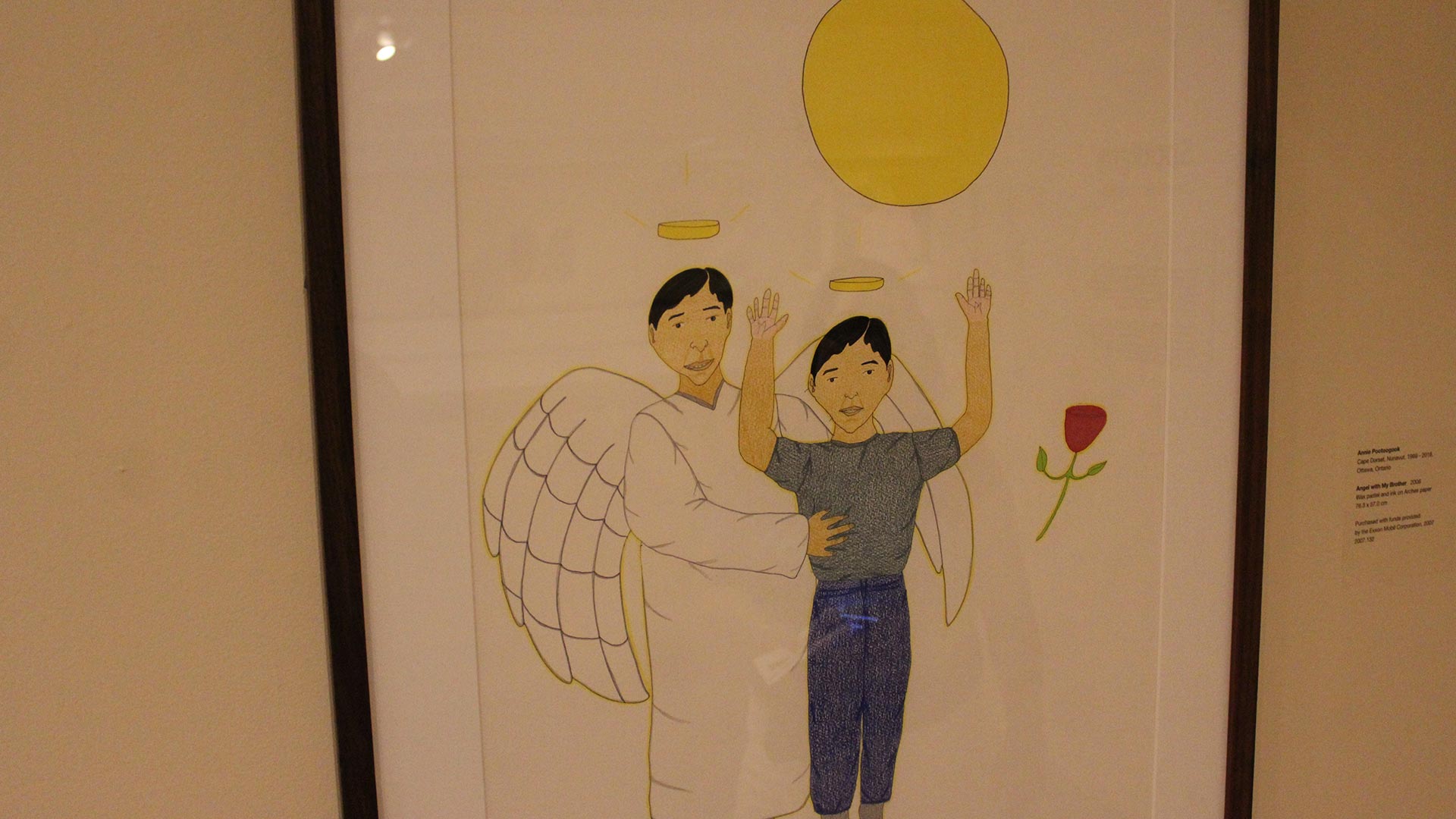 Veldon Coburn and his wife adopted Pootoogook's now nine-year-old daughter Napachie in 2013.
Napachie is actually the second Pootoogook relation they have taken into their family.
Coburn says they have tried hard to keep the children connected to both their cultural and artistic roots.
"Both of our daughters are Pootoogooks and they both come from celebrated Pootoogook artists," he says. "So, Napachie's adopted sister Ellie is 12-years-old these days but she's also the granddaughter of celebrated Pootoogook artist I.T. Pootoogook.
"So, they come from Inuit artistic royalty themselves. They do like art and perhaps they have a future in it, perhaps not. But it's a very rich Inuit culture and we keep them connected to it."
Strangely enough, St. Laurent says he won't remember Pootoogook most for her artwork but for her incredible kindness.
"For the people that knew her, I mean she was the kindest heart on planet earth and I think that may be the most likely legacy is the size of her heart and the laughter."
An Annie Pootoogook studio will be part of the SAW Gallery's new Nordic Lab scheduled to open later this month.