Nunavut senior management receive millions in bonuses despite criticism from auditor general
The Government of Nunavut has paid at least $5.8 million in bonuses to senior managers since 2013 according to documents obtained by APTN News under the territory's Access to Information law.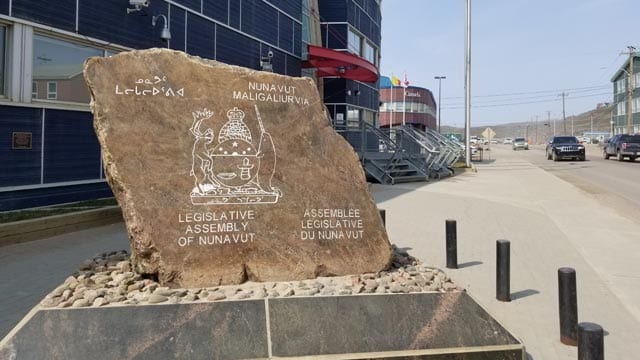 ---
The Government of Nunavut has paid at least $5.8 million in bonuses to senior managers since 2013 according to documents obtained by APTN News under the territory's Access to Information law.
This has happened despite the Auditor General of Canada finding problems year after year with a number of the government's departments.
The bonuses awarded to the highest ranking officials are up 157 per cent since 2013, the last time these numbers were made public.
Bonuses for senior managers are determined in two ways.
First, the employee's superiors meet and determine a bonus for the year. Another secondary bonus can also be applied, up to three per cent of the employee's annual salary.
Both bonuses combined can't exceed seven and a half per cent for most senior staff.
Those with a rank of assistant deputy minister or higher are eligible for bonuses up to 10.5 per cent of their annual salary.
For the 2017-18 fiscal year, the list of bonuses ranges from $28,962 for John Quirke, the clerk of the Nunavut assembly, Chief Negotiator Simon Awa and Lori Kimball, the deputy minister of health received  $27,113, while Colleen Stockley, deputy minister of health was awarded $23,693. The lowest bonus awarded was $917.50.
The bonuses are called merit pay and were delivered to 163 bureaucrats in Nunavut in 2017-18.
---
Auditor General
But some heads of departments, who have received thousands in bonuses, have been severely criticized by Canada's auditor general for how some issues were handled.
The auditor general reviews the work of bureaucrats in the government and presents annual reports to the Nunavut Legislative Assembly.
In 2018, the auditor general covered climate change and how well Nunavut has prepared. Their report states, "overall, we found that the Government of Nunavut was not adequately prepared to respond to climate change." Colleen Healey, Nunavut's director of Climate Change, saw her bonus drop from $2,944.07 in 2016-17 to just $917.50 for 2017-18, the period the review covered.
But in 2017, the auditor general reviewed Nunavut's health system and found it lacking.
The report said "the Department of Health did not adequately support community health nurses and other selected health care personnel working in community health centres. The Department did not ensure that community health nurses, x-ray takers, and interpreters received the training they needed to work in isolated communities."
For the same time period, senior managers at the Health Department took home at least $127,650.51 in bonuses, not including the up to three per cent of salary additional bonus many received. That figure is up 196 per cent from 2013.
"The Department did not fully implement procedures for assuring the quality of health services and supporting the continuous improvement of its staff and service delivery," the auditor general said.
For that same time period, Joy Perrin, the assistant deputy health minister for operations took home a $9,238.93 and received two and a half per cent of her annual salary as a secondary bonus. She received no regular bonus the previous year, but did take home three per cent of her annual pay for her merit bonus.
In 2015, it was the Justice Department's turn to go under the auditor general's microscope.
The report stated, "we found that the Department of Justice has not adequately met key responsibilities for its management of correctional facilities in Nunavut."
That year, director of Corrections Jean-Pierre Deroy received $8,413.69 as a bonus, plus an additional two per cent merit bonus. Despite the auditor general's conclusion that the department didn't manage their basic functions, that bonus is almost double what Deroy received the previous year, $4,220.04.
---
Government of Nunavut Bonuses for 2017-18 obtained under Access to Information 

Click on the year below for the bonuses paid to senior managers dating back to 2013:
2013-14   2014-15   2015-16   2016-17
---
How to Judge 'Merit'
A part of APTN's Access to Information request asked Nunavut how those bonuses are determined. APTN also asked what goals or objectives the senior managers had achieved to deserve a bonus.
Instead of specifics, APTN received a copy of the document those managers use to assess the total bonus. An employee's performance is reviewed by their supervisor and a bonus decided upon.
---
A Promise Ignored
The last time these numbers were released was in 2013, due to an access to information request from local media. In March 2015, then premier Peter Taptuna was grilled about the bonuses, and told the Legislative Assembly that the government would now publish the bonuses annually.
That never happened. Instead, the department of Executive and Intergovernmental Affairs have a spot on their website explaining how the bonuses are determined, not the dollar figures involved. The Regular Member leading the questioning at the time was Joe Saviktaaq, who became Nunavut's fifth premier a month ago.
---
Additional Benefits
According to Nunavut, bonuses are awarded "to compensate Senior Managers for long hours, large scope of responsibility and often stressful working conditions." Those Senior Managers also receive five weeks of paid vacation, and two weeks of "managerial leave", which are 10 days of additional vacation to compensate for the hours they work.
They can also receive relocation assistance if they move to Nunavut to take the position, a continual service bonus for long time employees, a bilingual bonus for those who speak two languages, and a Nunavut Northern Allowance to help account for Nunavut's high cost of living.
APTN requested an interview with Department of Executive and Intergovernmental Affairs to explain the bonus structure. No one was available at the time this story was published. APTN was told that someone may be available to speak later this week.
The government did provide an unsolicited, unsigned, written statement.
"The level of Senior Manager merit increases and bonuses are set by the Senior Personnel Secretariat (SPS) each year as a percentage of salary and includes a cap for each department," the statement says.
"Deputy Ministers must assess each of their senior managers against established goals and objectives, and their contribution to the Department. Bonuses are designed to compensate Senior Managers for long hours, large scope of responsibility and often stressful working conditions. The Human Resource Manual provides policy direction on bonus administration."