North American Indigenous Games officially open in Halifax as prime minister attends 
The 2023 games will mix Indigenous culture with sporting events, which bring together about 5,000 athletes, coaches and mission staff from 750 First Nations across the continent.
---
The North American Indigenous Games officially kicked off Sunday evening with the prime minister in attendance, as thousands of Indigenous athletes from across the continent filled the main hockey arena in Halifax.
Prime Minister Justin Trudeau, who was greeted by cheers and some boos, told the stadium filled with young athletes they will celebrate not only their athletic achievements, but their identity, culture and futures as Indigenous leaders over the next week.
"You are here, young, strong Indigenous leaders, as the inheritors of a legacy of colonialism, of assimilation, of policies in Canada and the United States, that tried to erase your language, erase your culture, erase your identities," he said. "You are still here and you are still strong."
Trudeau said it was important for his government to help fund the games because they further reconciliation with Indigenous peoples and help Indigenous youth connect with each other.
"You know the legacy of residential schools. You've lived it … And you are stepping up to reclaim that identity, to speak your language, to celebrate your cultures, to understand your traditions, to be the strong leaders of today and tomorrow that this country and this world needs," he said.
---
The 2023 games will mix Indigenous culture with sporting events, which bring together about 5,000 athletes, coaches and mission staff from 750 First Nations across the continent.
Competitors from Ontario and Alberta led the procession of athletes into the hockey arena as the stadium gradually filled with young people who waved flags and held banners representing their regions. Athletes came from numerous states and provinces including British Columbia, California and Colorado.
Addison Hoyle, a 12-year-old from Treaty 6 Cree territory in northern Alberta, said she was excited to be in Halifax, where she will watch her brother compete in golfing competitions.
"It's cool to see my people all around here," she said as the parade of athletes approached.
Norman Sylliboy, Grand Chief of the Mik'maq Grand Council, gave an opening address to the gathered athletes, officially opening the games.
"As Indigenous people of Canada, our way of life has been constantly attacked and impacted since the arrival of settlers over 500 years ago, and eventually was replaced by foreign powers," Sylliboy said.
"It was the vision to have Mi'kmaq united again, to see all Indigenous brothers and sisters here today working together … I believe we have the path of healing and hope all Indigenous communities are one day restored."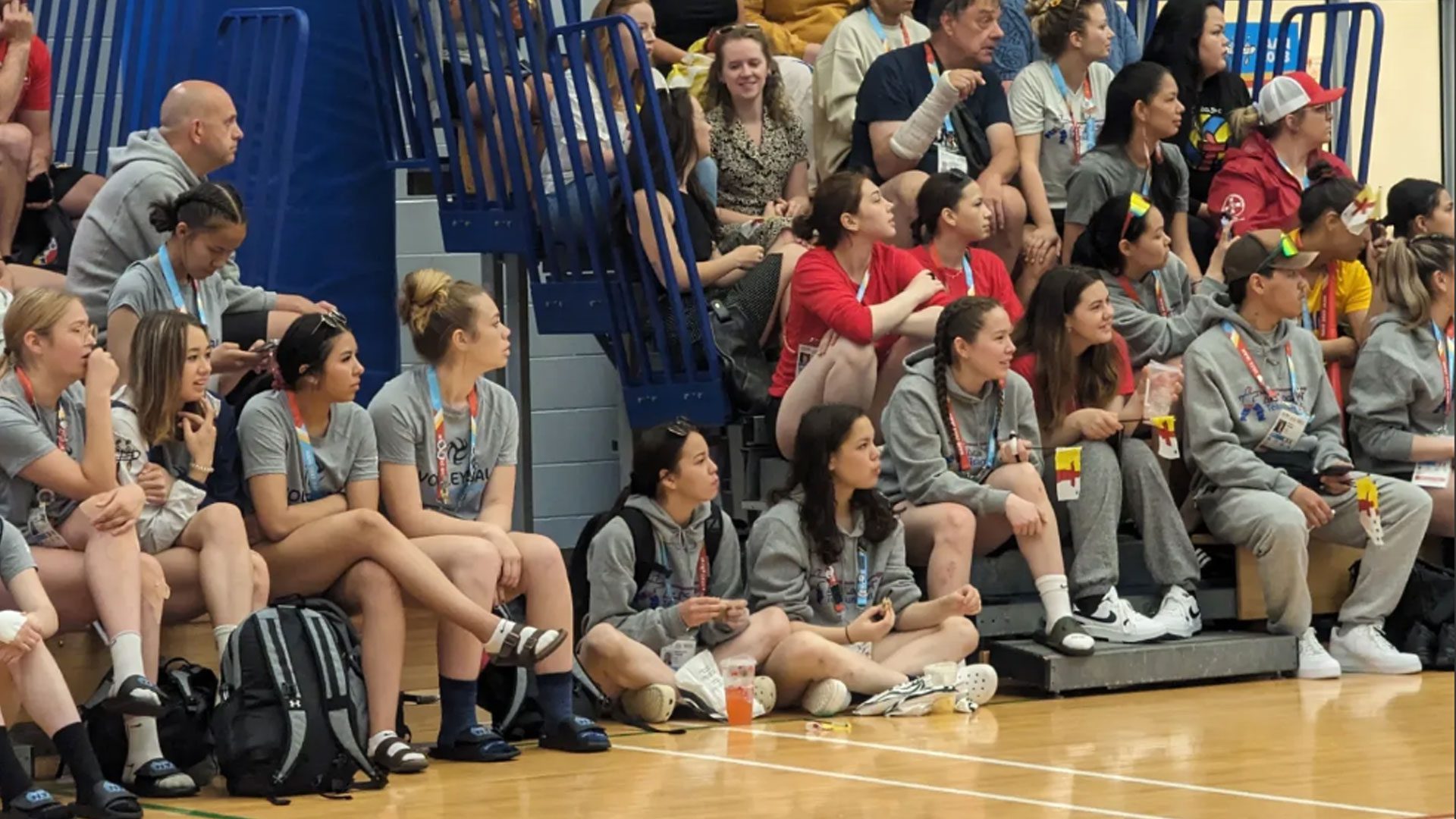 ---
Near the end of the ceremonies, Mi'kmaq elder Jane Meader spoke to the thousands of young people about the importance of water to her people's culture and to all peoples.
As women poured water from 13 Mi'kmaq communities into a copper bowl, she explained each of the types of water treasured by her First Nation: salt water of the ocean; fresh water for drinking and cooking; the precipitation "from the heavens … that comes down to us;" and the "sweet water" that comes from trees.
The "final water" is the amniotic fluid which holds children when they are in their mother's bodies, she said.
"As we pray over this water, my daughter will sing the song to thank Creator for all we have received and all we are given. Remember, honour that water, respect that water … without that water, we cease to exist," she said, to loud applause from the athletes.
In interviews over the weekend, games president George (Tex) Marshall said the goal is to "infuse" all of the 21 venues with Indigenous traditions.
Smudging
He said ceremonies such as smudging, where sacred smoke is provided to participants, will be available for athletes, coaches and volunteers. In addition, elders will be on scene to provide advice and comfort, and signage will be in Mi'kmaq, along with English and French.
The games are taking place at venues in Halifax, referred to as Kjipuktuk, along with events at Millbook First Nation, near Truro, N.S., and Sipekne'katik First Nation, about 60 kilometres north of the provincial capital.
Events include the traditional Indigenous sports of canoe/kayak, archery and box lacrosse, as well as soccer, softball, swimming, volleyball, wrestling, beach volleyball, rifle shooting, athletics, badminton, baseball and basketball.