No decision yet on sentence for former chief after conviction
Eli Mandamin has pleaded guilty to having sex with a teenager.
Pauline Fair has been waiting years for justice. Now she has to wait even longer.
"If I have to come back to see him put him handcuffs, I will," Fair said Tuesday outside the sentencing hearing of the man who sexually assaulted her.
"That's how my life has been – in handcuffs."
Ontario Superior Court Justice John Fregeau reserved his decision on sentencing former Iskatewizaagegan (Shoal Lake 39) First Nation chief and Ontario Provincial Police (OPP) officer Eli Mandamin without setting a new court date.
That means the suicidal thoughts Fair said she has been living with since 1981 will continue to haunt her.
As will post-traumatic stress disorder, anxiety, depression and dependence on alcohol, she stated in her victim impact statement.
Mandamin, who sat in the prisoner's dock clutching an eagle feather, pleaded guilty on Feb. 26, 2018, to sexually assaulting Fair when she was 14 and he was 22.
The Crown withdrew the rape charge after the plea.
Mandamin's lawyer Robin Parker told a full-day sentencing hearing in Kenora, Ont., she thinks a two-year prison term is a suitable penalty for the 37-year-old crime. She said her client wants to serve his time at a federal healing lodge.
Crown attorney Peter Williams asked for a three-year prison term.
Williams said Fair was a virgin when she blacked out and awoke to Mandamin having sex with her in the band's detachment – after he took her into custody for public drunkenness. She became pregnant and gave birth to a son.
Fair was "a child," Williams told Ontario Superior Court Justice John Fregeau, who has had thoughts of "suicide every day since 1981."
It was after her son was murdered in 2008 that Fair, who waived the usual publication ban imposed on victims' names, swore a criminal complaint against her abuser.
The OPP charged him in 2015.
But she is still waiting for the case to end.
Fair said the crime "ruined her life" and told APTN News it was very difficult to prosecute the former chief, who has held a number of high-profile positions within Treaty 3 in northwestern Ontario and the Assembly of First Nations.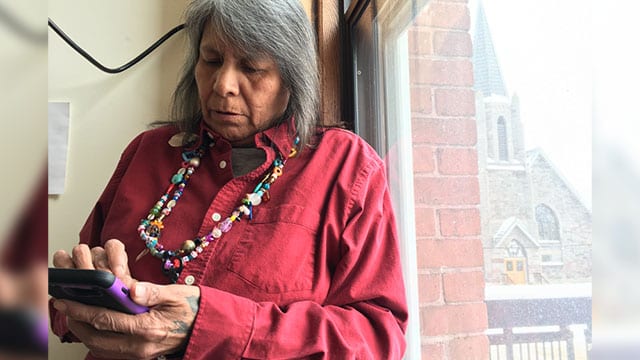 Pauline Fair at the Kenora courthouse. (Kathleen Martens photo)
She said the recent #metoo movement of outing abusers publicly was helping victims take on predators in authority.
Fair is also suing the OPP in civil court for failing to protect her.
Meanwhile, Parker said Mandamin was a victim, too.
The Gladue report, which helps a judge sentence an Indigenous offender, was sealed at the defence's request, but Parker said it showed her client suffered from trauma.
She noted he was abandoned by his mother, sexually abused as a child, and attended Indian residential school, which set up his life-long addiction to alcohol.
She said he drank on the job while policing and struggled to remain sober for extended periods throughout his life.
She said Mandamin's mother lived on the streets of Kenora, died in a police holding cell and was later the subject of an inquest that he attended.
This is "not an excuse for what happened but an explanation," Parker added, noting Mandamin pleading guilty "would be of some benefit" in Fair's civil case.
In 1981, when the crime occurred, the maximum punishment for having sex with a minor was five years in prison.
Meanwhile, Mandamin remains in custody on unrelated allegations.
He was arrested in Thunder Bay Feb. 6 and charged with assault and breach of recognizance. A publication ban was imposed on details of the charges.