New agreement gives education 'self-determination' to First Nation communities in Quebec
---
Ottawa is giving $1.1 billion to 22 First Nations communities in Quebec over five years to help fund education.
A signing ceremony for the agreement was held today on the Mohawk territory of Kahnawake, south of Montreal.
The agreement is the result of 10 years of negotiations between Ottawa and the First Nations Education Council.
"One of the privileges having been around for so many years is that you get to see very important, as you call them, madame minister, milestones," said Assembly of First Nations regional Chief Ghislain Picard to Indigenous Services Minister Patty Hajdu during a press conference.
The money, which includes over $310 million in new funding, will go toward building culturally adapted education programs for about 5,800 children across the 22 communities.
It will also fund school transportation and the recruitment and training of more than 600 teachers and other school staff.
The First Nations Education Council, which represents eight First Nations in Quebec, says the agreement will allow communities to assume full responsibility over their schools.
This would allow the schools to control their own curriculum, such as Indigenous language instruction.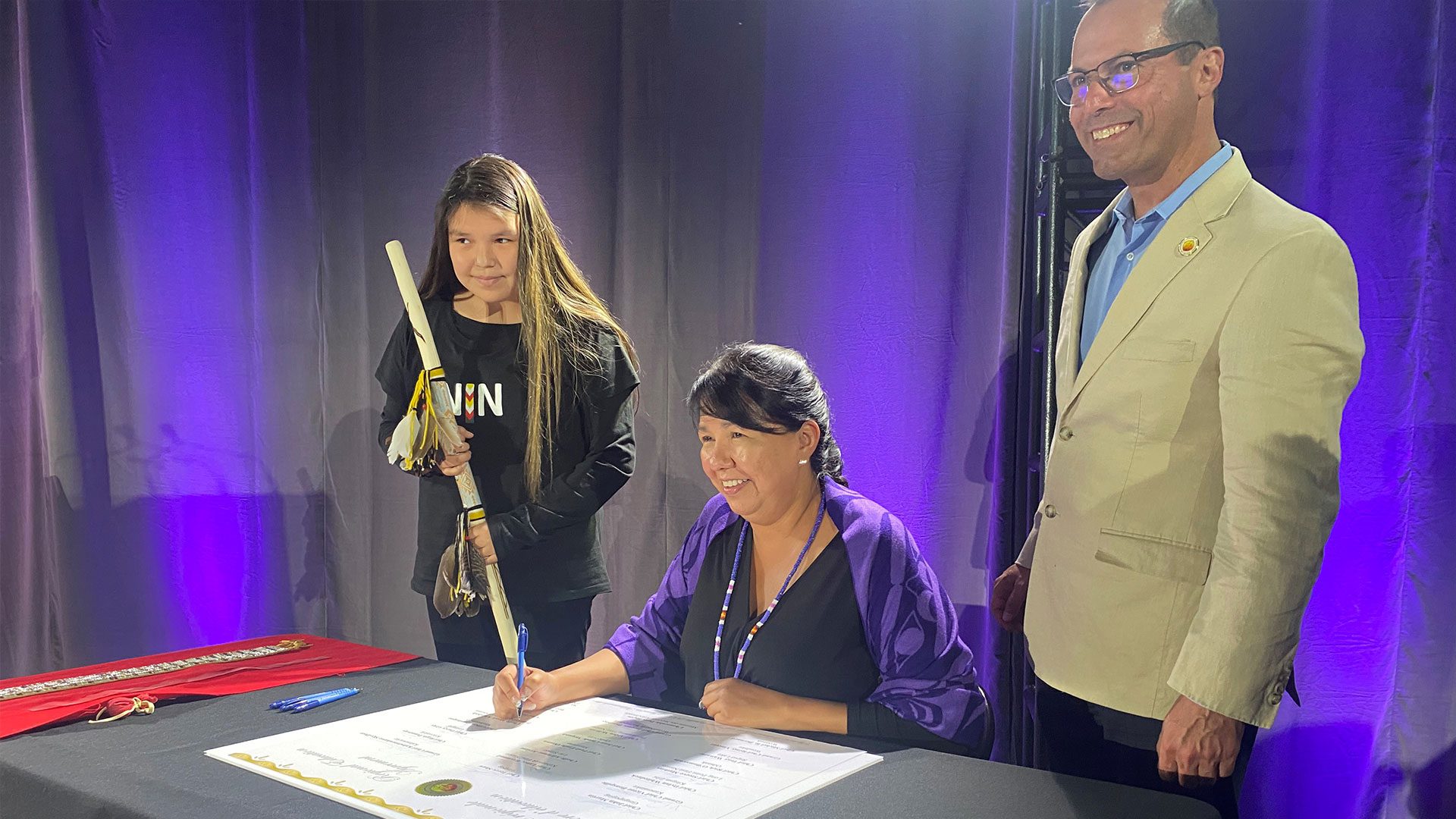 ---
Controlling curriculum has become more of an issue recently with Quebec's passing of Bill 96, a French language protection law which will require college students in the province to pass more French courses and will limit spots in English colleges.
Meaning that schools on First Nations might have to make difficult decisions about what language to teach when it comes to preparing students for higher education.
Picard gave an example he was recently made aware of involving an English-speaking First Nations woman perusing a career in social work.
"She has learned, this is recent, that the classes or courses that were before available in English are now only available in French, this is a prime example of the kind of situations that our people face," said Picard. "I will add this, we haven't closed the door on potential options to intervene on 96."
During questions, Indigenous Services Minister Patty Hajdu stopped short of condemning Bill 96.
She did however say that giving First Nations more self-determination will provide a measure of protection against the bill.
"It is important for us to stand with Indigenous people as a federal government to make sure that they continue to have those rights, that they have the rights to educate their children in ways that are going to result in the success of children," said Hajdu.
The regional education agreement is effective retroactively from April 1st  until March 31 2027,  when it will be evaluated for renewal.
With files from the Canadian Press