National Day for Truth and Reconciliation: From coast to coast to coast
---
Across the country, nations and communities came together to celebrate the second annual National Day for Truth and Reconciliation to remember survivors of residentials schools, their families – and the children who never made it home.
This was the first time the day it was considered a national day of remembrance which included a day off federally and in four other jurisdictions in Canada.
The day fulfills the Truth and Reconciliation Commission's call to action 80 which said:
"We call upon the federal government, in collaboration with Aboriginal peoples, to establish, as a statutory holiday, a National Day for Truth and Reconciliation to honour Survivors, their families, and communities, and ensure that public commemoration of the history and legacy of residential schools remains a vital component of the reconciliation process."
It came about after years of lobbying and a private members' bill that had support of all parties in the House of Commons except the Conservatives, but died in the Senate.
But the Liberals fast-tracked the law after the Tk'emlúps te Secwepemc First Nation announced that ground penetrating radar may have located 215 graves on the site of the former Kamloops Indian Residential School.
This is what took place across the country.
---
In Ottawa …
---
While thousands of people attended the ceremony on Parliament Hill, a few hundred marked that day at LeBreton Flats on the outskirts of downtown Ottawa.
On the stage that sat beside the national war museum, there were speeches, poetry readings and singing.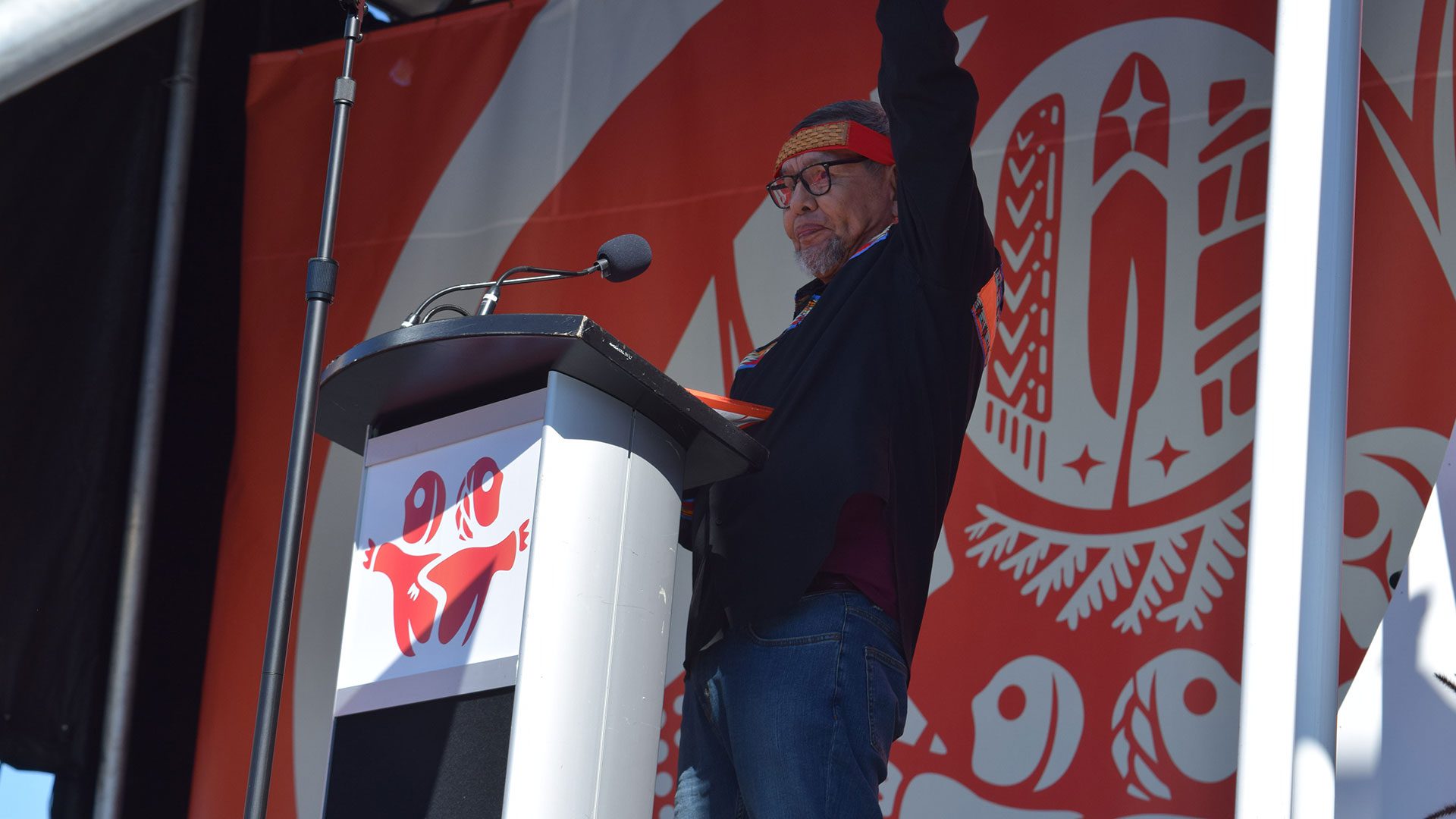 ---
The poem Monster by Dennis Saddleman brought some to tears.
I hate you residential school.
I hate you.
You're a monster.
A huge monster
Built with steel bones
Built with cement flesh
You're a monster
---
Naomi Peltier, 24, said it was an emotional experience.
"The whole time I was thinking about the children who are being found, the ones still not found, the survivors that didn't come home," she said. "I was also thinking about our homeless people and Indigenous people who are suffering with addictions, mental health issues."
For school survivor Joshua Frog, there was a sense of healing.
"I was thinking that I survived and I'm here today and I'm walking with my daughter and she was drumming and singing," he said. "The very thing they tried to take away from us, she was doing it. I was so proud, I was just crying along the way."
His daughter Janine agrees.
"It was really emotional too for me, but it was really empowering at the same time because knowing the things my dad went through, our family has gone through, the things we're still going through is still impacting us really strongly and today we're able to rise above that," she said.
It was an emotional experience for Bruce Kijutaj as well.
"I got to sing some songs in Inuk," he said. "One of our members was holding a drum and I got to sing and we got to sing and drum together and to see all the names of the children was overwhelming and there were tears."
---
---
In Iqaluit…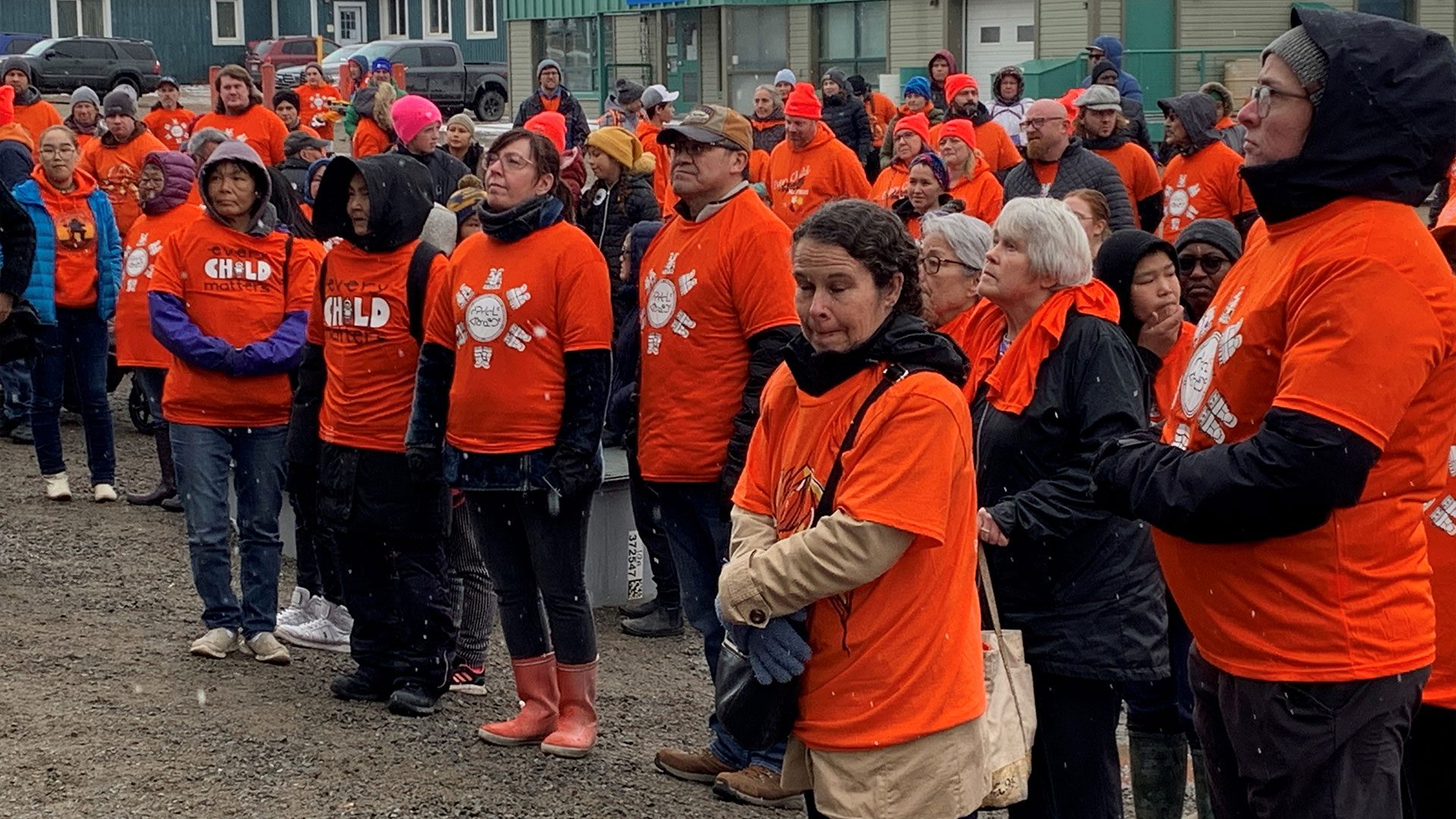 ---
Iqaluit residents gathered in the middle of the community to mark the day.
For a wet one, there was a full crowd as hundreds took to the streets to mark the NDTR.
About 85 per cent of Nunavut's population are Inuit meaning a day marking what happened to residential school students hits hard – and what it still does to some communities.
Eva Aariak has worn many public service hats in her long career.
"It's so wonderful to see so many people coming out here," said Aariak, the commissioner of Nunavut. She's also the former premier and former language commissioner. "In the time of day to listen and to learn. All across Canada and that includes us up here in the Arctic as well."
---
PJ Preroll, Nunavut's premier, was also on hand to mark the occasion. He said he hopes this event can help in the big picture of reconciliation.
"I think reconciliation really has been something where Indigenous people are looking for action and gatherings like this allow us to reflect back in terms of the struggles Indigenous people face, and really, where we go from here."
Nunavut declared the National Day for Truth and Reconciliation a statutory holiday.
In Stoney Point, Alta…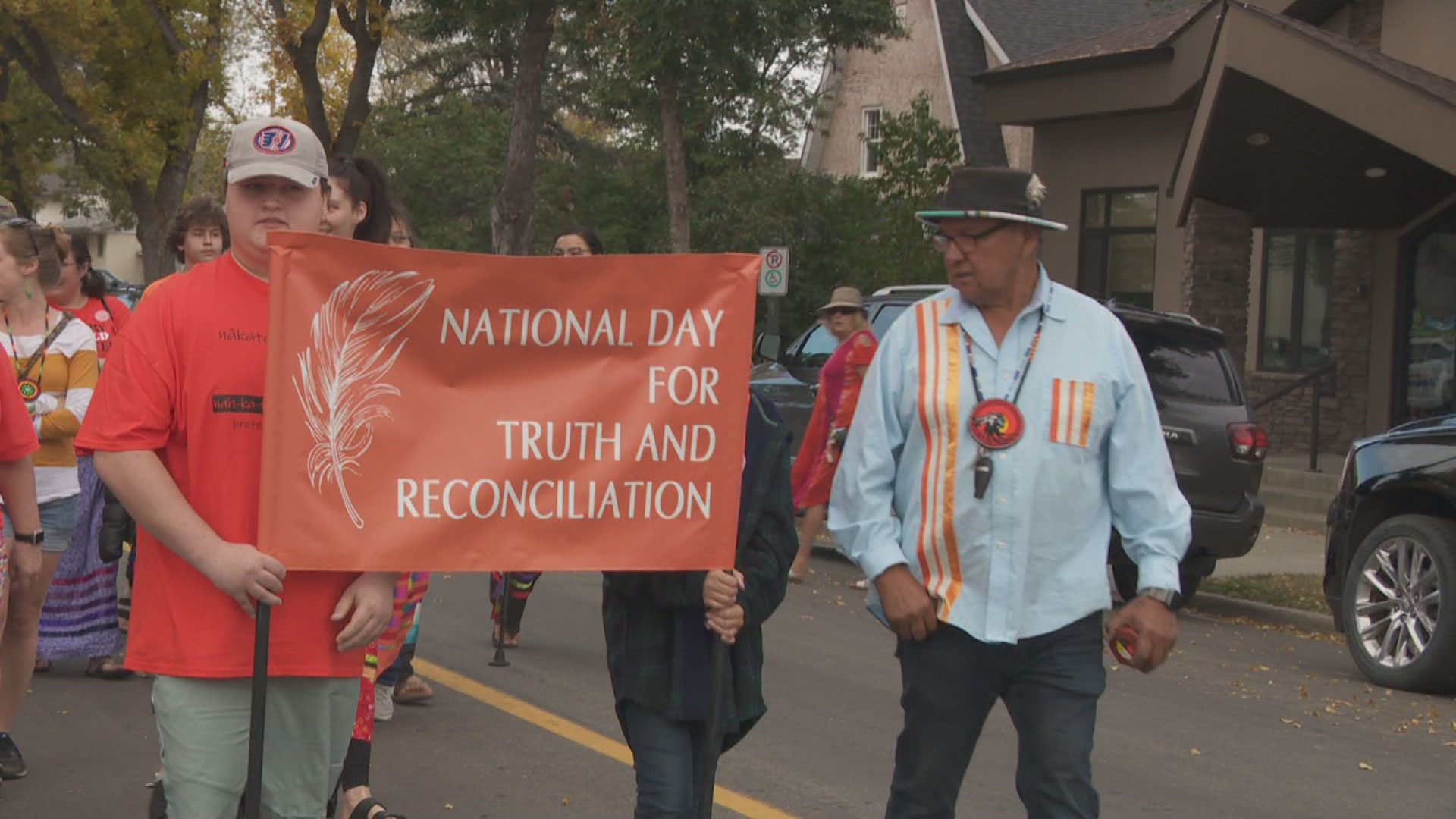 ---
Nearly 200 people gathered for a walk with elders who made their way to the town of Stony Plain to honour truth and reconciliation day.
The walk was led by Cree Elder Phillip Campiou.
"Today means to be proud. It means we are honouring truth and reconciliation. We are honouring the day that the government decided to call it a holiday," he said. "We don't call it a holiday, we just call it a day of celebration. It's time to bring out the truth.
"It's time to reconcile about what happened in the past."
---
Campiou said he was surprised by the turnout.
"It's a blessing to see so many young people here," he said. "It's a blessing to see so many people. I'm overwhelmed with it. I just can't get over how many people are here today to join us in this walk.
"It warms my heart."
In Yellowknife…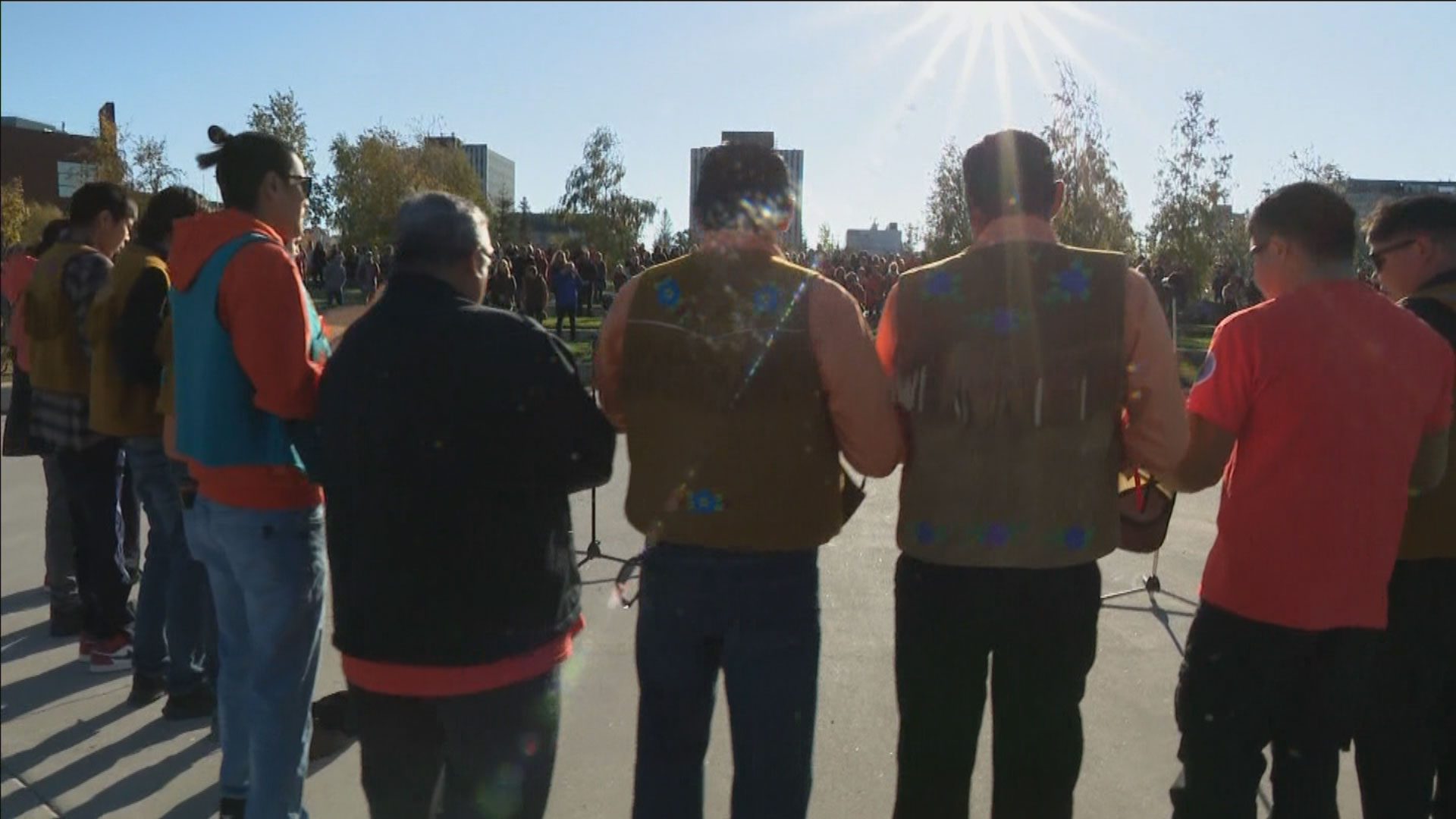 ---
Across the Northwest Territories, celebrations are taking place.
In Yellowknife, people young and old showed up wearing orange with the message, "Every Child Matter."
In Somba K'e Park in Yellowknife Denedeh, a crowd gathered for speeches, songs and prayers from elders, survivors and leaders.
"Canada's plan was to turn the Indian child into a white person, a real Canadian," said Fred Sangris, a school survivor. "With your hair cut, hair taken off, your tattoos probably disappeared and that was the real plan. But it didn't work out that way because I had to thank all those who spoke out about what happened.
"Those are the real heroes, are the ones who spoke out and stepped forward and told the truth."
In Vancouver…
In Vancouver, Grandview Park was one of the sites where people gathered to mark the day.
---
APTN's Tina House spoke with Malihatkwa, a residential school survivor.
With reports from Annette Francis, Kent Driscoll, Chris Stewart, Charlotte Morritt-Jacobs and Tina House.