'I'm forever getting sick': Two mothers in Mathias Colomb worry about their new homes 
Home-builder says homeowners don't understand how to keep houses dry. 
---
Two mothers in a First Nation in northern Manitoba say mould in their newer, band-built homes is making them sick.
They say noticeable mould formed very quickly after they moved into the Roos Road subdivision built by the Mathias Colomb Cree Nation in 2019.
Jennifer Young blames the mould for two miscarriages – the first in 2019 and the second in 2020.
She also feels the mould is responsible for ongoing health problems in her four children that started before the COVID-19 pandemic.
"They have nosebleeds, headaches, stomach pains, fatigue, nausea, (painful) bowel movements and chest pains."
---
Neighbour Amy Dumas and her family moved into a new home around the same time.  
"I'm glad I tested positive for COVID-19," she says.
"Being (sent for medical care) in the city (of Winnipeg), I'm getting proper treatment."
Dumas says she and her children are always sick with the same symptoms.
"We've had stuffy nose, coughing and diarrhea," she says.
---
"It sounds like a common cold but I'm starting to think it's from the mould. I'm forever getting sick."
Dumas says she goes home with a common over-the-counter painkiller when she seeks help at the community nursing station, which doesn't address her symptoms.
She says the band and housing staff tell her to contact the general contractor that built the 25-house subdivision – Missinippi Construction Ltd.
"They just keep doing that, they're always passing the buck down to Missinippi," Dumas says.
She says she complained to Missinippi several times about the crawl space under her five-bedroom home she claims floods on a regular basis.
---
"The furnace and the HVAC (heating, ventilation and air conditioning) system is down there so this winter I noticed my electricity flickers on and off. I just turn the power off when it's warm enough to keep the windows and doors open.
"Thanks for listening," she tells APTN News. "It's the only hope I have."
Jenny Kwan, the federal NDP Housing Critic, says the women could be poster children for the housing emergency facing Indigenous families across Canada.
It's a dire situation confirmed in a report by Canada's Parliamentary Budget Officer in February.
"And that report confirmed close to 20 per cent of the urban, rural and northern Indigenous households in Canada are in unaffordable or unsuitable housing," says Kwan (Vancouver East).
---
The sad state of housing is creating health and safety risks, including keeping spouses in dangerous domestic violence situations.
"Mould is an ongoing concern," says Kwan. "It's definitely a recurring theme that has emerged over and over again."
Young says she waited 24 years for a house in Mathias Colomb, also known as Pukatawagan, after the band's Housing Department kept "losing" her application.
She says she was ecstatic when she received the key to her new build in March 2019.
It meant an end to staying in homeless shelters in Winnipeg, 800 km to the south, and couch surfing with relatives. 
---
But her joy soon turned to worry after she says black mould started climbing up the walls and her children became ill.
"Mould occurred in the master bedroom first, then the next bedroom. And then all around the inside ceiling walls," she says.
"It keeps coming back even though I wash it hundreds of times with bleach."
Approximately 2,000 people live in the rural Cree Nation. More than 300 are waiting for homes and living in crowded conditions that put a strain on systems like water use and drainage.
APTN left messages for the chief of the community to comment for this story but did not hear back prior to deadline.
---
Funding for Indigenous housing is provided annually by the federal government and Canada Mortgage and Housing Corp. (CMHC), says Missinippi manager Ray Jorgensen.
He was sorry to hear of health problems but blamed "homeowner maintenance" for the majority of flooding and other issues.
"We build the houses to CMHC standards and then turn them over to the homeowners," he says. "They don't change the filters and stuff like that so they get plugged up. 
"They're not checking their sump pumps and so the sump pumps don't start up when you have spring runoff, for instance. The crawl spaces get filled up with water. Thirty per cent of it is the HVAC systems and about 70 per cent is homeowner."
Jorgensen says Missinippi was established about 30 years ago to keep construction dollars in the community and create local jobs.
---
He says Roos Road was designed by outside engineers and built by band members.
"The plumbing and the electrical is the only thing I brought in by outside contractors," he tells APTN. "We did the whole project, right from start to finish."
Jorgensen says Missinippi needs to build more than two dozen houses a year to meet the needs of the growing community, which is more than the federal government funds.
So the band took matters into its own hands.
"We did a community development plan in 2011 that showed with our population pace that we had to build 33 houses a year up to the year 2030 in order to be able to adequately house our growing population," he says.
"So, who's going to give us 33 houses a year?"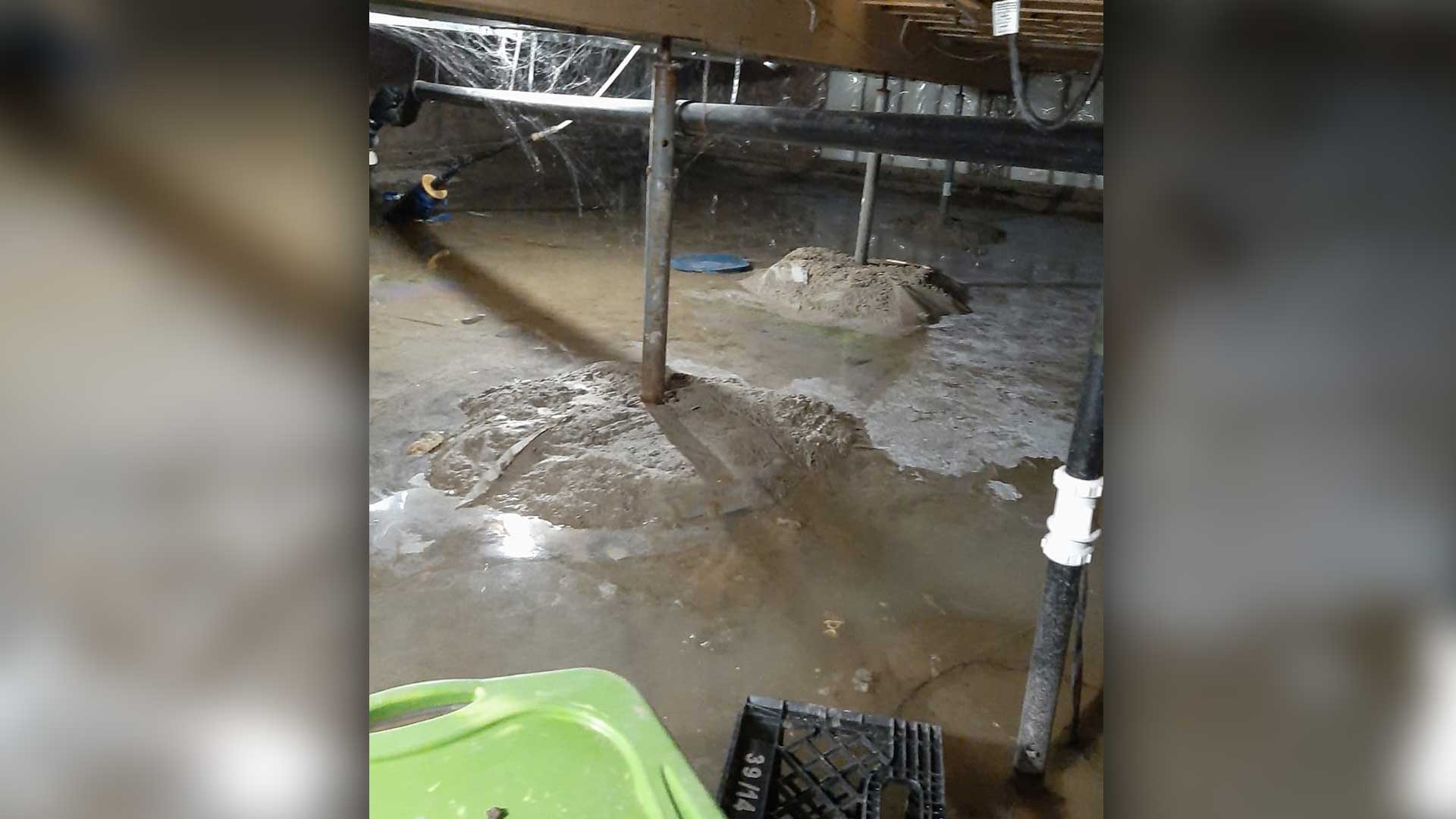 ---
He says the band obtained a "ministerial loan guarantee" to access the extra money.
He says only about four Roos Road homes have mould problems that are being addressed through renovations.
APTN has reported on other mould issues in the remote, fly-in community.
In 2019, the band fired the education consultant after he alerted APTN to widespread mould in the community's only school. That same year, Mathias Colomb band member Selena Castel shared the story of her son River Lapensee, whom she claims is debilitated by mould.
Like Castel, Young has no proof mould caused health problems. But she says the stress of the situation and regular exposure to household cleaners didn't help.
---
Dumas says she and her daughter were forced to self-isolate in their moldy home after being diagnosed with COVID-19 because there was nowhere else to stay in the community.
After initially responding to her complaints, she claims Missinippi is no longer answering her.
CMHC, Canada's national housing agency, says it spends billions building and maintaining on- and off-reserve housing in Indigenous communities with the federal department of Indigenous Services Canada (ISC).
It says the money is delivered annually via programs under the National Housing Strategy (NHS), which prioritizes the needs of Indigenous and northern communities and include:
   

National Housing Co-Investment Fund: $13.2B  

   

Rental Construction Financing Initiative: $25.75B 

   

Innovation Fund: $200M 

   

Federal Lands Initiatives: $200M 

   

Federal Community Housing Initiative: $500M  

   

Rapid Housing Initiative: $1B 
---
The provinces and territories also provide funding through bilateral agreements, a spokesperson says in an emailed statement.  
As well, the spokesperson says CMHC delivers "dedicated funding to assist in the creation and renovation of housing on and off reserve", including:
     

$441M through the Section 95 non-profit housing program to support construction and subsidies of 30,650 units between November 2015 and December 2020.

     

$69M through renovation programs to support the renovation of 3,004 units between November 2015 and December 2020.
CMHC says it is responding to the crisis identified by the Parliamentary Budget Officer by making more money available for Indigenous and northern housing. 
---
Specifically, its spokesperson says nearly 40 per cent of all units created under the Rapid Housing Initiative (RHI) are for Indigenous peoples. 
"To be more precise, the RHI will support the construction of 4,777 homes (vs. 3,000 initially targeted), of which 1,806 are for Indigenous peoples. Due to the success of the RHI, the Government of Canada is considering additional investments." 
ISC, meanwhile, says 21,000 new builds and 58,000 major repairs are needed in First Nations. 
As of Dec. 31, 2020, a spokesperson tells APTN that ISC and CMHC have supported the building, renovation or retrofit of 21,429 housing units on reserve.
It says there are 117,160 housing units on reserve, as self-reported by First Nations.
---
But it couldn't say how many are riddled with mould.
"The responsibility of housing operation and maintenance is held by First Nations," ISC says in an emailed statement.
"While some First Nations Communities report maintenance concerns, it is not routinely reported nor systemically tracked by Indigenous Services Canada."
Still, a mould expert says health problems won't be resolved by building the same kinds of houses over and over again.
"We're trying to eliminate that by working with local materials," says Shirley Thompson, an associate professor with the Natural Resources Institute at the University of Manitoba.
---
"We're working with wood from the Boreal forest and other materials that don't mould up as easily, like drywall if it gets wet."
In a pilot project, Thompson is designing homes with two First Nations in Manitoba that use local, mould-resistant construction materials.
"Why was drywall used at all? It doesn't make any sense," she says of the way material was shipped, stored and used in homes.
"Drywall is a growth medium for mould. There's cellulose in that material and that cellulose is food for fungi."
The experiment is still underway but has been delayed by the lockdown effects of the present pandemic, Thompson adds.