'Moose hides are literacy': Downtown Edmonton library hosts urban tanning sessions
Urban moose hide workshops bring back a traditional practice to downtown Edmonton.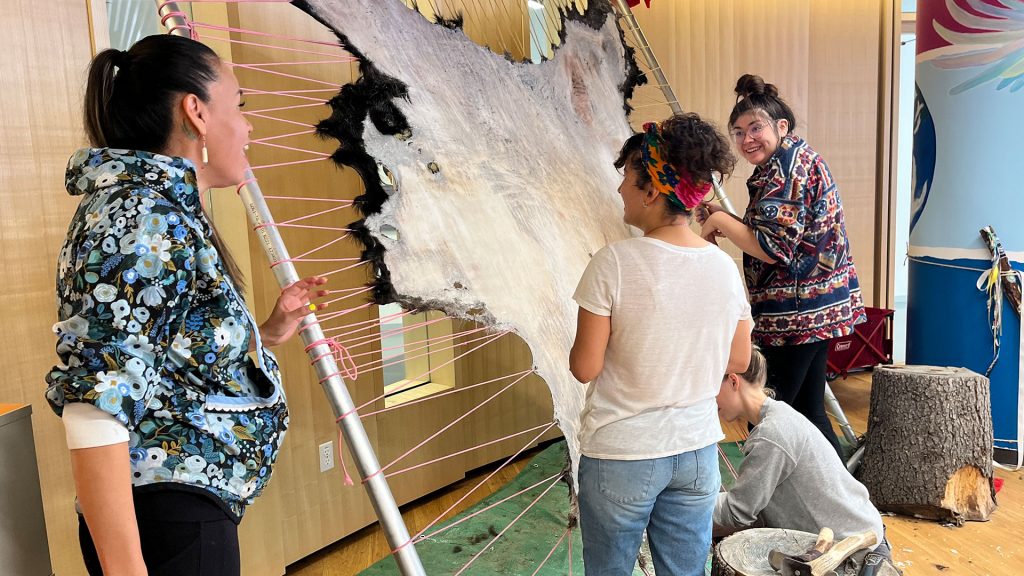 The Edmonton Public Library has been the unlikely home of a traditional Indigenous activity—hide tanning.
Emily Riddle, who works as an Indigenous relations person with the Stanley Milner library in downtown Edmonton, says that when they set up PÎYÊSÎW WÂSKÂHIKAN (thunderbird house) as a gathering space for Indigenous people in the city, that the community had requested land-based teachings be a part of the programming.
"The moose hide is from Treaty 8 territory and is tied to a frame. We fleshed it in July at the same time the Pope visited," said Riddle. They had a pipe ceremony to honour the moose and ate moose meat.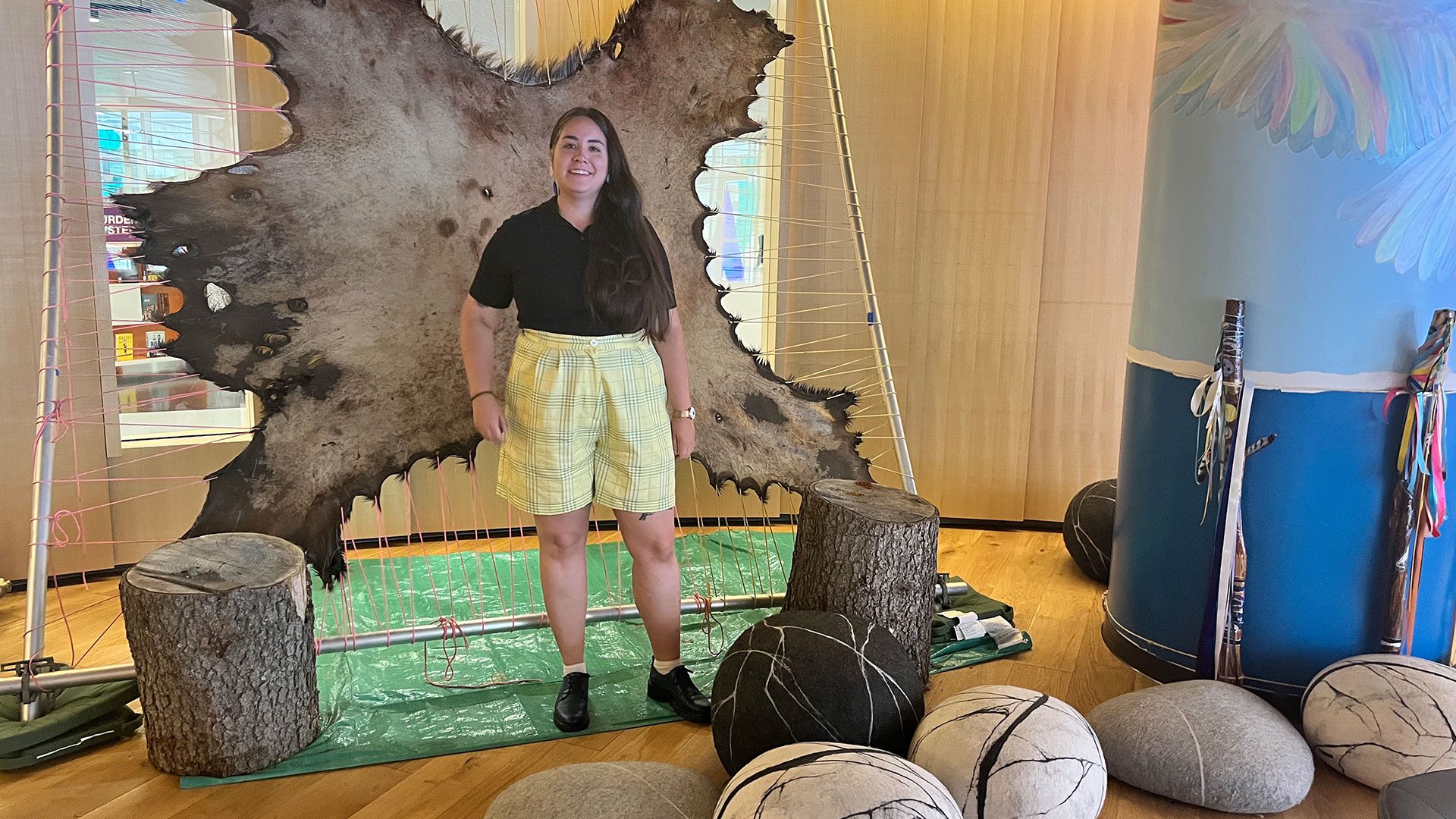 Jessica Sanderson-Barry is hosting the workshop on moose hide tanning . Her Cree name is Grandmother Golden Eagle. She has family from both Chakastapaysi, one of the tri-nations within James Smith Cree Nation and she has family in Maskwacis.
Sanderson-Barry owns JShine Designs where she creates beaded jewelry using home tanned hides.
"This work is important to me. It is not mind to withhold and I share the knowledge with anyone who wants to learn how to tan hides," says Sanderson-Barry.
The moose hide tanning may be the first of its kind in Canada to take place at a public library. The multi-step process has been occurring during drop-in sessions where anyone who wants to can come and learn about hide tanning.
Colin Mulholland was one of the participants.
"I hang out at the library all the time and I was walking aby one day in July and saw the hide being fleshed. Jess asked me what I was doing and said 'now you're fleshing a moose hide,'" he said.
Mulholland has been reflecting on how hide tanning as an urban teaching is a meaningful act of reconciliation.
"It took a bit to sink in what it was about—the use of the space. We need more of this. The way the treaties were created was about sharing the land and sending our children to stay with one another," he says.
Mulholland says one of the secrets to success is having someone who knows how to sharpen the scraping tools.
Tea and Company
Participants dropped in and drank muskeg and mint tea and munched on bannock and jam while learning about moose hide tanning. Throughout the hide various groups from Indigenous elders to people with developmental disabilities stopped by to try out hide scraping.
The latest round of hide scraping began with a prayer from Elders Jerry and Jo-Ann Saddleback who spoke about the importance of traditional activities during difficult moments in the community. The mass stabbings in Saskatchewan had just occurred and many who participated in the scraping had the events on their mind.
The hide scraping took four days to complete with many of the same participants coming back on multiple days. The scraping is hard work and develops what Sanderson-Barry calls moose guns".
Working as a group participants problem solved how to flip around the frame which was 10 feet high and matched the height of the ceiling. They scraped the flesh left behind after the moose hide cured and then untied and retied the hide to be able to scrape the fur off.
Some of the fur was saved to make into bundles for dying and hair tufting.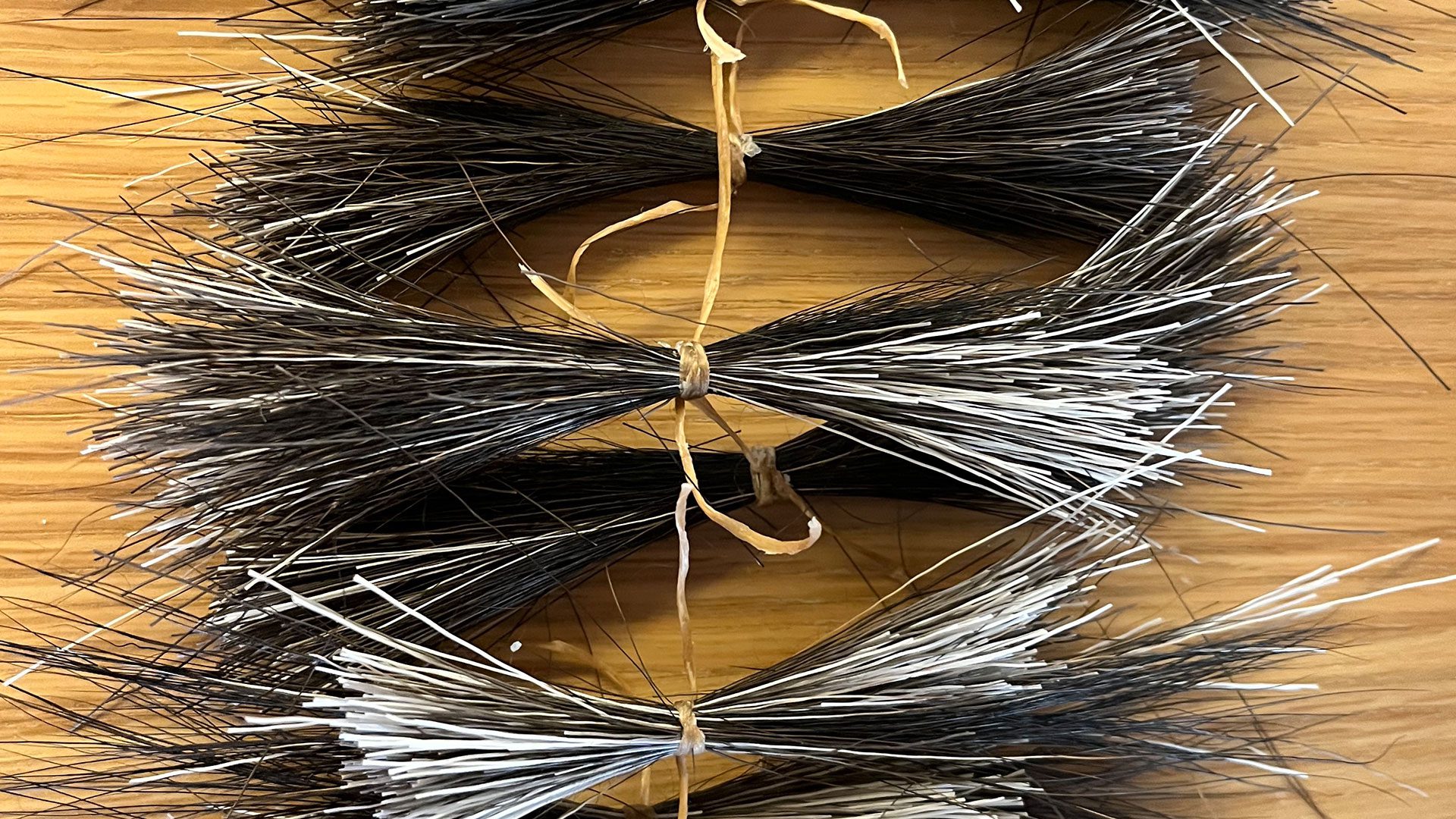 "My hope is to do the softening downtown and then smoke the hide in my backyard," says Sanderson-Barry. "It is important to work in squares so you don't get overwhelmed with the whole project."
Traditional hide tanning is also literacy
Treaty 6 territory is cold for a large part of the years, and hide tanning was an important skill to master for protection of the elements.
"When I think about working in a library I think about different forms of literacy so I think [Edmonton Public Library] has done a good job of embracing that with our makerspace and gamerspace. Tanning a moose hide is a form of literacy," says Riddle.
"On this territory people would have been literate about tanning hides and the best methods of doing that."
She explained that not everyone has access to land-based teaching especially in an urban environment.
Sanderson-Barry says that in the process of learning how to tan hides herself she has also learned more stories of her own family. Her great grandmother Jennier Goodin, tanned hides and made moccasins in the '30s and '40s during the great depression.
"I am not going to say the practice was lost, but it was stopped," says Sanderson-Barry. "So it is amazing to me, when I think about my great grandmother, that I am in the exact same spot. This is how I feed my family too."