Metis National Council says it has nothing to hide following 'politically motivated' audit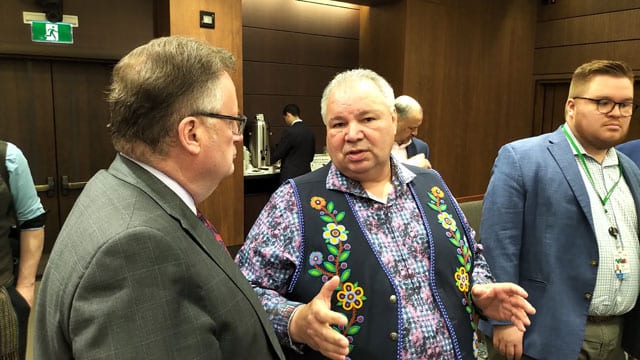 The Metis National Council says an independent financial review clears it of what the national body's minister of finance says were "baseless allegations" made by a "former disgruntled employee."
However, Ernst and Young, the company retained by Crown-Indigenous Relations to conduct the financial review did have concerns "around the level of documentation provided and MNC's procedures for 102 transactions which represent 45% of the transactions tested totaling approximately $2.02M in expenditures."
The review was prompted by concerns and allegations of potential mismanagement by MNC of consulting contracts for IT services from the RCMP's Sensitive and International Investigations Division. The concerns raised related to consulting expenditures of up to $3 million over the last three years.
In all, Ernst and Young tested 229 transactions representing approximately $4.34 million in MNC expenditures.
In the reports conclusion, the auditors wrote "we did not identify any evidence to substantiate the concerns/allegations raised regarding consulting contracts for IT services.
"Although, we had concerns around approximately $2.02M (102 of the 229 transactions selected for testing) in CIRNAC funding as a result of MNC's procedures, record keeping and certain relationships and payments to MNC's primary consultants we did not identify any unsupported or ineligible expenditures which would require a recovery of CIRNAC funds from MNC."
Some of the concerns raised by Ernst and Young revolved around contracting, consultants and related parties, and travel costs.
Ernst and Young provided seven recommendations for MNC to consider that "could improve the organization's internal controls and financial oversight and administration of federal funding.
One of those recommendations includes updating policies and procedures around payment processes, procurement, signing authorities , and expense reimbursements, including travel.
Read the report: MNC Financial Review Report 
In a statement released by MNC National Spokesperson David Chartrand, who is also the minister of Finance, welcomed the recommendations.
"We found those recommendations useful and have already implemented many of them" said Chartrand. "There is always room for improvement in finances and we are no different.
"At the same time, we believe strongly in transparency and accountability and are pleased that the cloud of suspicion cast by the unfounded allegations of a former employee has been lifted."
But Chartrand, who is also the president of the Manitoba Metis Federation blamed ongoing infighting within MNC during a 16 minute video posted on the MNC's website on Friday.
Chartrand alleged the "disgruntled employee" had a dialogue with the presidents of Metis Nation Ontario and Metis Nation Alberta and believes the events leading to the audit are politically motivated.
There was no response to calls and emails to MNO, MNA and Metis Nation Saskatchewan.
Earlier this year, MNO was suspended from MNC over concerns with registration.
The decision by MNC to suspend MNO came on the heels of a "historic" tri-council meetings between MNO and MNA and MNS, where a resolution was passed calling for "accountability and transparency" from the MNC.
MNC was expected to hold its Annual General Assembly this week, where a new president of the national body that was first formed in 1983.
The AGA was to be the focus of a teleconference on Thursday but a spokesperson for MNC says the teleconference did not happen because the "MNS and MNA Presidents refused to participate without the MNO."
Métis Nation of Saskatchewan President Glen McCallum says, "this is the time to be focused on the concerns of the COVID-19 pandemic. As a government, MN-S' focus has been and remains on the health and safety of our Saskatchewan Métis citizens with the COVID-19 pandemic and not on the sins of politics ."