Mercury treatment centre in limbo for Grassy Narrows
It's been two years since the federal government committed to a specialized health facility for Grassy Narrows First Nation, but despite a planned meeting with Minister of Indigenous Services Seamus O'Regan, the community is no closer to an agreement.
O'Regan visited the Northwestern Ontario community Wednesday afternoon for what was supposed to be a feast with members and the signing of a memorandum of agreement with Chief Rudy Turtle and council.
But that's not what happened.
Instead Turtle and O'Regan engaged in private negotiations for nearly four hours.
No agreement was reached between the two, only a promise for more conversations.
Turtle called the agreement inadequate.
"The minister came in today and he was hoping we would sign a memorandum of agreement but the proposal he put forward wasn't good enough," said Turtle.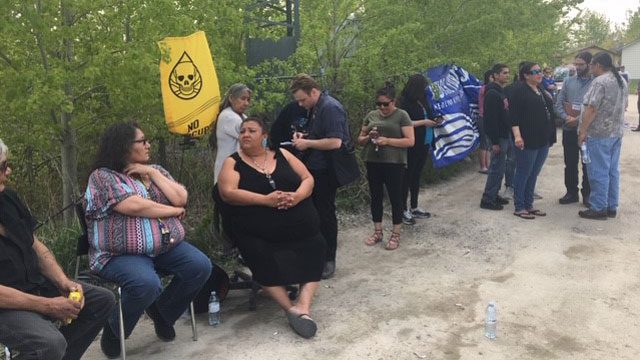 (Members of Grassy Narrows wait outside a meeting between O'Regan and Turtle. Photo: Brittany Hobson/APTN)
The community has been living with the long-term effects of mercury poisoning after a paper mill in Dryden, ON dumped contaminates in the nearby English-Wabigoon River system in the 1960s.
For decades members suffer from impaired vision, loss of hearing and speech and cognitive function, along with mental health issues linked to the mercury poisoning.
A feasibility study for the treatment centre was completed last fall and came with an estimated 30 year cost of $88.7 million.
Construction has yet to begin on the new centre.
Details of the proposed agreement weren't released but Turtle said it didn't include a sufficient dollar amount.
He also said the government was proposing to build an assisted living facility not a specialized treatment centre.
Turtle could not sign off the agreement because it doesn't address the on-going issues.
He said the community needs more than a, "temporary Band-Aid fix."
Following the meeting O'Regan told reporters the government and chief and council have the same objectives in mind.
"We are getting very close. We made some steps today. This is what negotiation looks like it takes it own course," he said.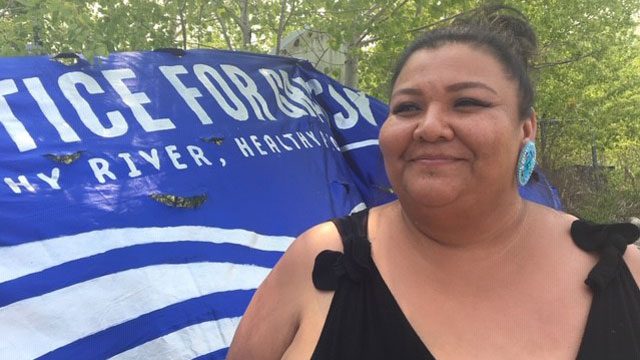 (Chrissy Isaac confronted O'Regan after no agreement for a treatment centre was negotiated. Photo: Brittany Hobson/APTN)
Meanwhile during Question Period in Ottawa, NDP MP Charlie Angus called out the Liberals for failing to keep their commitment.
"The people of Grassy Narrows have suffered 50 years of lies, cover-ups and broken promises…two years ago this prime minister promised that spring there would be shovels in the ground…enough of broken promises. Where is the money?" asked Angus.
Prime Minister Justin Trudeau said, "we remain steadfast in our commitment to build a health facility in Grassy Narrows."
For the people of Grassy Narrows Wednesday's events proved to be difficult and frustrating.
Chrissy Isaacs confronted the minister calling his actions disrespectful.
Community member Chrissy Isaacs confronts O'Regan. She says it was disrespectful for the minister to not meet with the rest of the community. A feast was prepared at the school and more than 100 students waited to meet the minister. pic.twitter.com/xpiaFuNQPx

— Brittany Hobson (@bhobs22) May 29, 2019

The mother of three says her youngest is dealing with the effects of mercury poisoning.
She hopes to one day see a generation of people who aren't sick.
O'Regan said discussions will continue over the next coming days.
Turtle says he will continue to push for a fair and adequate deal.