Members of Pinaymootang First Nation protesting ahead of October election
---
A rally was held in front of the band offices in Pinaymootang First Nation in Manitoba to protest changes to the election process ahead of a scheduled vote for a new chief and council.
Dozens of people hold signs saying they weren't consulted about the changes that include the band going from a two-year to a four-year term.
"They're going to be asking for band members to give them a vote for the next four years yet they didn't have a band meeting these two years," said organizer Clarence Sumner. "Does that mean for the next four years band members are going to be left in the dark?"
A band council can change the structure of its electoral laws and go from being under the Indian Act, which allows for two-year terms, to the First Nations Elections Act which allows for four-year terms.
Chief  Kurvis Anderson refused to do an on-camera interview but told APTN News on the phone that the last band meeting was held in November 2022.
He said the meeting was with 60 band members and 75 per cent voted in favour of moving to the First Nations Elections Act.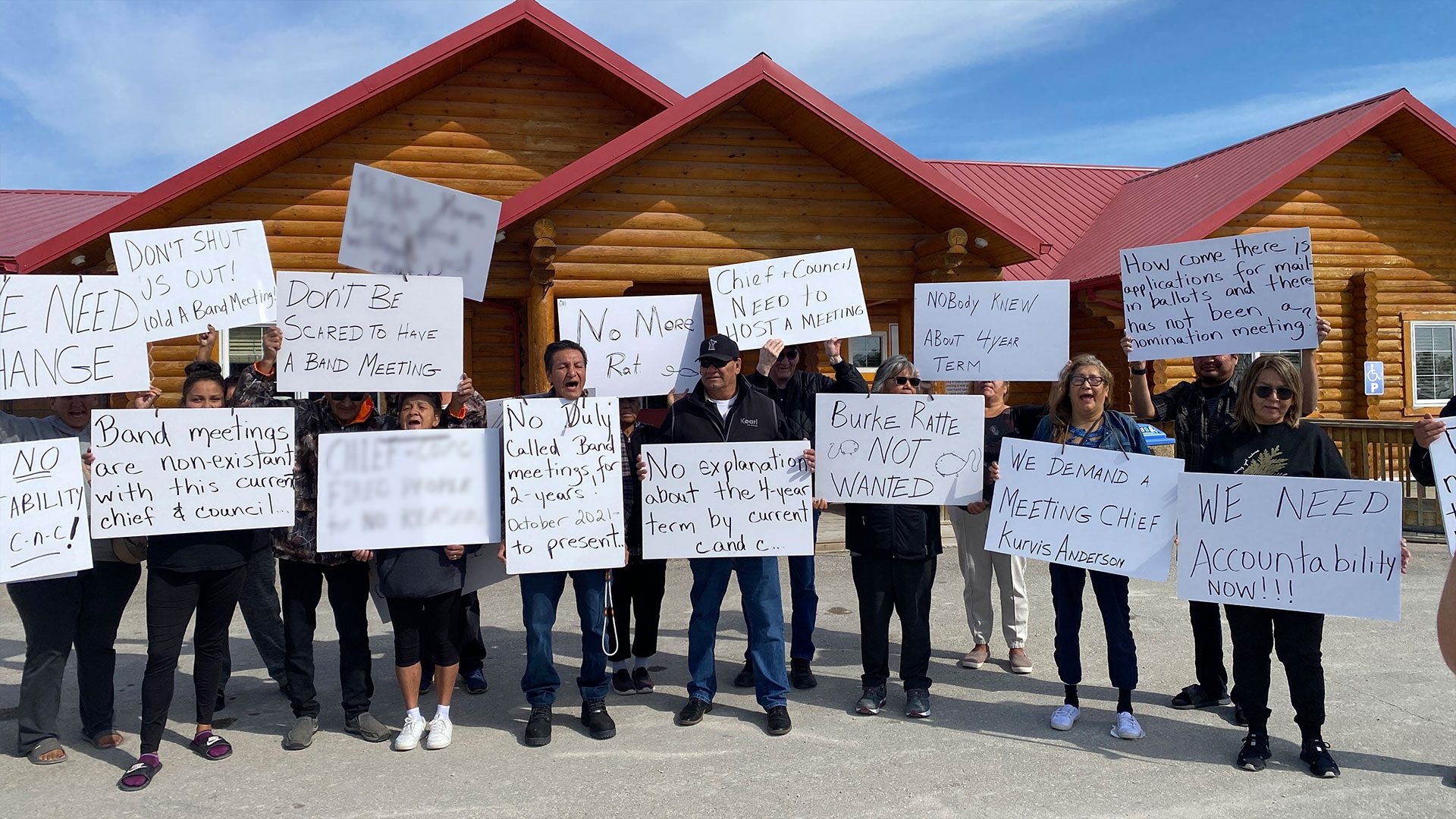 ---
Pinaymootang is an Ojibway community located 240 km northwest of Winnipeg. It has an on-reserve population of 1,233 and 1,579 people living off-reserve according to its website.
But the people protesting at the band office said many attendees had left the meeting before the motion was raised.
"How can we as band members who have not even heard about this 4-year term that's been adopted – how can we go forward?" said Sumner.
Darlene Woodhouse said they found out about the change from the federal government.
"We had to send in a letter to Indigenous Services Canada to the Honourable Minister (Patty) Hajdu to ask her whether our First Nation, Kurvis Anderson and the council put in a BCR [band council resolution] requesting a four-year term," said Woodhouse. "That's how we found out."
According to Sumner, a petition was signed by 160 band members calling for an emergency band meeting to discuss the changes.
Issues with the electoral officer
Sumner also said some community members on and off reserve also have questions about the electoral officer in charge of the election.
Burke Ratte has also worked elections in other nations across the Prairies. Allegations made in court over the past few years show that five other First Nations in Saskatchewan and Manitoba questioned the election where Ratte was an electoral officer.
A councillor from Dakota Tipi First Nation asked the federal court to halt the election there. The motion was dismissed. None of the allegations against Ratte were proven in court.
APTN reached out to Ratte for an interview but messages haven't been returned.
Members of Pinaymootang go to the polls Oct. 31.