Meet the club bringing European longsword fencing to Kahnawake Mohawk Territory
---
How do you describe the sport of longsword fencing to someone who has never tried it?
According to Iokannoron McComber, it's like "high-speed chess with weapons. It's like my mental health break.
"I come here and learn how to stab people in the face, so I don't go to work and stab people in the face," he added, jokingly.
McComber is a self-professed weapons enthusiast. After trying out historical fencing lessons in a neighbouring city, he was determined to bring the sport to his home community of Kahnawake, just south of Montreal.
"I loved swords my whole life," McComber explained. "It's fun – there's that aspect of danger to it, but I know we have proper protective equipment, so there's no risk of serious injury. Well, there's always a risk of serious injury."
Twice a week, McComber and a cohort of community members gather at an indoor Lacrosse box to practice fencing with both wood and pliable steel swords.
Longsword fencing was first popularized in Italy and Germany as far back as the 1600s. Though it may seem like a brute-force activity, it's incredibly intricate and requires precision in both steps and strikes.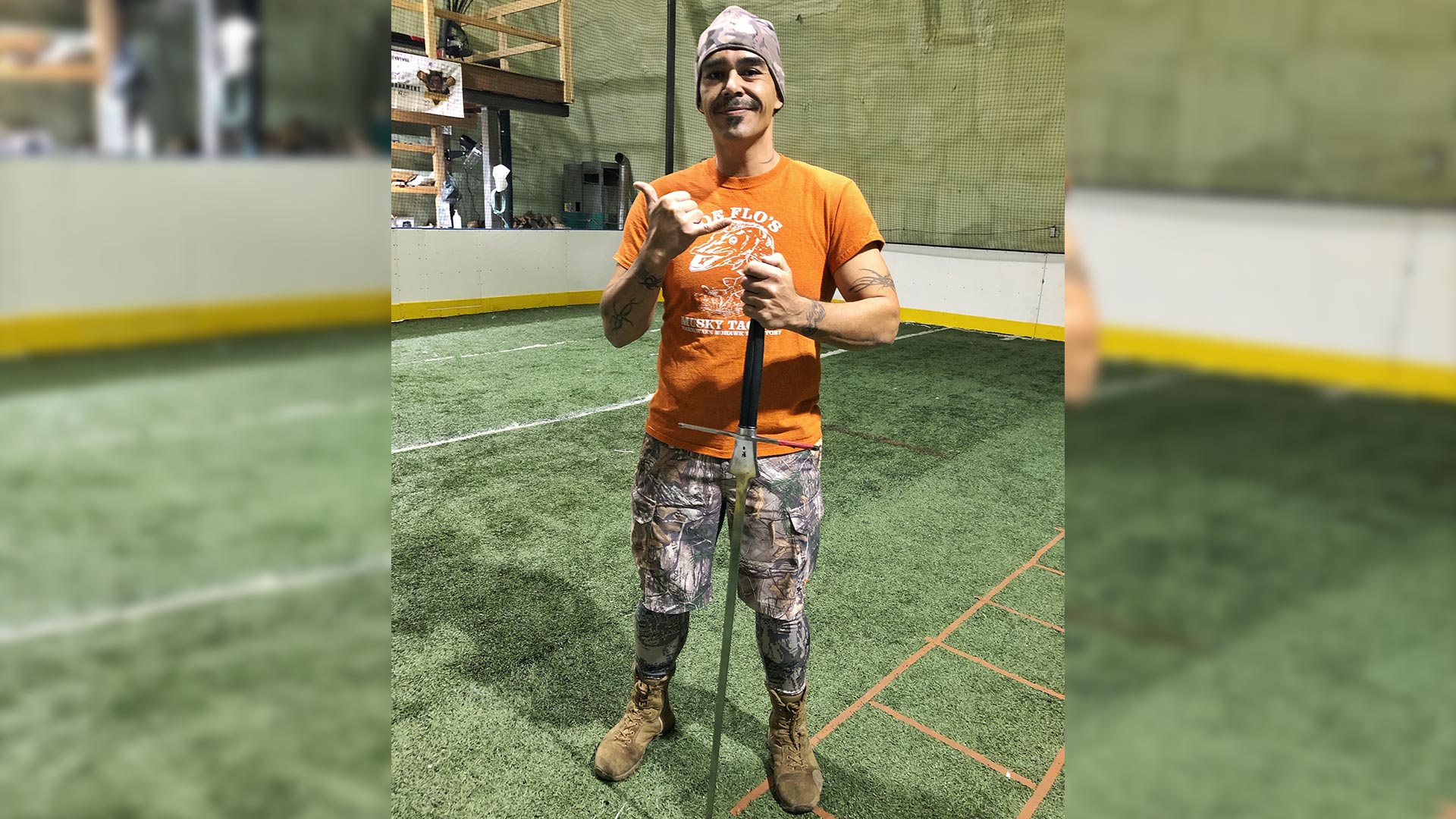 ---
Today, the sport is a cornerstone of the worldwide Historical European Martial Arts (HEMA) revival.
According to the HEMA Alliance, there are just about 250 clubs of this type in North America – but only one other in the Greater Montreal area.
Luckily, McComber's interest in medieval combat is matched by other Kahnawa'kehró:non.
"It's fun, it's great exercise, great upper body, lower body – everything from cardio as well," explained Tehionerahtathe Thomas, one of the first men to join the Kahnawake-based club. "I felt really invigorated – right away I just wanted to start trying out moves, you know?"
Tiohnekote Swamp is another faithful club attendee.
"I've always been interested in medieval, European, or maybe Japanese swords, and it's something that I've always collected in my lifetime.
"Being able to use them functionally is a dream come true."
But in order to make the Kahnawake fencing club a reality, McComber had to bring in a secret weapon: Orlando Di Ciccio, an instructor at Ardimento Historical European Martial Arts, and a fencing competitor currently ranked fourth in Canada.
"Italians are traditionalists. The same way you cannot tell them how to cook pasta – the way you become obsessed if you do the sauce wrong or if you over-cook it – we're proud of everything," Di Ciccio said.
"For us, the fencing tradition is very, very well felt."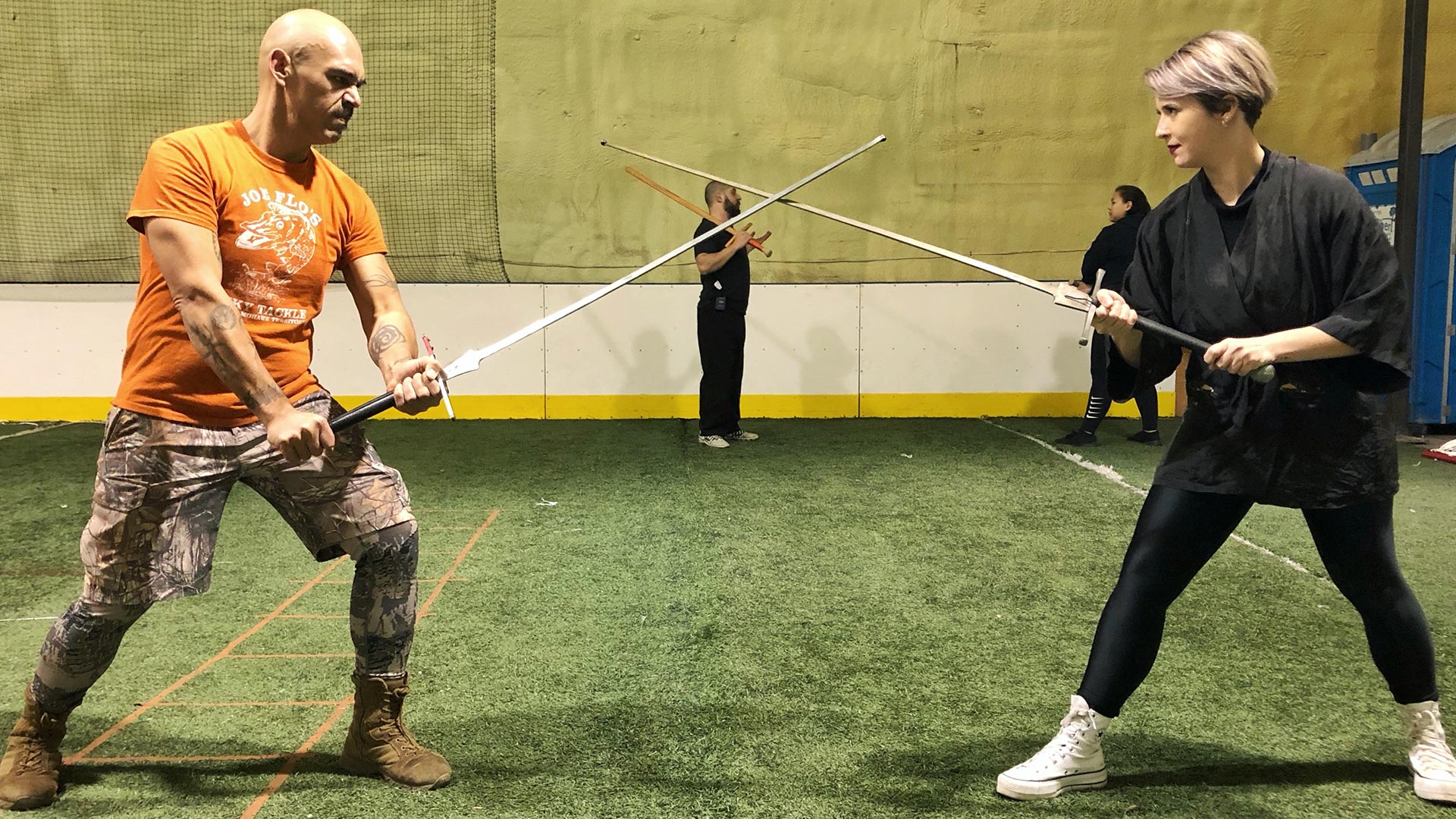 ---
Lessons are open to everyone – men, women, and even Federal Ministers.
After Canada's Minister of Crown-Indigenous Relations, Marc Miller, attended a beginner's lesson in Kahnawake, he summed up the experience in one word via Facebook post: "Wakátie's," the Kanien'keha word for "I lost."
Lifelong proponents of the sport, like Di Ciccio, know that mastery takes time, endurance, confidence, and teamwork.
"I don't know if it's just coincidence or whatever, but I feel like I'm way more attached to the way these guys are than anyone else since I've moved here," Di Ciccio explained.
"We're going to take over when tournaments are going to begin. You're going to hear about Ardimento and the Mohawks very, very soon."
McComber believes the Kahnawake-based fencing club is the world's first run out of a First Nations community.
But he's certain it won't be the last.
"Mohawks lead the way. That's what we do," he said.
"What's scarier than a bunch of Mohawks protesting? A bunch of Mohawks protesting with swords."
Watch the video above to see the Kahnawake fencing club in action.