Kashechewan chief invites foreign embassies to join rally on the Hill Tuesday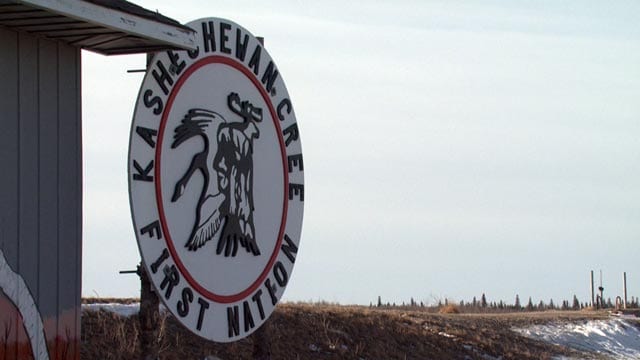 Kashechewan Chief Leo Friday has sent a letter to embassies in Ottawa inviting them to attend a rally on Parliament Hill in support of moving the Cree community to higher ground.
The rally is scheduled for Tuesday at 11:30 e.t.
The community has been evacuated and its more than 2,500 members have been flown to other locations across the province.
"While many people in eastern Canada are currently experiencing flooding, the people of my community are perpetual flood victims," Friday said in the letter. "This annual evacuation of Kashechewan only adds to the hardship, poverty and despair that is comparable to Third World countries."
Kashechewan sits just inland on the Albany River just off the western shores of James Bay. It first flooded in 1976 and has been evacuated annually for the past several years while its members wait for the federal government to fulfil its promises to move them to a permanent new location.
"This is now the seventh consecutive year of evacuating our population to southern towns and cities," Friday said. "We are a remote, fly-in community. There are no roads, so the evacuation is costly and a tremendous hardship to community members and others.
"Ironically, the Ottawa River is overflowing its banks right behind Parliament Hill. At the same time, Centre Block is closed for renovations for at least a decade while billions of dollars will be spent. It has already cost $3 billion to prepare for the closure and relocate
MPs and Senators offices to other buildings. In the meantime, Canada and Ontario cannot find the estimated $800 million to relocate our community."
Friday said negotiations to relocate Kashechewan have been ongoing for years but remote committees always seem to get "bumped off the action list."
The Kashechewan chief is now turning to the world to put pressure on Canada to act.
"I want the world's ambassadors to know that far too many First Peoples continue to suffer from the impacts of colonialism; an abusive Indian Act that spawned an Apartheid similar to that in South Africa; and an indifferent bureaucracy that continues to mismanage billions of dollars annually that are meant to lift our communities out of poverty and end decades of despair.
"The world needs to know that Canada continues to treat it's Original Peoples like second-class citizens living in third world poverty. But we are out of sight, out of mind."
In Toronto, First Nations leaders are calling on the provincial government to help press Ottawa to relocate the community of Kashechewan as it deals with annual flooding.
A rally is planned at Queen's Park for 3 p.m.
As other communities in Ontario, Quebec and New Brunswick are dealing with spring flooding, some with help from military members, officials with the Nishnawbe Aski Nation believes Kashechewan would have seen action much sooner if it were a non-First Nation community.
Ontario Indigenous Affairs Minister Greg Rickford says the province stands with Kashechewan in its call to the federal government for relocation.
A spokesman for federal Indigenous Services Minister Seamus O'Regan did not immediately provide a comment, but O'Regan has said Ottawa remains steadfast in its commitment to relocate Kashechewan.
news.ca
-with files from the Canadian Press