Kanesatake Mohawks decry Oka mayor's 'fear mongering' ahead of potential land deal
A series of public information sessions held this week in the Mohawk community of Kanesatake, and in the neighbouring municipality of Oka, have done little to assuage the population's concerns regarding an ongoing land dispute.
Hundreds packed a church Wednesday night in the community on the frontlines of the 1990 Oka Crisis to discuss the return of a pine forest as part of an ecological donation.
(Outside the meeting in Oka, Que., Wednesday evening. Photo: Lindsay Richardson/APTN)
Oka Mayor Pascal Quevillon says his community wants to discuss the proposed transfer with the federal government and says some in the community share his concerns.
Quevillon has said he doesn't want another Oka Crisis but fears one could be triggered, this time led by Oka residents worried about encroachment.
Quevillon has been has been criticized for incendiary language – enough to be considered "hate speech" under the Criminal Code, according to Kanesatake Grand Chief Serge Simon.
After rumours spread that the meeting Wednesday was closed to Mohawks, members set up a demonstration outside the church and started drumming.
Quevillon tried several times to close the door to drown out the sound of drumming.
Some Oka citizens tried to start a dispute, telling the drummers they "don't belong here."
(Members of Kanesatake Mohawk Territory in Oka Wednesday night. Photo: Lindsay Richardson/APTN)
Kanesatake Grand Chief Serge Simon says he's worried about the tone of the Oka mayor's comments, which he says contain a lot of misinformation.
But Quevillon doubled down, saying the adjacent Mohawk community has illegal dumps and cannabis and cigarette merchants, and he doesn't want those coming into his town.
Gregoire Gollin, a private developer, said he acted in the spirit of reconciliation in an agreement reached last month to cede 60 hectares of forest known as The Pines to the local Mohawk council as an ecological gift through a federal government program.
Gollin said he's also prepared to discuss the sale of an additional 150 hectares he owns in Oka to the federal government to transfer to the Mohawk community – nearly half of which he said is adjacent to land owned by Kanesatake.
Simon has not escaped criticism from community members.
He was called out during an information session at Kanesatake's high school on Tuesday night.
Community members say he hasn't been transparent enough leading up to the agreement-in-principle, even though he promised they'd have the final say before the deal is approved.
Kanesatake residents only received details about the proposed agreement with the developer on Tuesday – two months after the prospective deal was reported on by local media.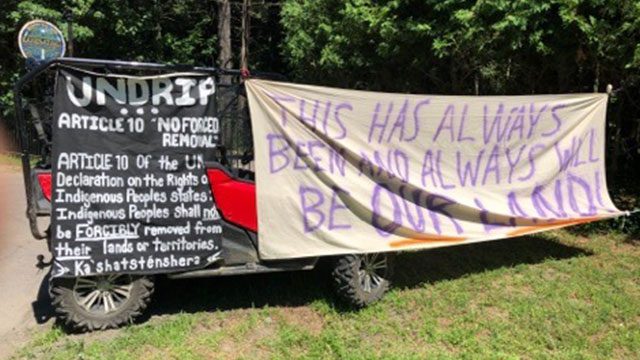 Since the series of meetings, tensions are steadily mounting between the two feuding communities – despite Quevillion's appeal for peace and calm.
On Thursday morning, a Mohawk man parked in a lot outside the same church was blocked in by two Surete du Quebec (Quebec provincial police) vehicles, and was asked to leave because "the city of Oka owns" the space.
The man in question, Joshua Smith-Gabriel, says this is indicative of the relationship between the communities.
"This is Kanehsatake every day. Monkey see, monkey do," he said in a Facebook live video of the encounter.
Later on Thursday, a number of community members set up along Route 344 at the Kanesatake border, draping flags, lighting a fire, and hanging out to raise awareness.
A confrontation erupted with CTV and TVA showed up with cameras – a community member chased them off, calling them liars and troublemakers.
The TVA reporter then accused the Mohawks of "being racist."
With files from the Canadian Press