'Our love is at the same level': Kahnawà:ke's first pride parade draws hundreds
'It's about time,' say attendees of the first pride parade
---
The rains cleared over Kahnawà:ke on June 24 to make way for the rainbow colours of Kahnawake's first-ever 2SLGBTQ+ parade.
Hundreds of people marched along Old Malone highway with hundreds more cheering them on from the sidelines.
"Look at all the colour! Look at all the energy!" said Tiffany Wahsontiiostha Deer, who glided across the street on her roller skates in a bright outfit.
"Love is love, all love is beautiful love and we need to recognize and support it."
The banner leading up the parade held by Kanawake youth read "sha'tetionkwatenoronhkwhahtserá:te", meaning "Our love is on the same level" in Kanien'keha.
Local businesses and community organizations walked the parade, including the Kahnawake paramedics, K103.7, and Kahnawake Shakotiia'takehnhas Community Services (KSCS), and local government officials were there, including the Mohawk Council of Kahnawake's grand chief, Kahsennenhawe Sky-Deer and Chief Ross Montour.
"It's 2023 we shouldn't be afraid, we shouldn't be hiding," said Sky-Deer, Kahnawake's first grand chief to identify as 2SLGBTQ+.
"I'm just so happy with the turnout, the number of people that are here showing support and love for the LGBT community here in Kahnawake, it's about time."
Everyone was happy to come out and support the first pride parade for the community.
"It's a first here, and I think it's important for inclusion, for people to feel that they're welcome," said Montour
"We're talking about human beings."
Federal Crown-Indigenous Relations Minister Marc Miller also attended on invitation by the grand chief.
"The federal government has been legislating love since it's existed, and the impacts of that is obviously, particularly on the LGBT community and Two-Spirit community, and Indigenous communities, we all know what that's created some inequality," said Miller.
"[I'm] just happy to stand here and be proud of what this community's doing."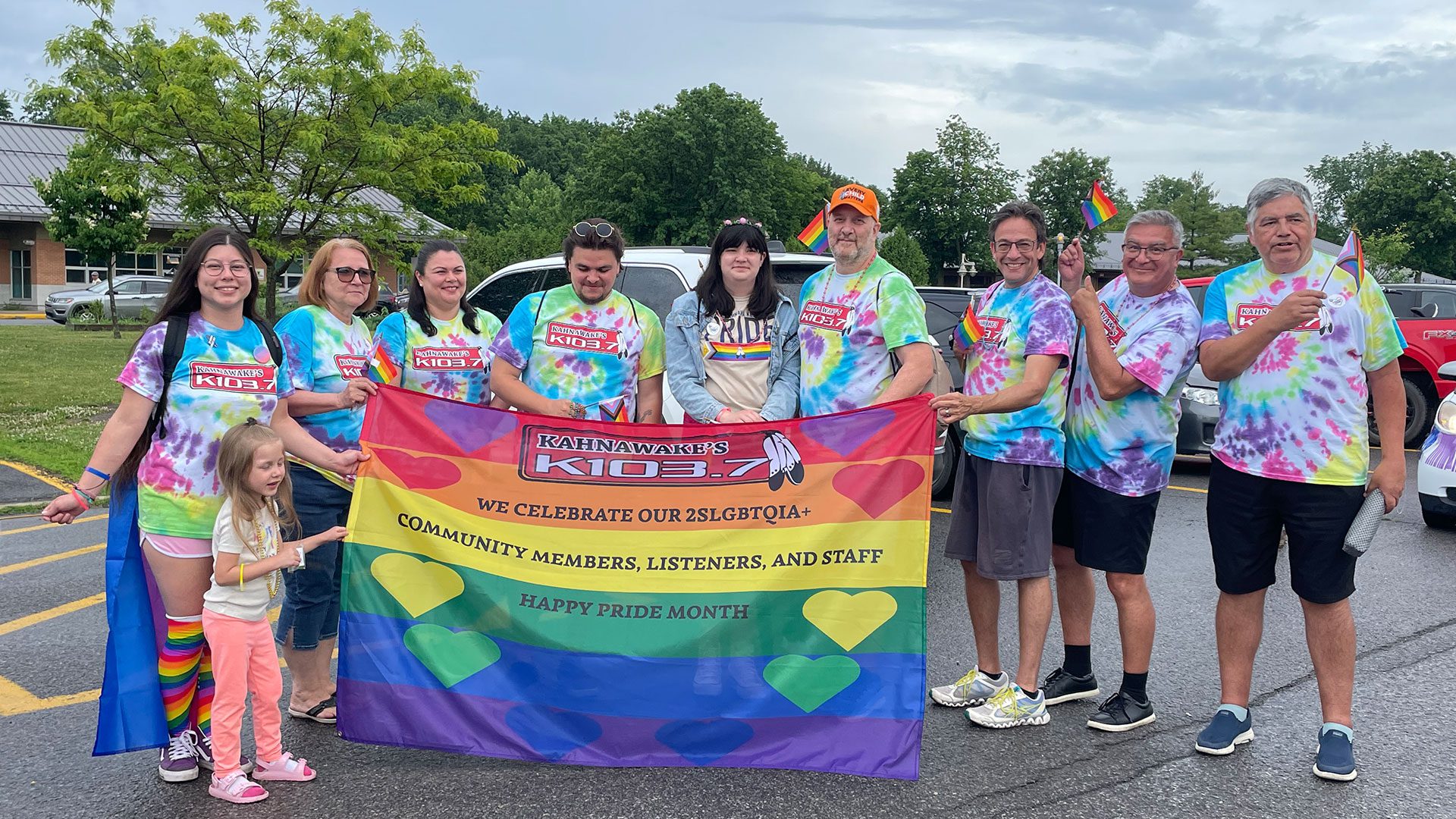 ---
Tammy Harris-Deerhouse of KSCS said the parade is "really important for people to see that it's out there and see that it's supported, especially for the youth that might feel very alone. It's important for them to know they're not alone."
Emerson Rheault, a 17-year-old non-Indigenous transmasculine person from the neighbouring Quebec community of Chateaugay, volunteered at the parade.
"It's really important also for me to help with events that are started by queer Indigenous people, because I think that as a whole the LGBTQ community doesn't really take care of or respect our Two-Spirit and Indigiqueer siblings," they said.
"It's really important to support events like these that allow queer Indigenous people in their communities to really be themselves and see that they're loved."
Miguel Leduc's family is Indigenous from Mexico, and he said Indigenous peoples across North America are still grappling with the effects of colonialism on 2SLGBTQ+ people.
---
Read More:
     Inuit pride becomes an annual tradition
---
"Before Columbus arrived, we had trans people, we had what's called Two-Spirit people, they were sacred, they were, they had different roles, seen as important members of society, and today, well, it's different, right?" said Leduc.
"It's just basically to go back to these roots of just understanding that all creation is sacred, everyone is made different for a reason, we should love every people in our community."
The parade was organized by Kahnawà:ke Collective Impact, led by Lily Deer, in collaboration with many community organizations and volunteers – including Lanny and Lacey Lazare, a married couple who runs a thrift shop in the community.
When you cross the threshold of Lanny and Lacey Lazare's thrift store, Thrifting the Night Away, you're greeted by a doormat that says "The gayest place on Earth!"
"We want our shop, our home to be safe places for everybody and our community. Our communities need to be safe places for everybody," said Lacey.
For Lanny and Lacey, part of making the community a safer space included helping organize the parade – and turning a wrought-iron unicorn sculpture they received as a wedding gift into a bright pink winged float.
---
Both identify as bisexual – something Lanny wasn't comfortable sharing until recently.
"I came up in a time in this community when it wasn't all right to be who you are and who you want to be and stuff like that," said Lanny. "I just think that it's time for this community to open up their minds and be OK with it."
"These are people that are in our community, it's our community. all of us. Not two separate entities," he added.
Leading up to the parade, Thrifting the Night Away's Facebook page received a number of anti-2SLGBTQ+ comments, said Lacey.
"They may not know that they have Two-Spirit or LGBTQ2S+ in their family. We've been trying to tell people, you know your family can read, and just be careful on what you're posting and putting out there, because it's no good to perpetuate the hate and the ignorance."
Despite that, Lacey said the experience organizing the parade was overwhelmingly positive.
"Going into the pride planning committee, we have every colour of the rainbow on our team, and a lot of issues were brought to our awareness that we weren't even aware of so it was really eye-opening to work with many individuals of the community," she said.
Community members like Brayden Homer and Calcifer Goodleaf came by to help stitch together the unicorn's fabric, build the wings and paint the float.
"They should learn to love our people that are like that too, as much as they love people from their family and friends," said Homer, a 17-year-old who identifies as bisexual.
Goodleaf, 18, said most of their family was accepting of their transition as a non-binary person.
"Every now and then, of course, pronouns and names get switched up, but that's life and they're trying!" they said.
"It makes me really happy to know that at least I know most of the people in my family are really accepting and they're trying their best."
On June 24, Goodleaf walked in the lead of the parade wearing the transgender flag as a cape, and Homer danced on the back of Lanny and Lacey's truck.
"We're already an Indigenous community and it's great when more communities come together, because they overlap, so to have Pride and to be Indigenous, it's good to be out and about and not feel worried or scared," said Goodleaf.