'It's like they were lost for a while': Some missing artifacts from Winnipeg's Métis Resource Centre found six years after closing its doors
---
A hunting trip in the bush ended with Jake Freeman securing the catch of a lifetime, but it wasn't the four-legged creature that brought her out there.
The day ended with a call from a family friend alerting Freeman to a social media post about a pair of mukluks that once belonged to the Métis Resource Centre, a former Winnipeg institution co-founded by the Métis woman's mother.
For Freeman finding these mukluks online was a miracle.
That's because the traditional footwear is one of the many pieces that went missing after the centre shut its doors in 2014.
"It's like they were lost for awhile," Freeman told APTN News.
Freeman reached out to the poster to explain the significance of the resource centre with hopes of procuring the mukluks.
She said the poster told her they purchased them off of Facebook marketplace (an online platform where users can purchase and sell used or pre-owned items), and that the Facebook seller had gotten them from an abandoned storage locker.
---
The mukluks came in a box labeled Metis Resource Centre and also included a pair of leg wraps dancers use for pow wows, among other things.
Freeman was able to come to an arrangement with the poster and purchased them last month for a dollar amount she would not disclose.
She said it's been an emotional experience.
"I think that maybe they're still on a journey as well…to me it must mean something, maybe don't know what that is yet."
Lorraine Freeman co-founded the centre in 1999 as a place where Métis and non-Métis could gather to learn more about Métis history.
It was also a place where Métis could get their genealogy done and access resources such as audio recordings of elders speaking Michif.
The centre was not affiliated with any Métis organization.
Over the years individuals and families would donate artifacts such as moccasins, birch bark baskets, books or the mukluks.
Freeman said her mom took pride in the family's Métis roots and wanted to create a space where others could as well.
"It was just something that she has always been passionate about. She was raised knowing she was Métis and to stick up for herself, and I think today there's still a lot of people who maybe aren't proudly Métis and I think she was trying to kind of share some of that pride she had with the community."
Lorraine Freeman passed away in 2005, and at the time Freeman didn't have much involvement with the centre. She later learned when the centre shut down in 2014 the artifacts went missing.
Little is known about what happened to the items. There are rumours and gossip but to Freeman's knowledge this is the first time one of the missing items has popped up.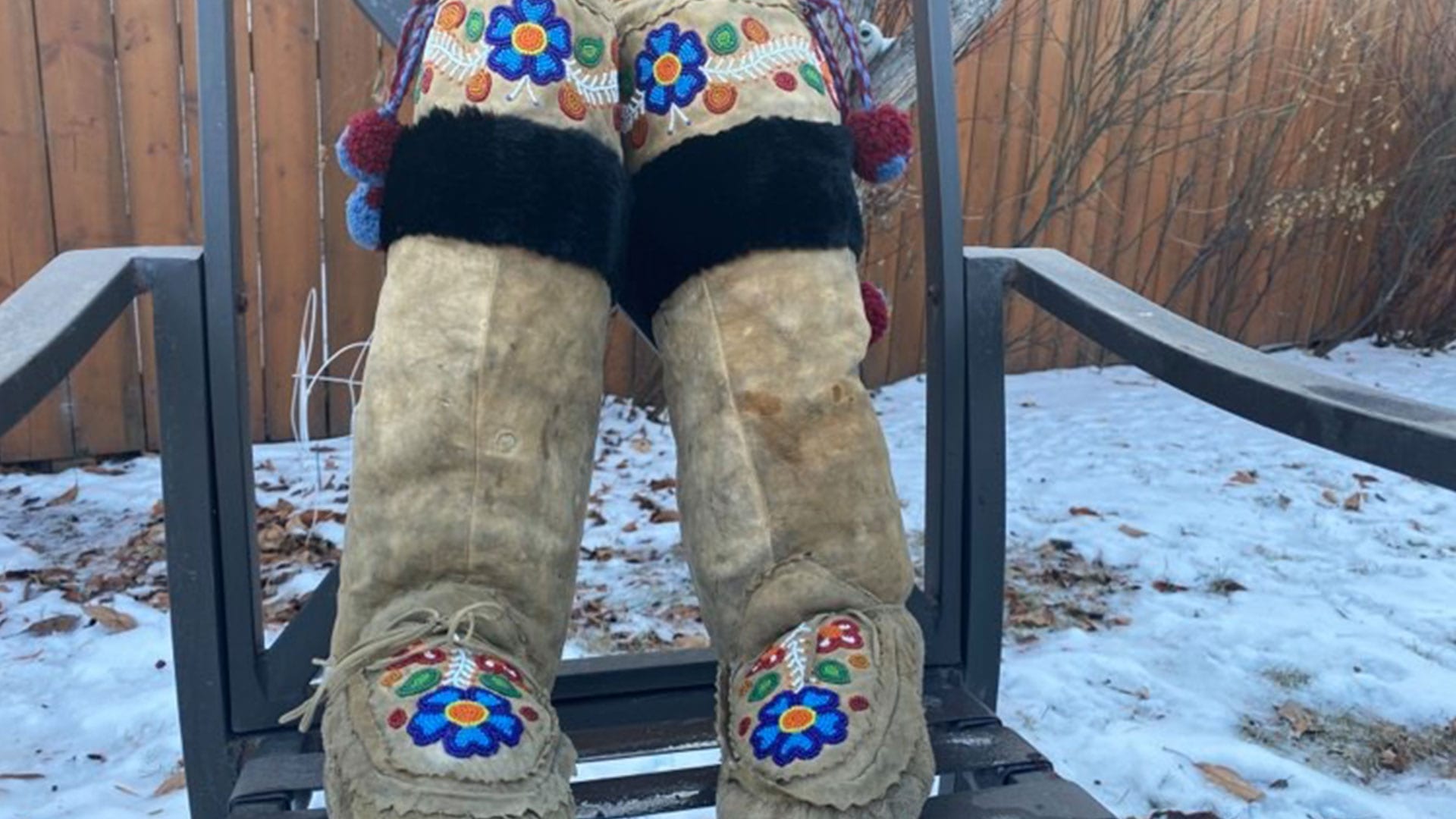 ---
Kevin Haag was a former board member at the centre. He was around for the later years before the doors closed.
He spent some time trying to locate the items before resigning hope they would be found.
He said the discovery of the mukluks and leg wraps felt like, "a kick to the stomach."
"Because this stuff is missing there's a lot of stuff we can't pass down to people. It's a missing part of the puzzle," Haag told APTN.
"I am hopeful that this does raise the awareness that we needed all those years ago."
Since obtaining the mukluks, Freeman has been able to find out some information about the footwear through other artists.
She believes they could be from the '60s or earlier, are made with home-tanned caribou hide and beaver fur, and are done in a northern Cree style of beading.
Freeman would eventually like to find out who originally donated them to let them know they are still valued.
Both Freeman and Haag hope this is the beginning of the repatriation of these items. They would like to see them returned to the original owners or put on display for educational purposes.