'It was not about religion': Littlechild defends gifting headdress to Pope Francis
The gesture was a mixture of community involvement and personal family decision.
---
Wilton Littlechild shocked many people across the country when he placed a headdress on the head of Pope Francis.
"It was not about religion. It was about spirituality," he says of the Pope's July 25 visit to Maskwacis and his historic apology there.
"That our ways, our traditional ways, our spiritual beliefs are OK."
Littlechild said the Pope's "penitential pilgrimage" in Canada, coupled with gifting the headdress was an emotional time for Maskwacis, a combination of four Cree Nations south of Edmonton.
"I'm not on social media, but apparently a lot of people are angry at me for doing that," he said in an interview with APTN News.
"But I don't tell them, where were you when the prime minister got a headdress? Where were you when the president of a company got a headdress? Where were you and others on headdresses? Why this one?"
---
The residential school survivor, lawyer and former commissioner of the Truth and Reconciliation Commission (TRC) said it was important the Pope deliver his historic apology in person.
"I first asked him years ago to come to Canada. To apologize to survivors. In our country. Because that's what they wanted," Littlechild says of the 7,000 survivors who testified before the TRC.
"Many, many, many hundreds told us, I just want three words. I want him to come to Canada and to say to my face, 'I'm sorry. I'm sorry for what happened to you as a child.'"
Littlechild said that was Truth and Reconciliation Call to Action No. 58. It took six years to make it happen.
---
Littlechild sits behind the desk in his wood-lined office in Maskwacis.
He is framed by pictures of family members and surrounded by legal books and sports memorabilia. He is wearing an orange shirt with white ribbons and a Oilers beaded medallion.
He comes from a large family with seven sisters and four brothers. He is honoured to have been raised by his grandparents, Chief Dan Minde and Mary Jane Minde and his philosophy for life can be credited to them.
"My grandfather couldn't speak, read or write English. My grandmother could. So they worked as a team. He was a chief who was in leadership for 33 years. So they taught me a lot of the traditional ways."
He did not grow up with his brothers and sisters, as the residential school system severed the bonds they had as siblings.
"So I came out of there not knowing what love was. Like a lot of us did."
---
Despite the abuse of residential school, Littlechild is a trailblazer in many ways. In 1976, he had the distinction of being the first Treaty First Nation person to get his law degree from the University of Alberta.
Littlechild recalls his interview at the University of Alberta when he sought to attend.
"Well, you better be damn good because you've got two strikes against you. We've never had an Indian. And we have never had a jock. An Athlete."
Since that time, he has served as an Alberta Treaty Six chief and a federal member of parliament for the Progressive Conservatives from 1988 to 1993. He's also a member of the Order of Canada and an inductee of the Canada Sports Hall of Fame.
Littlechild has also worked with the United Nations for four decades and he worked on legislation to bring Canadian law into alignment with the UN's Declaration on the Rights of Indigenous People (UNDRIP).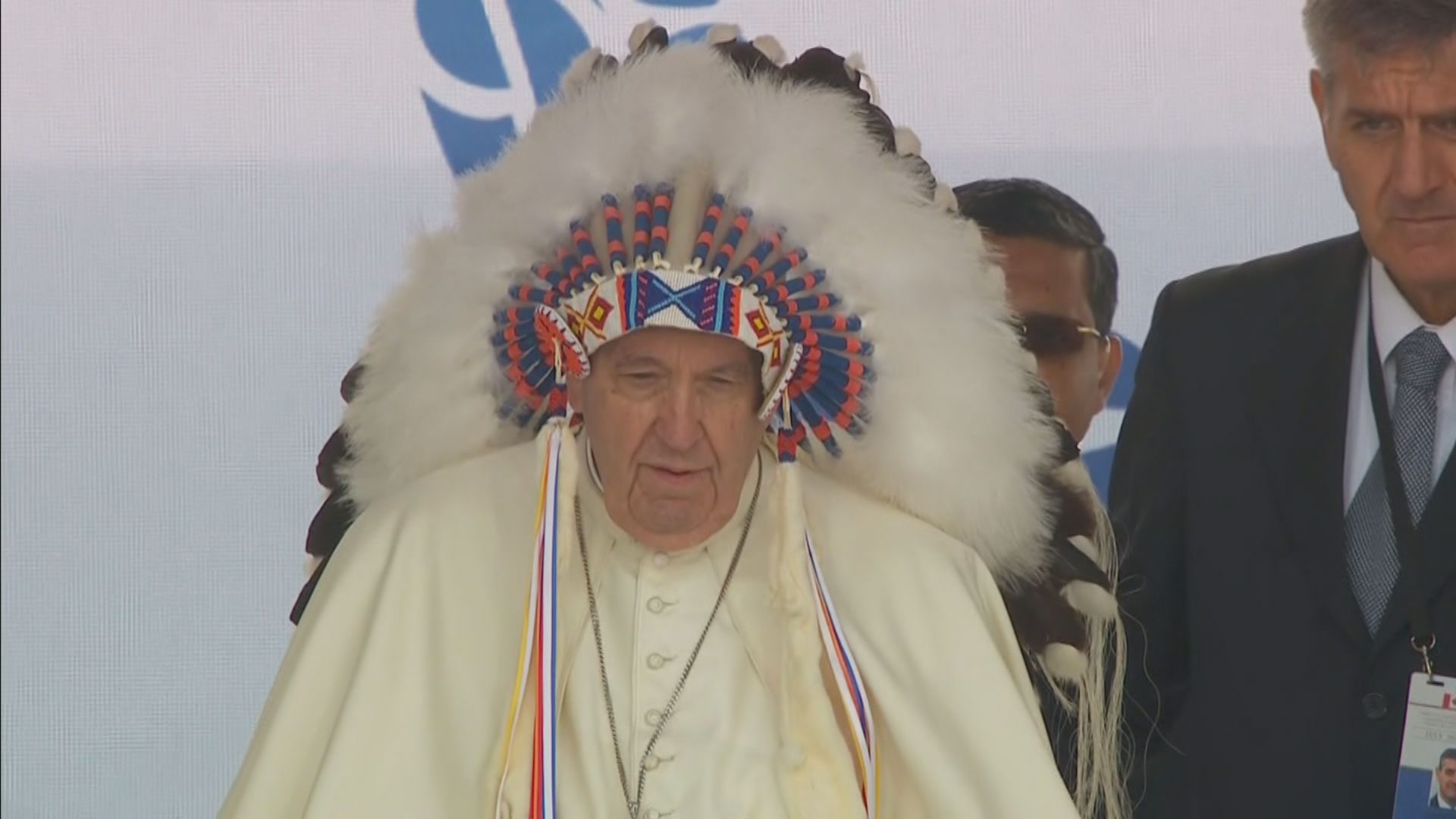 ---
In light of vicious online criticism and hateful words being thrown in his direction, Littlechild is reflecting on his work.
"When you receive your instructions at a young age and you're blessed with a name and ceremony, (it) comes with its responsibilities. And, I guess it's up to each of us whether you want to accept that responsibility or you have no choice. I think mine was a real, real blessing."
To move forward, Littlechild wants to see a focus back on healing as a community.
"A lot of individuals have done good work healing themselves. But we've kind of left the community behind because the community was assaulted, too. Especially where, you know, it's the location of a school."
Many have asked how Littlechild came to the decision to gift a headdress, a sacred object in many Indigenous communities, to the head of the Catholic church.
"We did out protocols as we know them as Cree people," he says.
---
He talks about the decision as one that was a mixture of community involvement and a personal family decision.
"The committee asked, 'What should we give him as a gift?' There was three committees: a national committee, a provincial committee, and a local committee. And he did get a name. In Rome. And one of the [Maskwacis] elders suggested we should give him a headdress. So, I said I have one."
As to the backlash, Littlechild says "one of the lessons I learned early was never criticize anyone else's beliefs. You don't do that. I accepted the responsibility to present a gift. As I welcome them to our territories, to our lands."
When asked about comments from people like Albert Dumont, a knowledge keeper from Kitigan Zibi First Nation (in Quebec), who called the act of giving Pope Francis a headdress a mockery of First Nations spirituality, Littlechild's face strains with emotion.
He says that Dumont is entitled to his opinion and Littlechild has no interest in arguing with him, or getting into fights with people who are disagreeing with him.
"My purpose is not to make a mockery. I would never, ever make a mockery," he says.
"I have seen others make a mockery of our sacred objects and sacred items. As I said at the beginning, this was about spirituality. It is about healing and reconciliation and not about politics."
---
Instead, Littlechild is rooted in teachings from his grandfather, who once told him in their language that he may one day be given the responsibilities of his community.
"If it happens, you must make every effort and try your best to improve the situation and then pass it on to the children," he recalls.
His grandfather and grandmother were on his mind that day with Pope Francis. As his heart was moved by the Pope's words.
"For my family, I said to him, 'I accept your apology. You've asked for a pardon. And on behalf of myself. As a student, former (residential) student and my family. We forgive you.
'And may I give you this gift as a gesture of reconciliation? And he said, 'Yes.' So I put it on."