Indigenous students learn the language one song at a time
Music has the power to evoke emotions, heal and educate.
That's what a group of Indigenous students learned while studying Ojibwe at Manitoba's Red River College.
They started the year as students and are ending it as teachers.
"We had this idea that we would write our own songs with our own music [and] our own lyrics so that the kids could learn what we are doing," said Sherri Shorting, a student at the college.
Shorting, along with three of her classmates, created the singing group Nagamoodaa!
In English it translates to "let's all sing," and that's what the group wants children and adults alike to do.
After learning basic words and phrases in Ojibwe, the group found themselves creating children's songs such as "Agindaaso/Awesin" or the "Counting/Animals" song.
Nagamoodaa! are (L-R): Dave Bird, Sherri Shorting, Joy Phillips and Gil Keeper. Photo: Brittany Hobson/APTN.
"I always wanted to do something like this," said Shorting. "To incorporate our language into a group is even better because we're teaching people and we're learning as we go along."
Before going back to school Shorting was working in the child welfare system.
She says two young girls she was working with asked her to sing to them in Ojibwe. When she couldn't she decided to learn the language.
Shorting's father went to residential school where she says he was punished for speaking his language.
For many years Shorting felt like a part of her was missing.
"I questioned myself. Who am I really?" she said. "Now that I've taken this [course] it's almost like being reunited."
"It's a really good feeling being able to actually listen to a conversation and being able to understand it now. I feel like I'm a part of something."
Joy Phillips grew up around the language in her home community of Hollow Water First Nation, but she could never pick up enough of it to understand what her family was saying.
In the past year that has changed.
"Oh, I'm a much better eavesdropper," Phillips said with a laugh. "I can really pick apart a lot of what they're saying. I'll try to chime in with using it and answering in it."
"I surprise my mom and uncle every now and then. I surprise myself too, sometimes."
Phillips came to the course after completing her bachelor of education.
Now that she's done she hopes to work in an immersion school.
She sees the album as a teaching tool for herself and other educators.
"When I would give my ideas I came from a perspective of how I could use these songs in my future classroom," said Phillips.
The album has eight songs in total.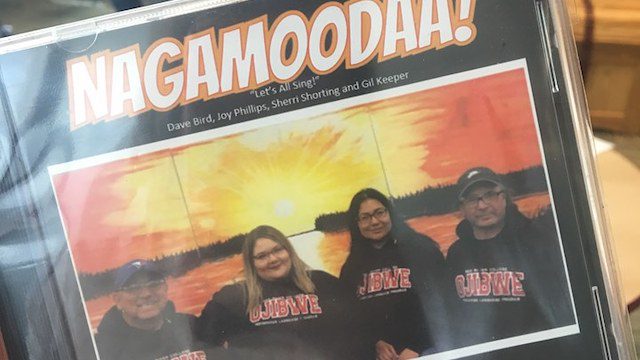 It was produced with the help of the group's instructor and the college.
Shorting said it was a surreal experience creating something from scratch.
"To actually hold that finished product in [my] hand and to see us on it, it's a really good feeling," she said.
The group hopes to create an album for adults in the future, but for now they are working at getting into elementary school classrooms.
For more information on Nagamoodaa! visit the group's Facebook page.