'I'm home' Connie Oakes begins the long road back
(Connie Oakes walks down a road on the Nekaneet First Nation in Saskatchewan. The Crown stayed it's case against Oakes Thursday. Photo: Jorge Barrera/APTN)
Jorge Barrera
APTN National News
On her second morning of freedom Connie Oakes made beef stew with potatoes, carrots, cauliflower, corn, celery and seasoning salt. She also made bannock.
Oakes sliced the vegetables and potatoes with a paring knife and put the pot in the oven at 7 a.m. to simmer for about six hours.
When it came time to eat, her aunt Jean Jerome asked Oakes to cut the bannock.
Oakes asked what she should use.
"There's a butcher knife in front of you," said Jerome.
For five years, during her time at the federal Edmonton Institution for Women, Oakes did not touch a knife with a steel blade. They could only use plastic ones.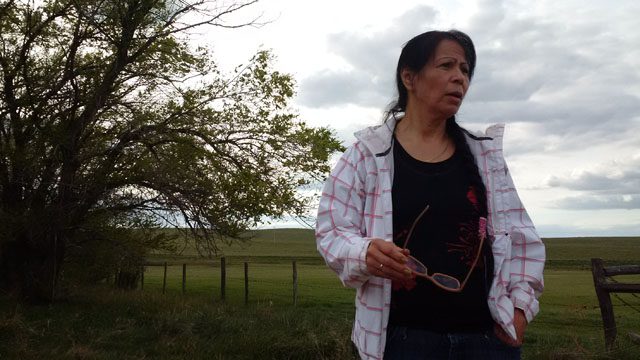 It's one of those things she's getting used to. That, comfortable pillows, and the silence of nighttime.
"I am used to doors being slammed, feet going up the stairs, keys," said Oakes. "I am still having a hard time sleeping, but I'll get used to it."
Oakes, 50, arrived at her family's ranch—which sits off a graded gravel road on territory obtained by Nekaneet First Nation as part of Treaty Land Entitlement lands—shortly after 10 p.m. on Friday.
"It feels good," said Oakes, after carrying the first load of bags into the home. "My goodness…I am at peace now, I am content. Knowing I am here, I am content."
Release Delayed
In her last night of slamming doors, clanging keys and boots on steps, Oakes tossed and turned in the bottom bunk of her cell at the Edmonton Remand Centre. She didn't know what to expect at the hearing scheduled for 1:30 p.m. the next day, a Thursday.
Three weeks earlier, the Court of Appeal of Alberta overturned her November 2013 conviction of second degree murder in the May 2011 killing of Medicine Hat resident Casey Armstrong, 48.
The Appeal Court ordered a new trial. Her first court date as part of the new process was set for May 13.
On Wednesday, after the afternoon shift change count, the intercom buzzed in Oakes' cell and a voice told her to call her lawyer Alexandra Seaman. Oakes had no inkling of what was to come.
"She said the Crown is bringing me in early, they said it was good news for my lawyer and good news for me," said Oakes. "Alex Seaman didn't know what the good news was. She didn't want to speculate, she didn't want to give me hope because we've been fucked over so many times… I had no idea I was getting a stay of proceedings. I feared the worst."
The rest of the day she paced around the yard. Oakes said she couldn't focus enough to even play cards.
"I was anxious, very short tempered, like snappy," she said. "People were asking me questions, 'Are you okay?' Yeah, I'm fine, just let me be."
After lights-out, it felt like the night would never end, she said.
"For a while it seemed like it was going on forever and I was just finally getting to sleep when the lights came on," she said.
At the Edmonton jail, the inmates eat their breakfast in their cells. That morning they served oatmeal and toast.
After the doors to the cells opened at 8:30 a.m. she ran for an hour on the treadmill, hit the showers and then waited around for the call to come. The intercom buzz came, but it was for her cell mate, who also had a court date that day.
"I said, 'It's Oakes and I have court too.' And they said, 'Hang on, yeah, you're an add-on, come down too.' And off I went," she said. "It was like butterflies when I got down to the main level."
One of the inmates she knew told her she was going to be set free, but Oakes refused to let herself believe it.
"One of the girls was adamant, 'You are leaving, you are getting out, I feel it.' I said, 'I appreciate your support Jonesy, I appreciate it, but I have to wait and see. If it happens, it happens," said Oakes.
Then, her turn came. She sat inside a room in front of a camera, which beamed her image 500 kilometres to the southwest onto a television in a courtroom in Medicine Hat.
Oakes said it felt like the hearing took mere minutes. Crown Orest Yerenluk asked Court of Queen's Bench Justice K.M. Eidsvik for a stay of the murder charge against Oakes. Eidsvik then turned to Oakes and told her, "This long ordeal is over for you."
She was, technically, free.
"I was so emotional, I was in tears. I was all tingly. My skin was actually tingling. I come out of there and the guard asked me, 'How did it go?' I said, 'I got a stay of proceedings.' And I started crying," said Oakes.
The guard then told her, "good job," Oakes said.
But the system lurched, sputtered and failed again, and it would be a little over 10 hours before she was able to leave the Edmonton jail. No one sent release papers from the Medicine Hat court to the jail. A local clerk had to be roused from their home to fax the documents at about 10:30 p.m. that evening, said Oakes.
The door to her cell finally clicked open for the last time at about midnight Friday.
Her cousin Linda Oakes, her biological mother Marion St. Dennis, and her adoptive mother Margaret Oakes had by now reached Edmonton from Medicine Hat.
It was shortly after 1 a.m. when Connie Oakes emerged from the jail.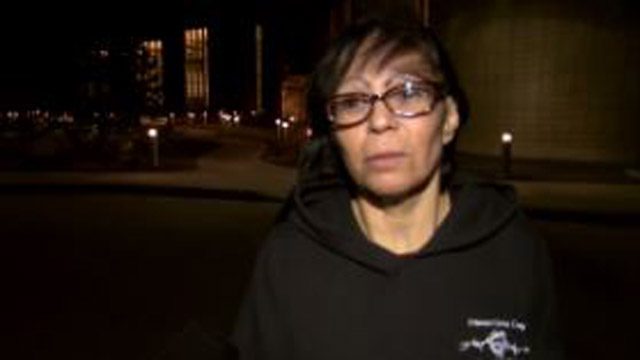 "The air inside is recycled, it is stuffy. There air is recycled throughout the whole institution," Oakes said. "The difference was awesome. Clean air, as clean as it was going to get."
The four women spent the night at the Rosslyn Hotel in Edmonton, but they couldn't sleep.
"All of us were just happy. I'm there with them, everything is over. The nightmare is over. My mom said, 'I can't sleep now, I just got my second wind, my third wind. It was two, three in the morning and we got up at seven."
Next stop was Medicine Hat.
Breaking news on the radio
Courtney Carry was at her parents' home in Etzikom, Alta., which sits about 86 km from Medicine Hat, cleaning and "jamming away" to the radio which was tuned to My96 when the music stopped.
"It said, 'Breaking News, Connie Oakes is free,'" said Carry. "I almost fell to my knees, I was shocked. I had to sit down and have a smoke and process it all."
Carry is the widow of Oakes' son Joseph Carry. The two married a week before he died of cancer at age 22 in May 2015. They have a son, Joseph Jr. who is now 3. Oakes was denied a request to see her son before he died. She was also denied a request to attend his funeral. Oakes' oldest son, Jameson John, died on Halloween in 2002.
Courtney Carry said she cried and laughed at the same time after hearing the news.
"I was struck in an awe-type mode and I also had my moments of crying. I wish Joe was here to able to see her too," she said. "I felt like I had two peoples' emotions going through my body. I know he is here with us."
On Friday, Carry was waiting for Oakes with Joseph Jr. at Marion St. Dennis' home in Medicine Hat. Oakes first picked up "Baby Joe," his head over her left shoulder, her left hand caressing his short black hair. Then Carry and Oakes held each other in a tight embrace, weeping.
"Don't leave for so long next time please, we need you here," said Carry.
"I'm home," said Oakes.
"I wish Joe was here to see you," said Carry.
"Me too," said Oakes.
Oakes' return to the family was desperately needed, said Margaret Oakes.
Carry had been struggling with her husband's death and Margaret Oakes, who is in her 70s, was keeping the household together, taking care of grand-children and great-grandchildren, including Connie Oakes' last living son Jared Oakes who turned 14 on Wednesday.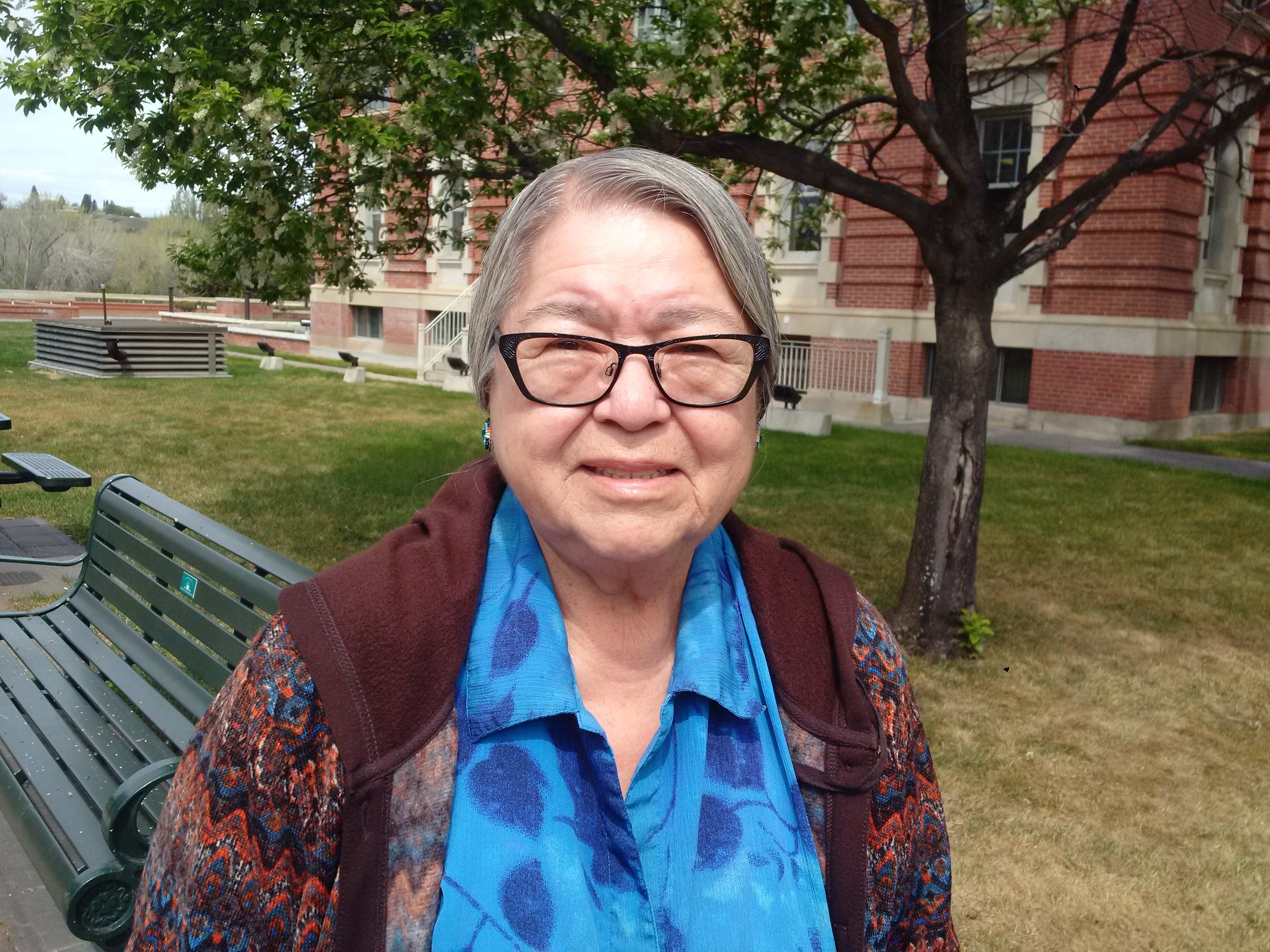 "It is really big for me. She'll take care of everything… Inside, I feel good about it. Already this morning she started to cook, she made a big pot of stew for us… My mind has been lifted," said Margaret Oakes. "Jared is a teenager now."
She said Connie Oakes will now be able to help her prepare food for the death anniversary feast for son Joseph Carry later this month.
The Cree of Nekaneet do not have cemeteries with headstones. The dead are buried in an area of the community they only enter to inter a loved one. They are commemorated in a yearly feast specifically in their memory for the first four years after the death. Then they are remembered in community feasts held for all who have passed.
On Saturday night at the ranch in the Cypress Hills, Connie Oakes and Jared sat together on the sofa, the television on in the background. Jared said he went to the skate park, but didn't skateboard because he didn't have the right sneakers. Then during a conversation about Oakes needing to get her driver's license again, he tells her about Google's self-driving cars.
Oakes, who once ran a boxing club in Nekaneet, said she wanted to watch Southpaw, a movie about a boxer who makes a comeback after hitting rock-bottom following the murder of his wife.
"What's Southpaw?" said Jared.
"It's a boxing show based on a true story," said Oakes.
Jared then muttered something playfully.
"Oh yeah, I can show you what southpaw is," said Oakes, laughing, as she leaned into her son. "Who made who move?"
Jared smiled.
For more on Connie Oakes:
The story that started Connie Oakes on a road to freedom
Elizabeth Fry Society asks for full public review of Connie Oakes wrongful conviction
Video offers glimpse into interrogation of special needs witness in Connie Oakes case
Medicine Hat police could face public investigation into how officers handled murder case against Cree woman