Federal debate night on APTN: Here are the party's platforms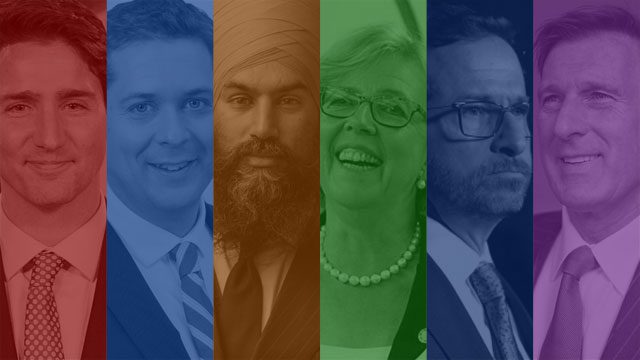 APTN News
On Monday, all six federal leaders will step on stage at the Canadian Museum of History and debate the issues. They will include; affordability and economic insecurity, environment and energy, leadership in Canada and on the world stage, polarization, human rights and immigration, and Indigenous issues.
APTN News was not invited to be a moderator on the panel.
According to the consortium running the debate, all five themes explored tonight will include a question from a Canadian, question from one of the five moderators, a question from one leader to another and leader to leader debate.
Below is a list of the platforms from four of the federal parties; the Greens, Liberals, NDP and People's Party of Canada.
The Conservative party has not released its Indigenous platform yet and did not reply to questions from APTN on when it will be.
The four areas that Green has made promises to Indigenous people are:
Treaties and Land Claims
Work towards the creation of an Indigenous Lands and Treaties Tribunal Act to establish an independent body that will decide on specific claims
Negotiate with Indigenous Peoples over primary hunting, fishing, trapping and logging rights on traditional lands

Respecting Indigenous Sovereignty and self-determination
Establish processes for self-governing Indigenous Peoples and nations to transition out from under the Indian Act
Affirm the inherent right of Indigenous communities to determine child and family services.
Green government will respect Indigenous sovereignty over self-defined and self-governed lands – whether First Nations, Métis or Inuit

Cultural Revitalization and Healing
Support the development of Indigenous education curricula that are language and culture specific.
Increase access to post-secondary education for Indigenous youth by removing the two per cent funding cap, as well as fully funding the program backlog.

Health and Wellness
End drinking water and boil water advisories
Prioritize high quality safe and affordable housing, particularly in the north
Support health-care services that incorporate traditional practices and recognize the role of extended families and elders
They promise to:
Honour treaties and respect UN Declaration on the Rights of Indigenous Peoples
"The Green Party fully embraces all 46 articles of the United Nations Declaration on the Rights of Indigenous Peoples (UNDRIP). A Green government will remove all obstacles within the judicial, legislative and executive branches of government to wholly implement UNDRIP."
Make Indigenous nations equal partners in setting national policy priorities.
Fully implement the Truth and Reconciliation Commission & Missing and Murdered Indigenous Women and Girls report
Develop a national strategy for housing, clean water, food security and healthcare
Work in partnership with the Assembly of First Nations to implement their agenda for the 2019 election.
Promise to work with Indigenous people to dismantle the Indian Act
"The Green Party rejects the Indian Act as racist and oppressive legislation and is committed to dismantling the Act in full partnership and with First Nations taking the lead role in the process. The Indian Act uses race-based criteria to define who is and who is not an Indian and infringes on the right of First Nations people to define themselves. Greens will support Indigenous Peoples' work and efforts towards self-determination to ensure no one is left behind or excluded from their rightful heritage. While dismantling the Indian Act will be a complex exercise in which Indigenous Peoples have the deciding role, we will establish processes for self-governing Indigenous Peoples and nations who choose to "opt out" of the Indian Act.
---
Closing The Gap With Better Services
In 2015, we promised a new relationship with Indigenous Peoples – one that would help deliver a better quality of life for their families and communities. While we have made a lot of progress together, more work needs to be done to build on the investments we've made and keep moving this important relationship – and our country – forward.
Supporting Strong Indigenous Economies
When Indigenous communities have a stake in local projects, and when Indigenous entrepreneurs have the help they need to succeed and grow, everyone benefits.
Continuing On The Path Of Reconciliation
The future of Canada's relationship with Indigenous Peoples, and our ongoing journey of reconciliation, transcends any one government. But that should never be an excuse for inaction. We need to continue to move forward, to a place where Indigenous Peoples in Canada are in control of their own destiny, making their own decisions about their future.
Supporting First Nations Priorities
In the past four years, we have made significant progress on the things that matter to First Nations. We will continue to move forward to advance the priorities identified by First Nations.
Supporting Inuit Priorities
Since 2015, we have made significant progress on the things that matter to Inuit. We will continue to move forward to advance the priorities identified by Inuit.
Supporting Métis Nation Priorities
We have made significant progress over the last four years on the things that matter to the Métis Nation. We will continue to move forward to advance the priorities identified by the Métis Nation.
I couldn't find anything about the health care announcement Trudeau made in Thunder Bay on the Liberal website or about a promise to implement the UNDRIP. If anyone sees it on the website please forward it to me.
---
Upholding Indigenous rights and advancing self determination
"we're committed to fully implementing UNDRIP, co-developing a National Action Plan for Reconciliation"
We will establish a National Council for Reconciliation
Standard of free, prior, and informed consent for Indigenous communities affected by government policies
Revitalize Indigenous languages in Canada with new legislation and stable funding
Establish a National Day for Truth and Reconciliation to acknowledge the painful legacy of colonization
Investing in children and ending funding discrimination
"we're committed to taking immediate action to implement the TRC's 94 Calls to Action, Jordan's Principle, and UNDRIP to end discrimination against Indigenous children."
Will take immediate action to respect, support, and resource Indigenous jurisdiction over child welfare systems, and will back this commitment with long-term, predictable funding guaranteed
Fully implement the Canadian Human Rights Tribunal orders, which ordered the Canadian government to stop chronically underfunding child welfare services on reserve
Safe, quality housing for all
"we're committed to tackling the mould crisis and ensuring First Nations, Inuit and Metis people have safe, healthy, and affordable housing"
Implement co-developed First Nations, Métis, and Inuit housing strategies
Closing the education gap
"We're committed to implementing Shannen's Dream of equitable access to education by increasing funding to Indigenous education and bridging the gap to post-secondary"
We will work with the provinces to establish Indigenous history education programs for all Canadians
Ensure that every child is provided a safe place to learn and an opportunity to succeed, whether on or off reserve
Fostering thriving and resilient communities with clean water and strong public services
"We'll work to lift all drinking water advisories, fund fire and transportation services, and partner with communities to fight climate change"
Ensure clean water and lift all drinking water advisories for good by 2021
Support Indigenous-led water management training programs
Funding on-reserve emergency management, including firefighting training & equipment
Resuming and expanding rural and remote bus routes and passenger rail service
Protect infrastructure from climate change and increase the use of renewable energy
Nurturing healthy communities
"We're committed to closing the health gap and making sure First Nations, Inuit, and Métis peoples can get the treatment they need in their community."
To improve access to mental health and addiction treatment services – including an action plan to prevent suicide
Ensure that Indigenous-led, culturally appropriate home care and long-term care is available for Elders
Reform the Nutrition North program
Build a treatment centre for residents affected by long-term mercury exposure and compensate families affected in Grassy Narrows
Supporting Indigenous employment and economic development
"We're committed to partnering with Indigenous communities to build a new fiscal relationship, encourage economic development, create jobs, and support Indigenous entrepreneurship and social enterprise."
Expanded access to broadband internet and cell service for rural and remote communities
Working with Indigenous entrepreneurs to find solutions for accessing capital and scale up investing in Indigenous social enterprise projects and entrepreneurship
Create a Northern Infrastructure Fund to fast-track investment and focus on improving much needed infrastructure like roads and broadband internet for communities in the North.
Honouring Indigenous women, girls and two-spirit people
"We'll implement the National Inquiry's recommendations, and ensure equal status rights and self-determination for communities."
Implement the MMIW inquiry calls for justice and calls to action
Act to ensure full gender equality for First Nations status
Equitable access and self-determination over land, culture, language, housing, child care, income security, employment, education, and physical, mental, sexual and spiritual health
Reconciliation and justice
"We're committed to ending systemic discrimination, supporting healing and restorative justice, Indigenous policing, and justice for residential school survivors"
We will increase the discretion of judges during sentencing, ensure bail programs are culturally appropriate, bolster funding for community justice programs that focus on healing and restorative justice rather than incarceration
We will work with Indigenous communities to enhance community safety and provide the necessary resources for Indigenous policing
We will keep residential school Survivors at the heart of decisions around justice for their experiences, ensuring fair compensation
Protecting the environment together
"We're committed to fighting climate change with Indigenous peoples as full and equal partners in decision-making"
Ensure that First Nations, Inuit, and Métis leadership have a seat at high-level decision making tables to help direct climate change efforts in Canada
Expand the Indigenous Guardians Program, invest in Indigenous-led science, and support the creation of Indigenous-managed protected areas
Develop coordinated action plans to respond to climate change emergencies like wildfires and floods. This work will be informed by Indigenous traditional and ecological knowledge
---
The People's Party of Canada platform
The aboriginal population of Canada is extremely diversified. It accounts for about 5% of Canada's population and comprises First Nations, Inuit and Metis. There are more than 600 First Nations communities dispersed across the country. More than half of First Nations Canadians don't live on reserves.
Aboriginal issues are also very complex. Some communities are prosperous, others much poorer than the Canadian average. Many suffer from acute social problems, including crime, domestic violence, substance abuse and suicide. Many don't have the basic services that we take for granted such as access to clean water. There are other major issues to address regarding treaty negotiations, housing, property rights on reserves, etc.
It is not possible to address more than a few of these issues in the context of this election platform. Here is what a People's Party government would prioritize on the basis of its four key principles.
Respect
Many injustices were committed in the past by the Canadian government towards aboriginals. We cannot rewrite the past, but only seek the best way to live together harmoniously in the future. This relationship must be based on mutual respect and a balanced approach taking into account the needs of the aboriginal population and the interests of the Canadian population as a whole.
A People's Party government will explore options to replace the paternalistic Indian Act, which keeps aboriginals in a state of dependency and allows the federal government to control most aspects of their lives, with a new legal framework that guarantees equal rights and responsibilities to aboriginal people as Canadians, and promotes the self-reliance of communities.
A People's Party government will respect our Constitution and treaties. It will reaffirm the federal government's power to approve natural resources and infrastructure projects, after adequate consultations with affected aboriginal groups, and in partnership with them to ensure they can benefit from these economic opportunities.
Freedom
The lack of real private property on reserves is in part responsible for the poor state of housing and the social ills that derive from it, and is one of the greatest impediments to economic development.
A People's Party government will explore further avenues to promote the establishment of individual property rights on reserves so as to empower its residents, and give them increased control over their lives.
Fairness
Fairness demands that all Canadians benefit from roughly equivalent services wherever they live. It's unacceptable that some aboriginal communities live in conditions that resemble those of third world countries. But the current model to solve these problems is based on top-down bureaucratic solutions imposed by Ottawa on dependent communities with no voice in the process.
A People's Party government will ensure that aboriginal communities take more ownership of the services they receive in partnership with Ottawa and other levels of government.
Responsibility
Although Ottawa spends about $21 billion a year on aboriginal programs, there is little evidence that living conditions have been improving in aboriginal communities. The federal government and aboriginal administrations have a responsibility to ensure that taxpayers' money is well spent.
A People's Party government will review federal spending to ensure that programs are better targeted to benefit the aboriginal population, in particular the communities that have the greatest needs.
@aptnnews