Federal Conservative candidate gives boyfriend human skull for birthday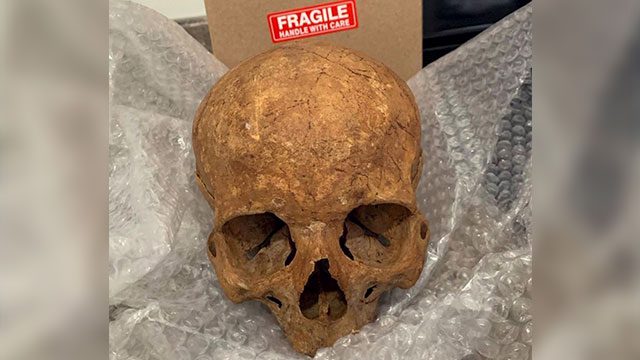 A candidate in a northern British Columbia riding has purchased a human skull as a birthday present for her boyfriend, according to a Facebook post.
Claire Rattée is running for the Conservatives in Skeena-Bulkley Valley, a huge riding held by NDP MP Nathan Cullen. It includes Prince Rupert, Smithers, Terrace and Haida Gwaii.
About 90,000 people live there.
A Facebook post by Oliver James Brown wrote Rattée bought him a human skull from the 1700's. He then gleefully shared the news in a Facebook post.
"A normal person to come across something like this, you would want to find out where it came from, who it's from, and return those remains to whoever they belong to, even if they're not Indigenous," said Tracy Downey, executive director at the Prince Rupert Aboriginal Services Society.
"I think it's appalling, is what it is."
The Facebook post is from February 2019. Someone who asked not to be identified shared the post with APTN.
Boyfriend gives thanks for 'amazing gift"
In his own social media post from February, 2019, Rattée's boyfriend, Oliver James Brown, thanks her for getting him his "first real human skull."
Brown writes that the skull is from the 1700's.
He wrote, "So happy what an amazing gift babe thank you so much!"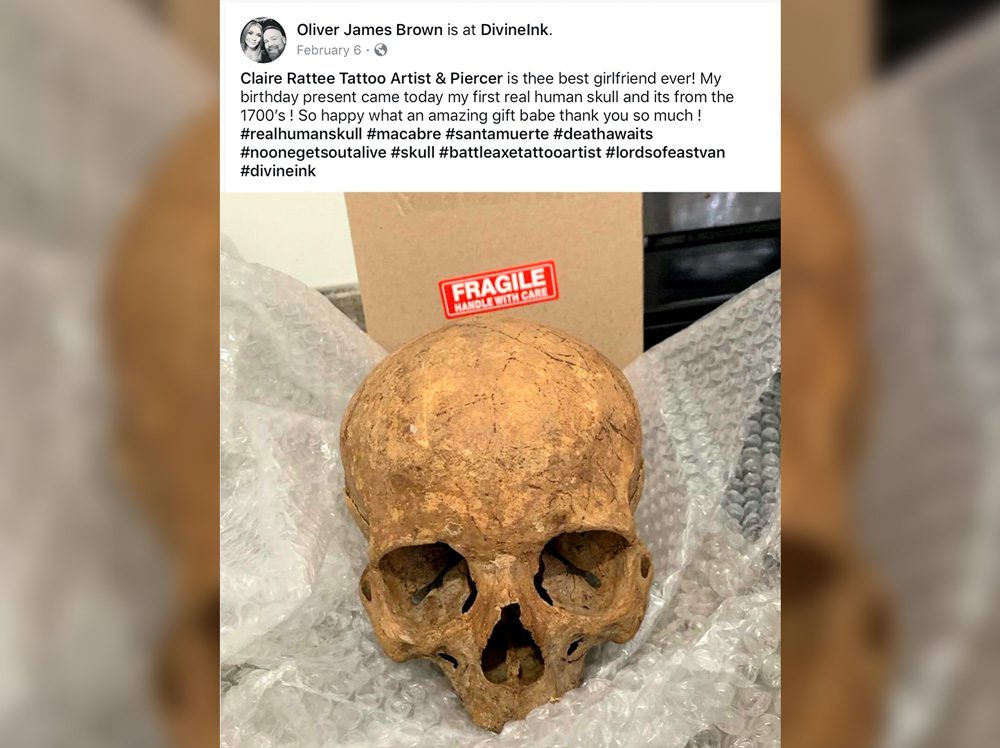 Oliver Brown's Facebook post about his "first real human skull" from Conservative candidate, Claire Rattée. Photo: Facebook
Rattée lives in Kitimat, where she was a city councillor. She operates a tattoo studio with Oliver Brown.
Claire Rattée and Andrew Scheer, leader of the Conservative Party of Canada. Photo: Facebook
Kitimat is the proposed location of a controversial $40 billion liquefied natural gas project called LNG Canada. It will include a natural gas liquefaction facility, a pipeline and a marine terminal to export surplus natural gas to Asia.
The project is expected to start operating in 2024-2025.
According to her website, Rattée feels prepared to make a difference in her community, and based on a recent news report Rattée supports the LNG Canada project.
Tracy Downey, executive director of the Prince Rupert Aboriginal Services Society wonders if this human skull is sitting up on mantel someplace. Photo: Tracy Downey
"How can you reconcile with somebody when they have these remains and you don't know where they came from," says Downey.
But Rattée says she can attest where the human remain came from.
"The skull that I purchased, it's actually a European skull," Rattée said in a phone interview.
"The main reason behind it is that it's something he wanted for a very long time, we're tattoo artists so it's really important for us to have a good reference for art."
Rattée said the skull was also very expensive and came with documentation.
Rhoda Witherly is the chairperson for the Liberal riding association in Skeena-Bulkley Valley. She says she was taken aback when she heard about Rattée's gift.
"It's irrelevant whether the human remains is Indigenous or not, it just seems like an odd thing to possess," Witherly says.
"It seems to show a certain insensitivity."
Human remains and repatriation is a delicate issue for many Indigenous communities.
Read: Beothuk remains to be returned to Canada
For centuries Indigenous human remains have turned up in museums, laboratories, educational institutions and in the homes of private collectors because of archaeological excavations, development projects, construction sites and grave robbing.
In March of this year, APTN National News reported that Don Miller, a Christian missionary had 42,000 artifacts stored on his Indiana farm. According to the US Federal Bureau of Investigation (FBI) the case was one of the largest involving cultural artifacts they ever handled.
According to the FBI, Miller used a skull as a fruit bowl on his living room table.
Read: Christian missionary used human skull as fruit bowl, dressed up skeletons: tribal officer
An FBI spokesperson said the majority of the remains in Miller's possession were of Native American ancestry and were probably dug up from tribal burial grounds.
APTN also reported hundreds of human remains ranging from small bone fragments to complete skeletons held at universities, many of them extending as far back as the ninth century.
Read: Hundreds of human remains at Canadian universities
Buying human remains in Canada
The legalities of buying human remains in Canada are vague.
Justice Canada say "provinces and territories are responsible for the regulation of human remains, as well as human tissue and organ donations."
Section 182 of the Criminal Code of Canada says anyone who "improperly or indecently interferes with or offers any indignity to a dead human body or human remains, whether buried or not, is guilty of an indictable offence and liable to imprisonment for a term not exceeding five years."
Today there are many places to buy human remains from.
For instance, SkullStore based in Toronto sells everything from an ancient mummy hand and foot, a child's shrunken head to a Dayak tribal skull; all of them selling in the thousands.
Professor Graham said it might not be illegal to buy human remains, it is immoral. Photo: Shawn Graham
Shawn Graham, history professor at Carleton University and trained archaeologist asserts many of the human remains sold today come from the late 19th century to the early 20th century and were used for the purpose of scientific racism.
"The vast majority of these human remains being bought and sold online, these aren't white people being turned into commodities," said Graham.
"An absence of law doesn't make something morally or ethically right, just because there's no law against it, it doesn't mean that this is something that should be done or celebrated."
Graham added there tends to be more legislation about human remains in the United States than in Canada.