Family still searching for answers in disappearance of Cindy Martin
National Inquiry produced a lot of words but little results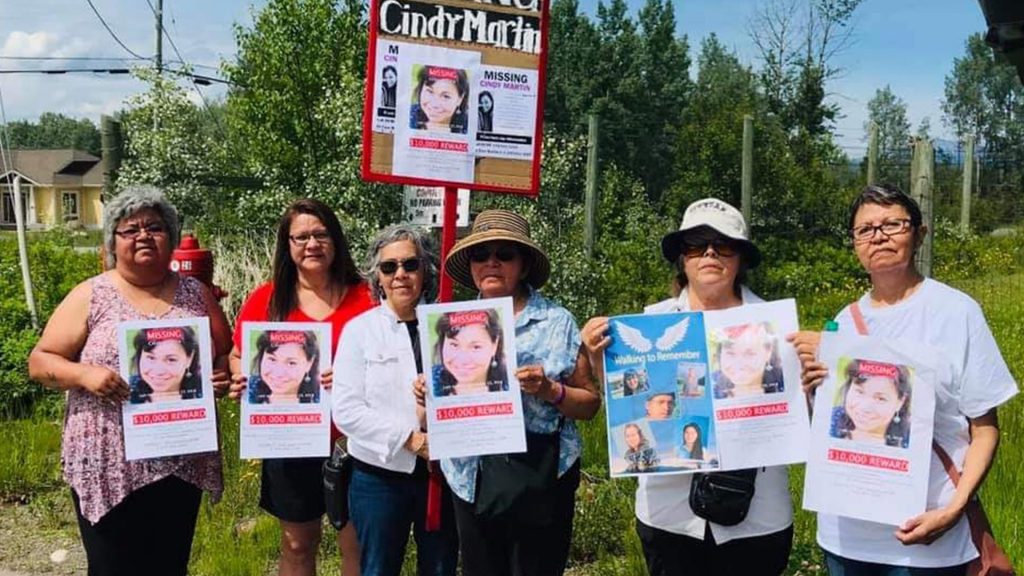 As the National Inquiry into Missing and Murdered Indigenous Women and Girls marks its one-year anniversary, a northern B.C. family keeps searching for a loved one who disappeared along the so-called "Highway of Tears."
Cindy Martin was last seen on Dec. 23, 2018 in Hazelton, a village along Highway 16.
Immediately after her disappearance, searches were conducted but were unsuccessful.
She has not been heard from since.
"There has been no sign, no sign of Cindy; we just don't understand where she could have disappeared to," her sister Sheridan said in an interview with APTN News.
Cindy was a youth worker on the east side of Vancouver before moving to Hazelton to be nearer to her mother and her mother's family in the Gitxsan Nation.
She was also an advocate in the missing and murdered movement before vanishing.
"I want the world to know that these women are human beings; they lived, they breathed, they cried, they felt pain, they felt happiness. My sister Cindy just completed her counselling degree that year," Sheridan said.
The police are in touch with the family to give them updates, but there are no leads or new details.
Cindy's family continues to hold out hope and is offering a $10,000 reward for information for her safe return.
The reward poster is being widely circulated on social media pages, at gas stations and community halls around northern B.C.
Last year, Brenda Wilson, an MMIW advocate, connected the family with two investigators who work with families of the disappeared. There was no new information or progress into her sister's case, but Sheridan said her family members felt heard by the investigators.
One year ago this week, the national inquiry delivered its final report to the Trudeau government. There were 231 Calls for Justice directed at governments and institutions.
The family feels there were a lot of words but no action.
"I was thinking about that today; there were many recommendations," said Sheridan. "As a family member of a missing Indigenous woman, I feel it was just a report given by Canada, and they are giving us words.
"Where are the actions? I want to see actions being produced."
Cindy went missing from the infamous "Highway of Tears" –  a 725-km stretch of Hwy 16 between Prince George and Prince Rupert – where many Indigenous women have disappeared or been found murdered.
One of the suggestions her family has made to authorities is having cameras installed along the highway for deterrence or evidence in solving crimes. They said they were told the footage would be too grainy to produce results.
In the meantime, they will continue to raise awareness about Cindy's disappearance and others.
"I would just to say to the other murdered and missing Indigenous women's families that my heart and soul stand with you," Sheridan added.
"I used to do the (annual) walks in Vancouver every Feb. 14, and you never really understand the depth of pain or loss until you lose a family (member) that goes missing or is murdered."
Anyone with information on the location of Cindy Martin is urged to contact their local police, Crimestoppers at 1-800-222-8477 or New Hazelton RCMP at 1-250-842-5244.