Dumas divorce record shows Facebook and texting concerns
Manitoba Grand Chief Arlen Dumas denied last week he messaged a woman half his age – asking her to "meet up" – and suggested unnamed political adversaries were impersonating him online in a fake Facebook account and hacked his phone.
But since his denial three women have come forward to APTN News saying they received texts similar to those sent Bethany Maytwayashing either on Facebook accounts or phones belonging to the grand chief of the Assembly of Manitoba Chiefs (AMC).
Dumas's former wife also voiced concerns about Dumas messaging women on his phone and computer in public court documents detailing their marriage break up.
On July 10 APTN reported Toronto-area doula Shannon Jennifer said Dumas contacted her through Facebook in 2016.
Jennifer said for about a year she would get random occasional messages from Dumas's Facebook account on Messenger.
Things like  "beautiful pics" or simply "have a good day."
"He repeatedly messaged me without reply from me, that was the creepy part," said Jennifer, who was 37 and married at the time.
She wasn't offended by anything he said, but having a man unknown to her persistently reach out to her did upset her husband.
Dumas was staying part-time in Toronto at the time and was chief of Mathias Colomb First Nation in northern Manitoba, according to public divorce records.
The messages stopped, Jennifer said, when he became AMC grand chief in 2017 and deleted his personal Facebook account.
Earlier this week a different woman who asked for anonymity showed APTN a string of texts from the grand chief's phone, but she asked that they not be published because doing so may identify her and she fears repercussions.
Those texts included a social invitation.
On Monday, a third woman, Renée Yetman went public on Facebook to discuss her relationship with Dumas.
Yetman says she took to Facebook with her story because she wanted to show support for Maytwayashing.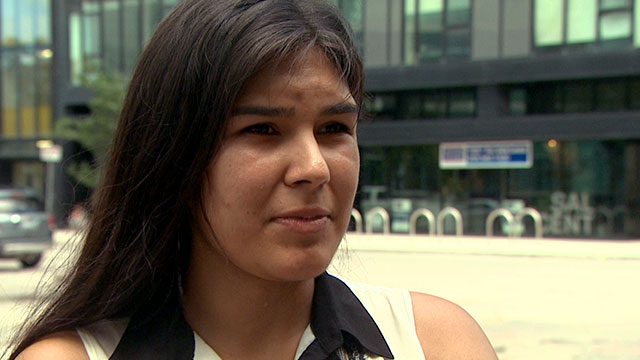 Bethany Maytwayashing says some messages from the grand chief made her feel uncomfortable. (APTN file)
---
She says her relationship with Dumas began after weeks of exchanging texts by phone and Facebook in 2018.
Yetman, a mother of two who lives in Winnipeg, said she was 32 and singing in a female drum group when she first met Dumas at a community celebration following his election as grand chief in 2017.
She said they added each other on Facebook afterwards and began texting via phone. She said he told her he was single and had four children.

Renée Yetman provided these examples of texts she exchanged with Grand Chief Arlen Dumas. 
---
Yetman said they exchanged dozens of messages – some of which she's kept and shown APTN – and hung out a few times in Winnipeg.
She said another time he invited her back to his apartment and, believing he was interested in pursuing a relationship, she accepted, and they had consensual sex.
But right after, she said he dressed, told her he had to get to the airport, and offered to drive her home.
She said she didn't hear from him for a week, and when he finally replied to her messages, she said he said, 'Yeah, Renée, I'm not as hungry as you are.'
Yetman says he then disclosed to her that he was in a relationship with another woman.
An affidavit filed in conjunction with his divorce from Ward confirms Dumas was in a relationship at the time.
Yetman said she felt hurt and used by Dumas, and found herself missing his advice and support.
"I was just going to see where it was going," she said in an interview. "I was attracted to his positivity…and humble attitude."

AMC Grand Chief Arlen Dumas has been embroiled in a texting scandal for two weeks. (APTN file)
---
Divorce documents show Dumas met Jennifer Ward at Mt. Allison University in Sackville, N.B., in 1996, where they were both full-time students. They began a relationship in 1998 and later married, but the marriage failed.
At the time of the divorce proceedings the documents identify Dumas as the chief of Mathias Colomb, a fly-in community in northern Manitoba.
"…After the petitioner became chief I observed that his attitude and actions towards me began to change," Ward said in an affidavit of July 18, 2014.
"…The petitioner also started developing relationships with other women, and he also admitted such to me," she added. "I saw his text messages and Facebook messages to these women."
Ward, a chiropractor in the northern Manitoba town of The Pas, complained "the petitioner was constantly texting on his phone, or on social media sites on his computer" while the family holidayed in Disney World in 2011.
That observation was confirmed by the family's nanny: "While in Florida I observed the petitioner to spend a lot of time on his cellphone and on his laptop computer," she said in an affidavit included in the divorce file.
Dumas, in his affidavit of July 25, 2014, confirmed the family visited Disneyworld in 2011, but said his cellphone remained turned off and the condo they rented did not have a computer.
"I deny that I was using social media or email during our trip," he said.
Ward cited similar behaviour by Dumas on a 2012 trip the two of them took to Las Vegas.
He similarly denied contacting other women online during the Vegas vacation, adding, "I deny that I was on the computer or inattentive…
"During the trip I purchased an engagement ring from Tiffany & Co. and proposed to the respondent."
The phone used to text to Yetman was a different number than the one that sent texts to Maytwayashing.
APTN has been able to confirm both phone numbers are used by Dumas.
AMC confirmed the phone number that texted Maytwayashing belonged to Dumas in a press statement last week.
It is the same phone used to text the woman who asked to remain anonymous.
The number used to text Yetman has been used by an APTN reporter to contact Dumas for past interviews.

Swan Lake First Nation Chief Francine Meeches has decried Facebook posts accusing FN leaders. (APTN file)
---
In the case of Maytwayashing,  AMC and Dumas made a statement last week saying the texts were 'spoofs.
They alleged someone other than Dumas sent the texts without him knowing by using a software to make it appear the texts came from his phone.
The press release did not comment on how the texter knew details about where Dumas met Maytwayashing, or that she was a student and took a selfie with him at that meeting.
After Yetman went public, AMC forwarded a screenshot to APTN of a post Yetman made about Dumas on its Facebook page on July 12 in response to a press statement about Dumas taking leave and time to heal. The statement was a follow up response to the Maytwayashing issue.
Yetman praised Dumas as "a good chief for years" and was pleased to see him "take some time with yourself and family.
"You will come back mighty in no time," she wrote. "Rest up and rise up like the rest of us who been through hardships."
Asked about the post, Yetman said Thursday she had no hard feelings against Dumas. But wanted to be part of the larger conversation happening on social media about messaging between leaders and young women.
APTN began reaching out to Dumas for comment last week when the texts to Maytwayashing first went public.
Dumas has not responded to multiple requests for comment about Maytwayashing's, Yetman's  and other claims made in the last two weeks through AMC or his lawyer, David Walker. He has not commented except through press statements.
Dumas's last statement noted he would be taking a brief leave of absence "to heal with his family."
Read the statement here:
Press Statement from Grand Chief Arlen Dumas and the Assembly of Manitoba Chiefs 
AMC, which advocates for chiefs of all First Nations in Manitoba, said in last Friday's statement it stands behind Dumas and denounced the "media circus which focused on unfounded allegations about the grand chief."
The AMC's Women's Council, comprised of all female chiefs in Manitoba, initially offered to investigate the texting allegation. But has now withdrawn the offer.
We "will no longer be part of the social media posts targeting First Nations leaders in Manitoba," the council said in a statement released this week.
"Chief Dumas issued an official statement denying the allegations and explained he regularly engages in message exchanges with community members seeking help…
"This has created a media frenzy based on little more than Facebook posts."
APTN has twice asked AMC if it has a sexual harassment policy and to provide a copy, but it has not received a reply.
Despite Dumas's denials, Maytwayashing still believes the unwanted texts came from Manitoba's top Indigenous leader.
And she and her boyfriend, Matthew Shorting, have started a wider conversation online and in the media about harassment and what happens when Indigenous women come forward with complaints about unwanted and inappropriate messages from men in power.

Matthew Shorting was first to raise concerns about the timing and nature of messages to Maytwayashing. (APTN file)
---
Maytwayashing confirmed she and Dumas became Facebook friends in 2018 and chatted about her job and future after meeting at a Winnipeg restaurant.
But she said more recent messages claiming to be Dumas under a different account stepped over the line.
"What are you doing today?" part of the exchange said. "When can we meet up?"
Some of the messages, she alleged, were sent late at night and on Valentine's Day.
Maytwayashing, who has a young son, said she was nervous about what a 'meet up' would lead to.
"He was the person in every conversation who initiated the conversations," she added.
"I felt like it was really inappropriate and that I was being targeted or he was trying to pursue me."
But Dumas said that's not true in press statements.
He said she asked for advice and he "provided assistance to the best of my professional ability."
"While I was sincerely trying to respond to her requests for support, it is clear from her recent public expression of concern that she didn't appreciate our informal message exchange," he said in the AMC statement.
"I apologize if this made her feel uncomfortable."
With files from Melissa Ridgen