Beothuk remains to leave museum in Scotland only to go to another museum
After being stored in the National Museums Scotland for close to 170 years, two Beothuk remains will eventually be on Canadian soil later this year.
But the remains will not be buried in their homeland.
Instead, the two Beothuk skulls will go to the Canadian Museum of History first, and then to a museum in Newfoundland and Labrador.
Read: Beothuk remains to be returned to Canada
("There needs to be a proper burial," says Victor Muise) 
"I can't see the remains going anywhere except where everything happened," said Victor Muise, a Mi'kmaq elder based in St. George's, NL.
"There needs to be a proper burial and with Aboriginal people."
The remains are those of a Beothuk husband and wife named Nonosabasut and Demasduit from Red Indian Lake in central Newfoundland.
William Epps Cormack, the son of a Scottish merchant, stole the skulls and burial objects in 1827 and gave them to his mentor to be included in the collection at the University of Museum in Edinburgh, now called the National Museums Scotland.
The remains have been at the National Museums Scotland since the 1850s.
It is believed that the Beothuk people of what is now called Newfoundland and Labrador have been extinct since 1829.
The National Museums Scotland, located in Edinburgh, is regarded as one of the leading museum groups in the United Kingdom and Europe that looks after collections of national and international importance.
Remains to be protected in special facilities: Premier's office
When a formal request was made by the federal government in November 2017 to repatriate the remains, a provincial spokesperson with the government of Newfoundland said at the time the request was complex given there are no genealogical descendants that can represent the interests of Nonosabasut and Demasduit.
Read: Canada finally makes request for Beothuk remains held in Scotland
Because of their collective efforts, according to the premier's office of Newfoundland and Labrador, the provincial government and Indigenous leaders came together to make the repatriation of Beothuk remains a priority.
Now, the remains are expected to be repatriated later this year. The timeline for the transfer has not yet been determined.
(The Rooms museum located in St. John's, NL) 
In an email statement, the premier's office stated, "The Rooms has oversight over human remains in this province, and the remains can be protected in special facilities either there or at Memorial University."
The premier's office said the remains will not go on display, and until the next steps are determined the remains will stay at The Rooms.
The Rooms is a cultural space that houses artifacts, art and historical records located in St. John's.
Indigenous leaders are also supposed to be involved during each step of the repatriation process.
But not everything is being returned.
Burial objects associated with the skulls will not be handed back from National Museums Scotland. Previously, the museum told APTN, "it is not our current policy to consider transfer of items in the collection outside of the category of human remains."
When APTN called The Rooms for confirmation about the remains going there, Carla J. Foote, executive director of marketing and development, stated the "process is still too preliminary to provide a response to your specific questions."
Watch: Todd Lamirande's APTN Investigates episode:'Extinction Event'
Miawpukek leader likely to go to Scotland to collect skulls: MP
Scott Simms, Liberal MP of Coast of Bays, NL tells APTN that authorities from the Canadian Museum of History, government representatives from the province and himself will go to Scotland to collect the remains.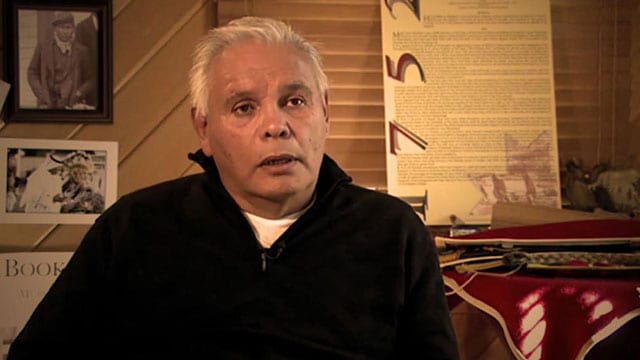 (Misel Joe says "it's still a little surreal")
"I think the most important person will be Chief Mi'sel Joe of Miawpukek First Nation," said Simms.
Joe has been instrumental in fighting for the return of these remains and even travelling to Scotland on several occasions.
"It's incredible it's happening and I didn't expect it to happen this fast, it's still a little surreal," says Joe.
"I expected this to drag on for a long period of time."
Joe said he is happy the remains will be on Canadian soil and looks forward to figuring out what the next steps will be.
Hundreds of remains at Canadian universities too
The Beothuk are not alone in having their remains being held in a museum.
Not only are museums housing numerous Indigenous human remains and artifacts around the world, but universities are too.
In December 2017, APTN reported hundreds of human remains ranging from small bones fragments to complete skeletons and some from as far back as the ninth century are held at universities across Canada.
Read: Hundreds of Indigenous human remains at Canadian universities
Many of those human remains have been with the universities since the 1920s and are stored in plastic bins, wooden trays or even cardboard boxes.